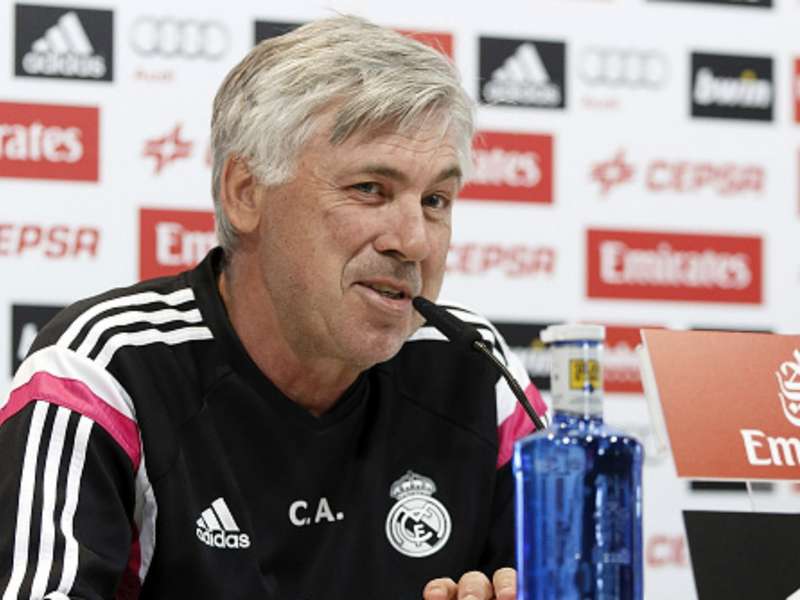 Real Madrid coach Carlo Ancelotti has defended Cristiano Ronaldo's character and admitted he is baffled as to why the striker is whistled by some of the club's fans.
Ronaldo netted his 50th goal of the season in all competitions in the Liga win over Malaga on April 18 but he has failed to register in his last three outings and came in for heavy criticism for an allegedly petulant reaction to Alvaro Arbeloa beating him to a tap-in in Wednesday's 3-0 defeat of Almeria.
However, Ancelotti is amazed Ronaldo's unquenchable thirst for goals is being portrayed as a negative by the media and fans alike.
"I think if Ronaldo has scored 50 goals is precisely because of its nature," the Italian argued. "He is never happy with what he does, always fighting.
"That is why he scores 50 goals in a season and he has been doing that for such a long time.
"I do not understand why the Santiago Bernabeu whistles Ronaldo."
Meanwhile, Ancelotti revealed that he hopes to have Gareth Bale available for Saturday's vital Liga meeting with Sevilla, with the Welsh winger having recovered from a calf problem.
However, the Blancos boss refused to confirm whether the €100 million man or Karim Benzema, who has been out of action with a knee injury, will start at the Ramon Sanchez Pizjuan.
"I think he'll be ready," he added. "I have good options for the midfield. I will decide tomorrow if he will play.
"Are Bale and Benzema fully recovered? We will not take risks. It's not the last game of the season.
"If a player is available, he will play. They may not be in condition to endure 90 minutes but they are fit.
"However, we will not take risks."
Ancelotti also refused to be drawn on whether Sergio Ramos will play in midfield again, with the centre-back having done a sterling job in front of the back four in the Champions League, second-leg win over Atletico Madrid.
However, the former AC Milan and Juventus boss did argue that the versatile defender is an even better player than iconic Italy international Fabio Cannavaro.
"It's very difficult to compare Ramos with other historical players," he added. "There are players with extraordinary quality, some with ability to concentrate very well, others with a quality to defend well.
"But Ramos is extraordinary. He could be the most complete defender ever.
"Cannavaro was perhaps stronger. But Ramos is the most complete."