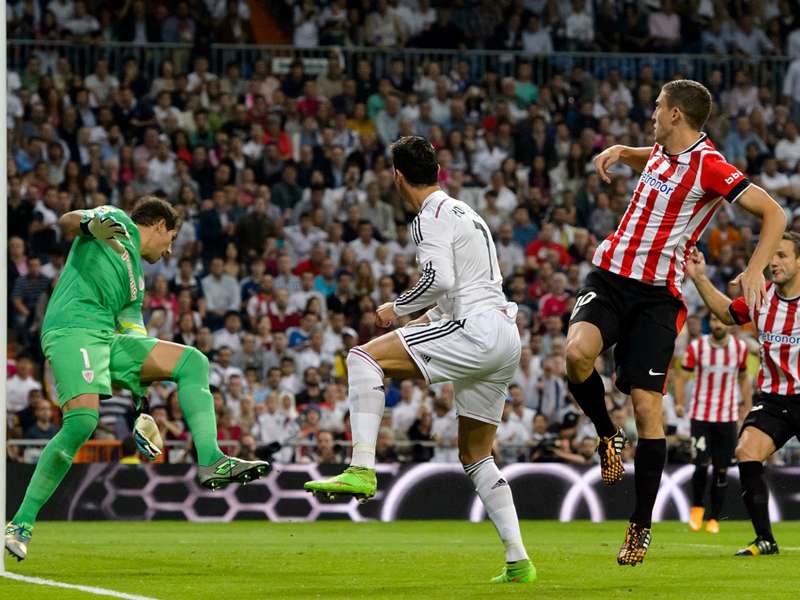 Real Madrid coach Carlo Ancelotti believes that Cristiano Ronaldo is certain to win the Ballon d'Or for 2014.
The Portuguese netted his third hat-trick in four Liga games in Sunday's 5-0 rout of Athletic Bilbao to take his tally for the current campaign to 13.
Given that he also played an integral role in last season's Champions League success, Ancelotti fully expects the 29-year-old to retain his individual title.
"I think there can be no doubt about Cristiano for the Ballon d'Or this year," the Italian is quoted as saying by AS . "There's no putting money on it.
"All three of our forwards were fantastic [against Athletic]. Cristiano and [Karim] Benzema scored but Gareth Bale made assists and worked hard.
"It's essential to work together. The midfield was good, too.
"With the ball we have three in midfield and without it, Bale helps us defend and makes a line of four. James Rodriguez then moves to the left. We're adapting and eager to learn.
"This was our best game, much better than last year at this point. What we need now is continuity.
"We were more attentive at set-pieces and kept a clean sheet. Everything went well."
Sergio Ramos was forced off at half-time during the game at the Santiago Bernabeu and Ancelotti admitted that the defender might not be released for international duty next week.
"Ramos had a sore calf, on his right leg," the former AC Milan boss explained. "He wasn't comfortable and wanted to avoid problems.
"Tomorrow he'll have a test. Then we'll think about the national team."