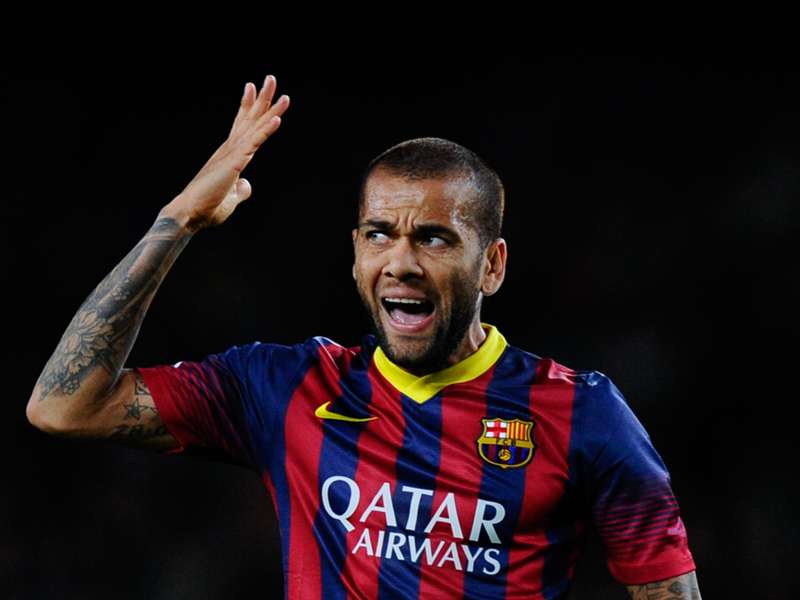 Dani Alves
believes he hasn't received the respect he deserves at
Barcelona
, but says he wants to stay to work under
Luis Enrique
.
The Brazilian was heavily rumoured to be on his way out of Camp Nou this summer after the player himself suggested towards the end of last season that he could leave before speculation that replacements were being sought began to grow.
However, Alves confirmed he will remain at the club under new coach Luis Enrique this season, but insists he does not feel he gets the respect he deserves.
"I have decided to stay here with Barca," Alves told a press conference.
"The day will come when I have to go. But I would like to get out with the feeling that I have been a great professional here. If I would leave now I would not go with that feeling."
"It is a habit that people will talk about myself here. I take it naturally. The criticism motivates me because they make me improve.
"I've earned the right to be respected.
I haven't felt that I have had support when I have had to defend myself in the face of everything that comes out in the press.

"I wasn't feeling backed with everything that was happening. I have information that I was on the market, that they wanted to bring other people in.
"When I was questioned about my contract on my return to Barcelona, I made it clear that I first needed to discuss it with Luis Enrique.
"
It's a pleasure to work with someone like Luis Enrique; he demands a lot from us and that is what inspires me.

"We have to work well and be demanding with ourselves. We have great challenges to look forward to this season.

"I needed to feel assured that he counts on me because we'll be working with other during the whole of the new season."
Barcelona kick off their league campaign at home to Elche on Sunday, and with Alves set to feature, he is not fearful of their fiercest rivals after their Champions League success.
"Real Madrid have our respect, but it is not a team that I fear," said the 31-year-old.
"You have to compete with them."