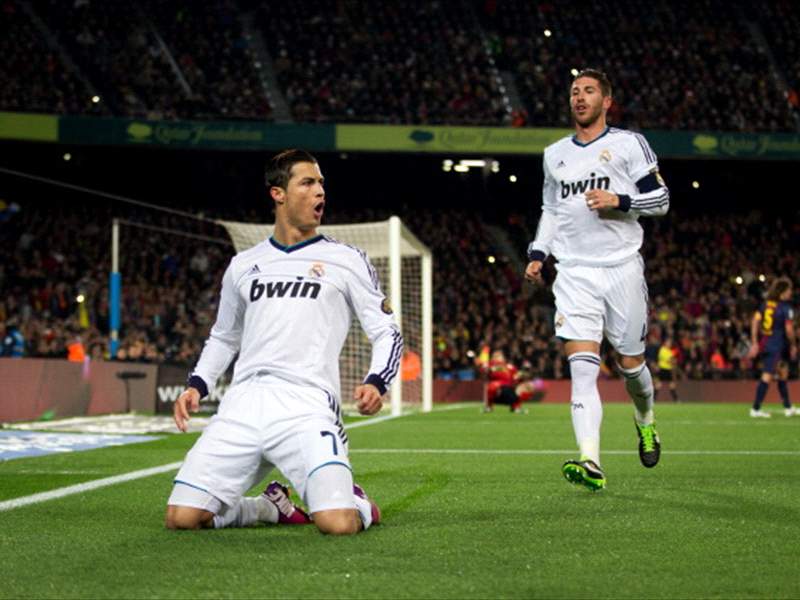 Cristiano Ronaldo has branded Real Madrid's performance in the 3-1 Copa del Rey victory over Barcelona on Tuesday evening as "perfect".
Jose Mourinho's men entered the match at Camp Nou having earned a 1-1 draw in the previous leg at Santiago Bernabeu, and a double from the former Manchester United man, followed by a header from Raphael Varane helped los Blancos on their way to a memorable win against their Clasico rivals.
And the Portuguese striker was delighted, praising the attitude of the side as a whole.
He told reporters: "It was a very good game from the first minute to last.
"We were very serious, and showed a great attitude. We played better and scored three goals away from home.
"We are very happy that we've played terrifically. We've played better here than we did at home, that's true.
"We are confident and we are still here. We all like to play here."
Barcelona hold a 16-point lead over Madrid at the top of the table, but Ronaldo has downplayed any suggestions that Madrid are now solely focused on cup football, insisting any good performance will boost confidence.
He added: "Playing against Barca is always a great motivation. La Liga is still important, but less because of the big gap.
"We have to focus in the league and the Champions [League], we'll try to win everything as usual.
"All players have been perfect, this gives us confidence for the Champions [League]."
The 28-year-old's compatriot, Pepe, was also full of superlatives for the manner of the victory, but assured fans they would look to use this result as a starting block to improve their league form.
He said: "We were brilliant all through the team, we started well, but we have to keep playing well.
"Today we have to enjoy the victory, it's important for our fans and us, but I think that after tomorrow we must focus on Saturday's game."