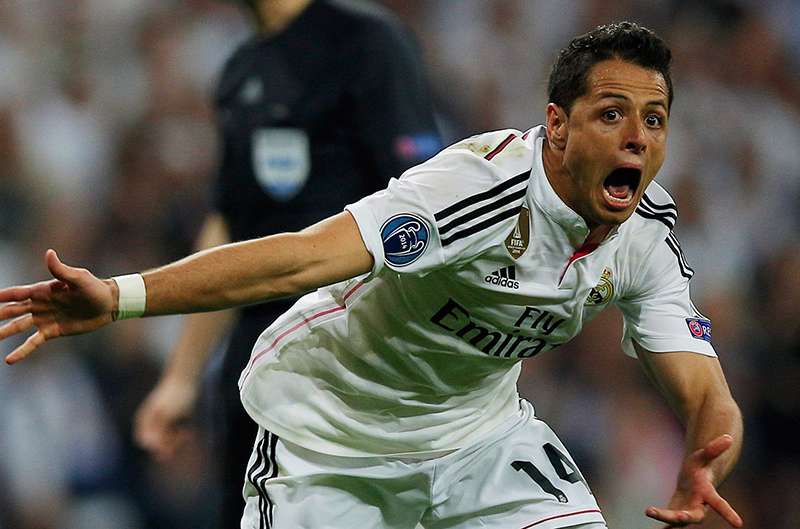 Carlo Ancelotti will not fast-track a decision on the future of Javier Hernandez at Real Madrid despite his impressive recent form.
Chicharito has grasped his recent opportunity, created by an injury to Karim Benzema, with both hands – netting a late winner as Madrid edged out Atletico 1-0 in the Champions League quarter-finals before scoring twice in Sunday's 4-2 success at Celta Vigo.
The Mexican, on a season-long loan from Manchester United, has spoken of his delight at playing for the European champions but Ancelotti is willing to wait until the summer before deciding whether to try to keep him at the Santiago Bernabeu.
He said at Tuesday's press conference: "The future of Chicharito will be evaluated at the end of the season.
"I have liked all year his professionalism and, when he got the chance, he has exploited it. For a coach to have players that are always ready is a positive.
"Everyone is very happy with Chicharito. I hope it stays that way."
Madrid go into the round 34 fixture at home to Almeria on Wednesday two points behind table-toppers Barcelona and Ancelotti concedes his men will have to win all their remaining games to stand any realistic chance of winning La Liga.
"It's a point in the season where every game is life and death," he added. "We are preparing with this thought. It will, therefore, be a very exciting period.
"A draw against Almeria will not mean goodbye but it will complicate life. In the Liga we have to win all the games that are left.
"We have a tough schedule, the games are difficult but we are confident that we can do well. Apart from the injured players, the team is fresh. We can compete in every game, we're not thinking about what Barcelona do.
"Almeria have changed their style a bit, they play with more possession, faster. All the teams fighting against relegation will play with enthusiasm and desire and we have to take that into account."
In addition to Chicharito, Ancelotti also took time to praise James Rodriguez , another summer arrival who has impressed.
"James has been able to surprise people, he has had a very good season," he said. "I am delighted, because he has helped the team a lot, with great humility.
"Much depends on the character of the person. They need to adapt very quickly but some need more time, especially young people. They need to get used to the pressure that comes with playing for this team."
Ancelotti has included teenage prodigy Martin Odegaard in the squad for Wednesday's game and hinted there will also be a place in the starting XI for winger Jese.
He confirmed Keylor Navas will start in goal but Gareth Bale and Benzema continue to be sidelined through injury.
"We believe Bale could be able to play against Sevilla [on Saturday]. On Tuesday and Wednesday he will continue to do individual work. If that goes well he will play in Seville. Karim will start training with the team on Sunday."