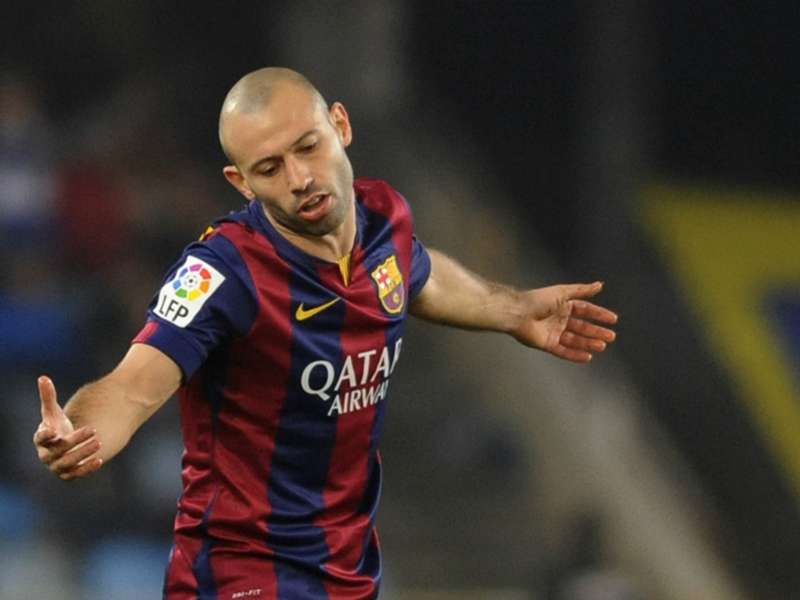 Barcelona defender Javier Mascherano has admitted that he wants both Dani Alves and Xavi to stay at Camp Nou.
Dani Alves looks set to leave the Blaugrana after seven stellar years of service, with the Brazilian's agent having announced on Thursday that his client had found the Catalan club's most recent contract offer "unsatisfactory".
Xavi, meanwhile, is undecided on his next step after recently travelling to Qatar to hold talks with Al Sadd about a possible summer switch.
Mascherano, though, is praying that both players are still a part of the Barca squad next season.
"Dani Alves has been one of the best players this club has ever had," the Argentine is quoted as saying by the club's official website. "He's a great performer.
"I'd like him to stay. He's an amazing person, a real fun guy and very professional."
As for Xavi, Mascherano says that the veteran midfielder still has so much to offer, both as a player and role model.
"I wasn't surprised that Xavi got a standing ovation against Almeria [on Wednesday]," the versatile centre-half added. "He has had many ovations because of what he represents to this institution.
"He holds the record for the most titles won with FC Barcelona and is one of the biggest heroes in the history of the club.
"It would be great if he could stay here because of all he offers. He is everything being an FC Barcelona player is about – the way he behaves and the example he sets for youngsters."
Dani Alves' current contract with Barca expires this summer, while Xavi still has a year to run on his deal with the Liga leaders.
addResponsivePlayer('143rantwwpeqm1k14v8j3e0bsq', '90c3f911c1684c4f96b53843751b4bb7', 'e3qj4890iwld15gw9edrs9kyw', 'perf143rantwwpeqm1k14v8j3e0bsq-e3qj4890iwld15gw9edrs9kyw', 'eplayer40', {age:1422360869000});