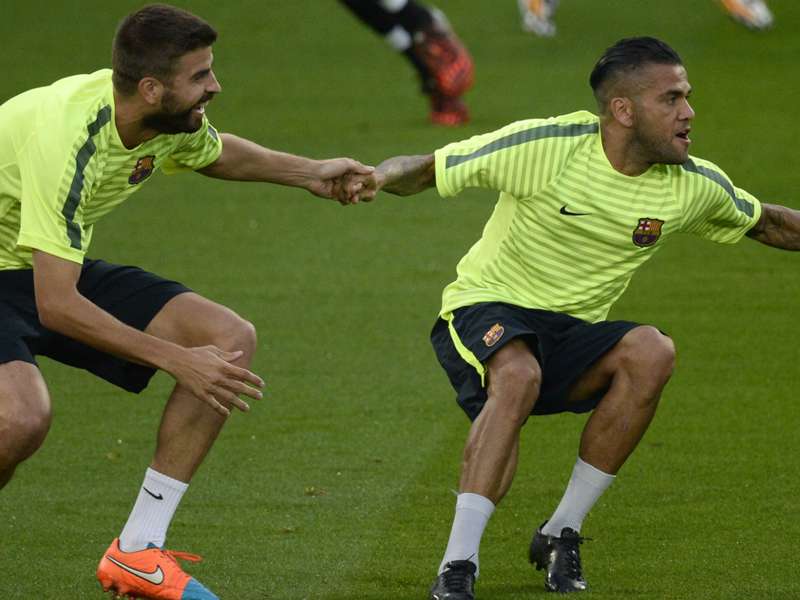 Barcelona defender Gerard Pique has taken the time to praise Dani Alves and has urged the Catalans' board of directors to hold on to the Brazil international.
The 31-year-old has an expiring contract with the Camp Nou side and is continually being linked with a move away from the Liga leaders.
Paris Saint-Germain are believed to be sitting in pole position to lure Dani Alves to Ligue 1 - although the defender is adamant he has not agreed terms on a move - but Pique hopes his team-mate will continue his career in Catalunya.
"Over the last few weeks, as a team-mate, he has shown that he's one of the best - if not the best - right-backs in the history of the club," the Spain international told reporters.
"And he's still performing very well. I'd like him to stay for years.
"But I am not the person to talk about Alves and his contract. I don't decide these things."
Pique went on to stress that it would be a huge loss for Barcelona if Xavi were also to leave the club, with Al Sadd suggesting last month they were close to signing the veteran midfielder.
"Xavi is what our way of playing is all about, the Masia culture," Pique added.
"He would be a major loss if he left."