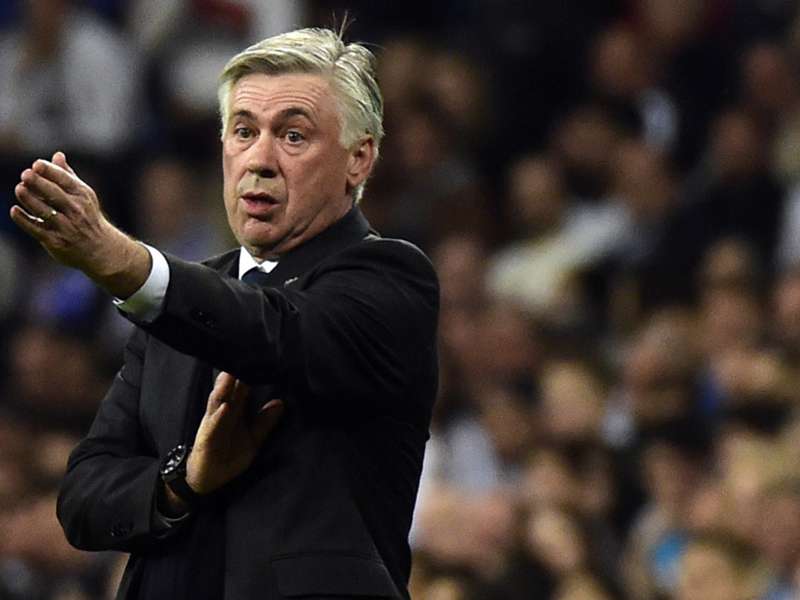 Real Madrid president Florentino Perez has insisted that Carlo Ancelotti is not in danger of losing his job as head coach at the Santiago Bernabeu side.
A number of recent reports have suggested the Blancos are considering firing Ancelotti following their disappointing performances in recent weeks, with some sources claiming that the former Paris Saint-Germain boss will get axed if the reigning European champions lose their crunch Clasico clash with Liga leaders Barcelona on March 22.
However, Perez has made it clear that Ancelotti, who led the capital club to Champions League glory last season, still has his full support.
"I have come here to talk to you because there is a climate of great pressure," the Madrid president said at a press conference.
"The greatness of this club is the high demands we place on ourselves I and will not have our name tarnished when we are not going through our best moment.
"The attacks aimed at our coach and our players are wholly unfair. The club has complete confidence in our coach and in our players. Whatever happens, Carlo Ancelotti will continue to be coach of Real Madrid.
"We have the best coach and the best players that Real Madrid could have. They have won the respect of the football world and above all, the Madridistas. Together, they have won the titles Real Madrid have been waiting many years to win. They won those titles playing wonderful football that continued up until just two months ago.
"Real Madrid had never won four titles in a calendar year, so this coach and these players form part of the history of this club. All of that was achieved by them. We need to be together and stay serene ahead of the challenges that lie ahead.
"We will continue to fight for the 11th European Cup and La Liga and along the way, we are happy to receive criticism as long as it is respectful and constructive. Right now, what they need to feel is our strength. That support and warmth is even more important at a time like this.
"I will not come out every day to deny news stories, but I will say we are proud of the players, of our coach and all that they have achieved."
Madrid, who enjoyed a club-record 22-game winning streak in all competitions earlier this season, have surrendered first place in La Liga to Barcelona following defeats to Valencia, Atletico Madrid and Athletic Bilbao since the turn of the year.
Additionally, they were eliminated from the Copa del Rey by Atletico in January, while losing 4-3 to Schalke at the Bernabeu in the Champions League round of 16 on Tuesday - although Madrid did progress to the quarter-finals anyway, on account of a 2-0 win in Gelsenkirchen three weeks previously.
"The first thing I felt was satisfaction because we advanced to the next round," Perez said when asked how he felt when his side were booed off the pitch on Tuesday. "Great satisfaction because we are in the quarter-finals. Let's not forget there was a period of seven or eight years when we didn't get to the quarter-finals, so above all satisfaction that we are in the last eight."
And the 68-year-old defended club captain Iker Casillas, who was arguably at fault for three of Schalke's four goals and was targeted by the home supporters.
"Casillas is a symbol at this club," he said. "I don't need to tell you his CV. And if he makes mistakes, like we all do, he needs the warmth and affection of socios and fans. Unity and togetherness has made us great and that is what we need at Real Madrid."