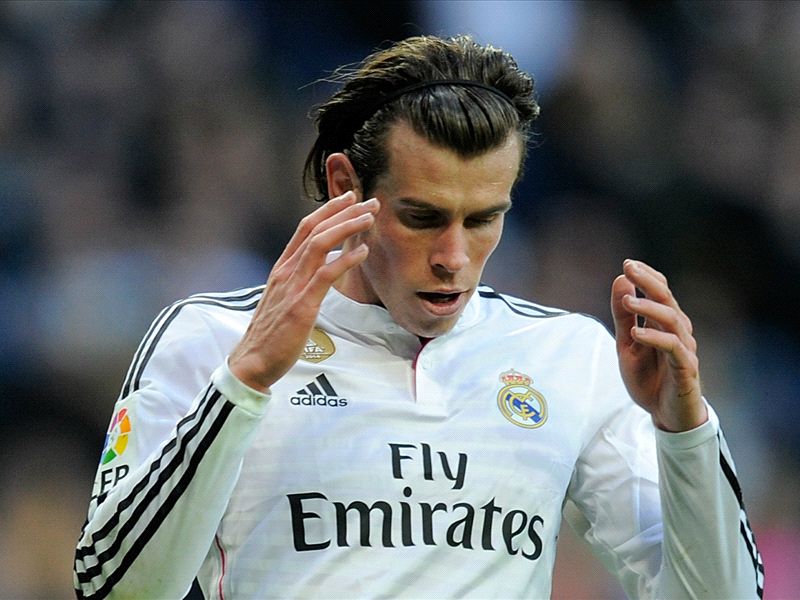 Real Madrid
coach
Carlo Ancelotti
defended
Gareth Bale
after the winger opted not to pass to
Cristiano Ronaldo
and missed a clear chance during the team's 3-0 win over Espanyol, but admitted he may speak to the Welshman over his decision-making after the incident.
Bale, who scored Madrid's second on Saturday with an impressive free-kick, raced forward late in the second half and chose to go alone with Ronaldo better placed in the centre but the 25-year-old missed the target and the Portuguese was visibly infuriated.
"He played a very good game," Ancelotti said of Bale afterwards. "He was a protagonist in the first goal as well. Later, the fans called for him to pass to Cristiano, but the forwards always want to score when they are up against the goalkeeper."
However, he warned the Welshman: "Altruism is important and if anyone is selfish, we are going to fix it. The fans demand a lot from the important players and Bale is one of those."
The former Tottenham man came under fire for a similar action against Valencia last weekend, when he failed to square for the unmarked Karim Benzema at 1-1, was dispossessed by Nicolas Otamendi and Madrid ultimately lost 2-1 at Mestalla.
"I'm going to look at the move," Ancelotti added. "In Valencia everyone thought he could have thought [about passing]."
Asked about Ronaldo's anger at the situation, Ancelotti then sought to play down the incident.
"There's no need to make a big issue out of this," he said. "It's a football moment. The relationship between both is good and very good among all the players. We are all working towards the same objective, which is to take Madrid as high as we can go. I don't need to talk about this."
Madrid now face Atletico on Thursday in the second leg of the sides' Copa del Rey last-16 tie, with Real 2-0 down from the first match last Wednesday.
"There are a few days to go," Ancelotti said. "The best players will play. We want to turn it around and we will do everything we can to reach the quarter-finals."
Before that, the Italian coach flies to Zurich where he is in contention for the Coach of the Year award, while Ronaldo is expected to claim the Ballon d'Or in Monday's ceremony.
"Cristiano is the same as ever," the Italian said. "He has a great physical condition and is playing for the team. His assist for James was fantastic."
Ancelotti also denied speculation linking defender Raphael Varane with a move to Bayern Munich.
"I'm surprised [at the story] because I didn't know [Jorge] Mendes was Varane's agent. Three days ago it was a different agent," he said. "But Varane will be a Madrid player for a long time."