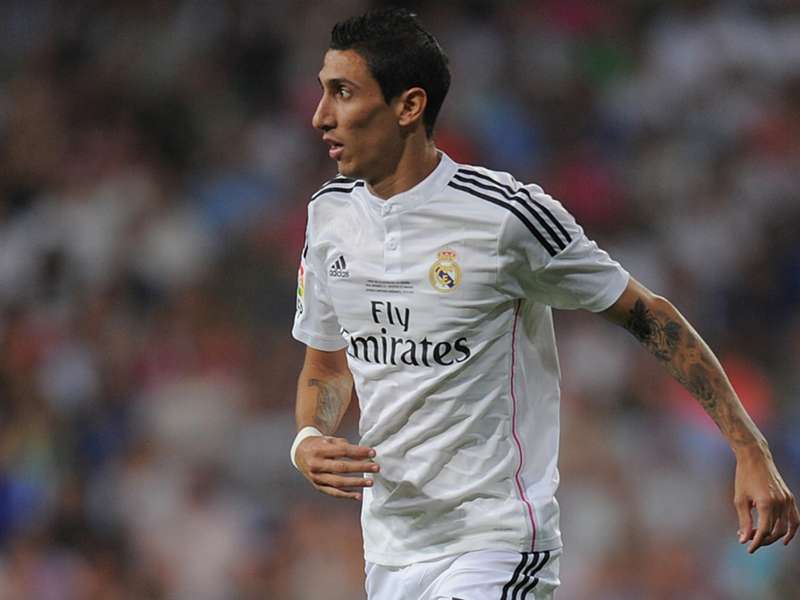 Angel Di Maria has taken a spectacular swipe at former club Real Madrid, claiming the European champions did not want him to feature for Argentina in this summer's World Cup final.
The former Benfica winger completed a €75 million move to Manchester United in August after helping his national team to the final of the showpiece in Brazil, where they were beaten by Germany.
Di Maria inspired Madrid to the Champions League and Copa del Rey last term but found himself surplus to requirements after the signings of Toni Kroos and James Rodriguez, and he has now revealed his frustrations with the club began in the summer, when they requested him not to risk aggravating an injury sustained during the finals.
"I got a letter from Madrid that arrived at 11:00 on the day of the [World Cup final] asking me not to play," he explained to America & Closs.
"We were playing at 16:00 and I was preparing myself to be in the best condition, knowing that I could have got injured. As soon as I go that letter, I ripped it up. I did not care, no matter what.
"I talked with coach Alejandro Sabella and it was his decision. I didn't want to pressure him. I knew I could have to come off after 15 minutes and left the team in trouble, I didn't want that."
Madrid president Florentino Perez and coach Carlo Ancelotti have both indicated that Di Maria requested to leave the club this summer, but the player himself has refuted the claims and says he has never had a professional relationship with Perez.
"I saw what he said. To be able to earn what Cristiano earns I would have had to have been the best player at the World Cup or won the Ballon d'Or," he continued.
"It looks like Perez gave that offer to another person. I don't have a clue who he offered that to. I don't have a working relationship with him. When I signed a new deal he wasn't there either.
"I never said I wanted to leave Real Madrid, I never wanted that, but you have to move on when they don't want you. Let them say what they want about me, the millions they received for selling me will help the Real Madrid economy a lot."
Cristiano Ronaldo has been vocal in his support of Di Maria in the wake of his Bernabeu exit and the 26-year-old believes the Portuguese star may also move on in the coming years after he expressed a wish to return to Old Trafford one day.
"Cristiano was always on my side," he continued. "He fought for me to stay. I don't know how long he will stay at Madrid."
Di Maria is looking forward to the challenge at hand at Manchester United, however, saying he wants to restore the club to their former glories.
"I was having a good time in Spain, so the change will have its toll. I have to adapt to my new team-mates, but I hope it will be as quick as possible.
"I want to score goals and get United back to where they should be. I'm very happy to be in Manchester."