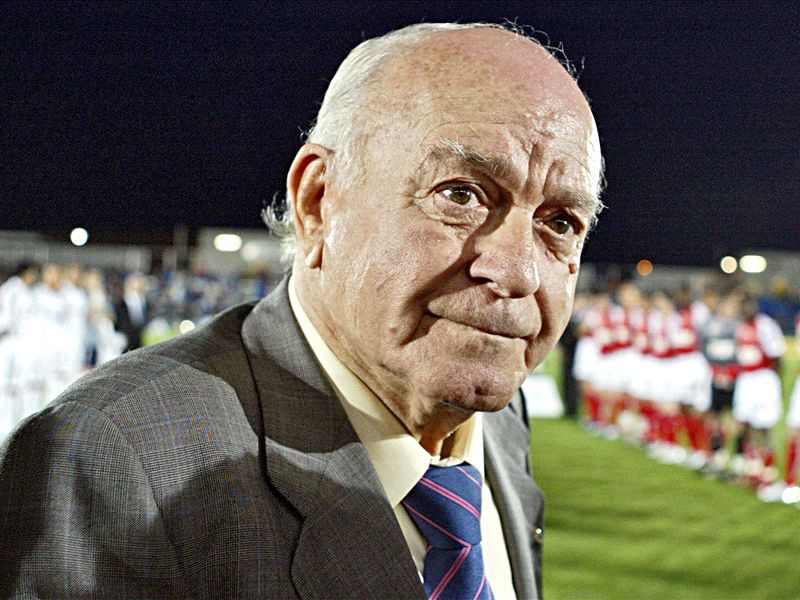 Real Madrid
icon Alfredo Di Stefano has died at the age of 88.
The club's honorary president was in a critical condition after suffering a heart attack in the street close to the Santiago Bernabeu on Saturday, just a day after his birthday, and passed away after his health worsened dramatically on Monday morning.
Di Stefano started his career at River Plate and moved to Madrid from Colombian side Millonarios in 1953, having originally been close to joining Barcelona.
The Argentine forward defined an era at the Bernabeu, leading Madrid to eight Liga titles and five European Cups between 1953 and 1964.
The 'Saeta Rubia' (Blond Arrow) netted 308 times in 396 appearances for Los Blancos and remains second on the club's list of all-time top goalscorers behind Raul (323).
Madrid confirmed the news with a statement on their official website.
"Real Madrid's honorary president, Alfredo Di Stefano, passed away at 17:15 at the Hospital General Universitario Gregorio Maranon de Madrid," it read.
"The president of Real Madrid, Florentino Perez, and the club's board would like to express their deepest condolences and affection to his children, family and friends.
"The club would also like to extend those condolences to everyone who has felt sadness at the loss of the greatest player of all time."
Perez will address the media at the Bernabeu later on Monday.