By KS Leong and Alec Fenn
Real Madrid
face
Schalke
in the first-leg of their last-16 Champions League clash on Wednesday in a tie that will conjure up memories of a former hero of both clubs.
Raul lifted Europe's greatest prize three times during his 16-year stay at the Santiago Bernabeu before leaving the club for S04 in 2010, where he scored 28 goals in 66 games over the course of two seasons in Germany.
The 36-year-old wore the number seven jersey for both Madrid and Schalke and with that in mind
Goal
remembers the Spain legend's seven iconic moments as a
Blancos
player.
1. Raul's first ever Real Madrid goal (vs Atletico Madrid)
It's a story fitting of a Hollywood script. Raul, discarded by Atletico Madrid after their youth system was shut down, moved to neighbouring foes Real Madrid and scored his very first goal as a professional in the famous white shirt against the club that first developed his footballing genius. It was only his second appearance for los Blancos, but Raul opened the floodgates that evening in a 4-2 victory and there would be no turning back.
2. Chipping the goalkeeper
Chipping the ball over onrushing goalkeepers quickly became El Gran Capitan's trademark in his younger days. David Beckham was known for his crosses, Zinedine Zidane for his pirouettes, Lionel Messi for his jinking runs; Raul made the elegant 'chip' his trademark.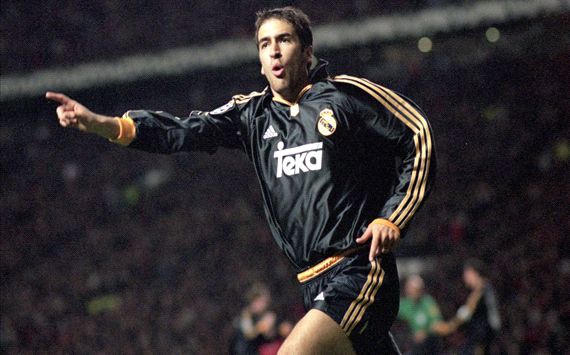 At the double | Raul celebrates one of his two goals at Old Trafford in 2000
3. Double strike vs Manchester United

By the turn of the millennium, Raul had already established himself as an icon in Spanish football and one of the best forwards in Europe. But it was in 2000 that he cemented his status as one of the world's elite footballers.
His brace against Manchester United at Old Trafford in the second leg of the 1999-2000 Champions League quarter-finals has become one of his most lasting images. His first goal – and Madrid's second in the game – was a fine demonstration of his elegant finishing: not a powerful striker of the ball, but graceful and precise.

4. Kiss of the ring
Raul's trademark kiss of the wedding ring (which is worn on the right hand in Spain) goal celebration was a recurring image at the Santiago Bernabeu.
It's a gesture that sums up Raul the family man - the superstar footballer who prefers to shun the limelight in favour of a quiet life with his supermodel wife Mamen Sanz. The pair married in July 1999 and from that day on he dedicated every goal to his new bride. It quickly became an iconic celebration, one that many footballers perform today when they score.
5. Beating Alfredo Di Stefano's goalscoring record
In February 2009, while enjoying one of his best seasons in the latter stages of his Madrid career, Raul became the highest goalscorer in the club's history by breaking Alfredo Di Stefano's long standing record.
He netted twice in the 4-0 win over Sporting Gijon, taking his haul to 309 by the end of that game, before going on to add 14 more to set a new club record of 323 goals.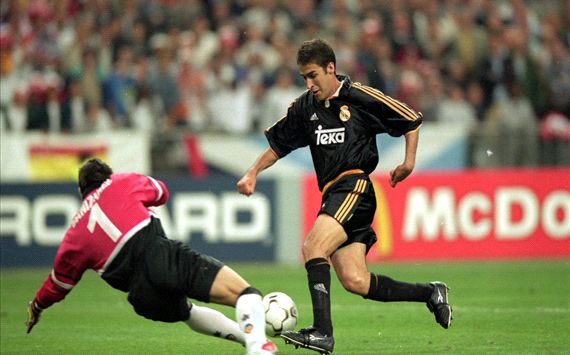 Iconic | Raul scores in the 2000 Champions League final
6. Solo goal vs Valencia in the 2000 Champions League final
The greatest players save their finest moments for the biggest of stages and Raul produced one of his most memorable performances in the Champions League final at Stade de France in Paris.

The striker ran over half the length of the pitch before coolly rounding opposition goalkeeper Santiago Canizares and slotting home from a tight angle with his weaker right foot.
He finished joint-top scorer in the Champions League that season with 10 goals and was named as the best forward of the tournament.
7. Silencing Camp Nou
For Madrid fans it is arguably their most cherished memory of Raul. The 36-year-old lifted his index finger to his pursed lips as he wheeled away to celebrate a goal against Barcelona at Camp Nou.
It was the 1999-2000 season. Raul opened the scoring in Catalunya but goals from Rivaldo and Luis Figo had home fans cheering wildly as they anticipated a famous victory over their bitter rivals.
Raul had other ideas and with four minutes remaining he dinked the ball beautifully over the goalkeeper to rescue a draw and silence the Blaugrana faithful