Barcelona
's official Twitter accounts were hacked on Tuesday following their 2-0 win over
Manchester City
in the Champions League.
All of the posts contained a link to the profile of the 'Syrian Electronic Army', suggesting the group wanted to take responsibility for breaking into the Spanish, Catalonian and English handles.
Three identical posts were left which criticised the
Blaugrana
's ties with Qatar - a nation in the same Arabic region as the civil war-torn Syria - with Qatar Airways the current sponsor of the club's shirts.
The recurring tweet read: "Dear FC Barcelona management, don't let the Qatari money funds you, it's full of blood and kill [sic]."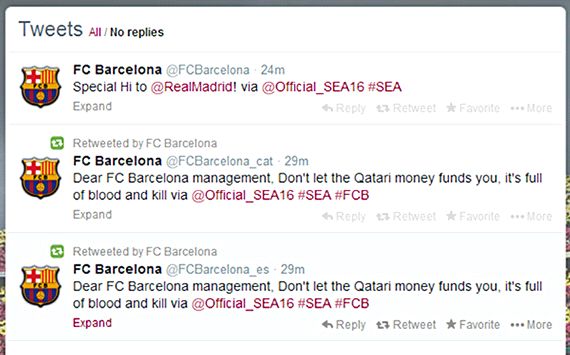 Hack & Dash | Barca's accounts were sneaked into and posted on without their knowledge
The messages took over 10 minutes for the Spanish and Catalonian profiles to delete, and even longer for the English language outlet, but not before the hacker gave
Clasico
rivals Real Madrid a heads up.
"Special hi to Real Madrid," the short tweet read on Barca's English edition after the initial protest message against Qatar.
The three official Twitter profiles of La Liga's leaders - who put one foot in the quarter-finals of the Champions League with a 2-0 away victory at Man City on Tuesday - have a combined following of just over 21.3 million people.