SPECIAL REPORT
By Ben Hayward | Spanish Football Writer
His honeymoon period is now officially over. Gerardo Martino has been on the receiving end of his fair share of criticism at Barcelona, despite failing to lose any of his first 20 games in charge at the Catalan club. "Who knows what will happen when we are beaten?" the Argentine quipped recently. Now he knows.
Barca needed only to avoid defeat at Ajax on Tuesday night to equal the club's best-ever season start - the 21 games unbeaten under Pep Guardiola in 2011-12. But Martino's men saw the red light in Amsterdam following a dismal display and this time, the 51-year-old was in no mood for fun. Furious at a fumbling first-half show which left his side playing catch-up and unable to rescue a point, 'Tata' told his players exactly what he thought with a tough talk in the dressing room at the Amsterdam ArenA.
The inquest began at half-time. Pushed onto the back foot, Barca lacked intensity in defence, struggled to keep hold of the ball in midfield and appeared bereft of ideas further forward. It was described by some as the Catalans' worst 45 minutes since the 3-2 loss at Osasuna in 2011-12.
At the interval, Martino demanded more concentration. "It's time to wake up," he told his players. And he got it as Barca emerged a different team in the second period. Within four minutes, the
Blaugrana
had pulled a goal back through Xavi (albeit fortuitously as the foul for the penalty awarded to Neymar had taken place outside the area) and they would play the last 40 minutes with an extra man following the dismissal of Joel Veltman. However, the Ajax wall stood strong and Barca ultimately went home with nothing.
BALE MAKES LIGHT OF RONALDO ABSENCE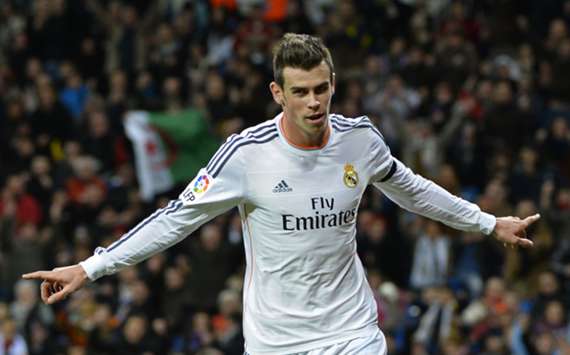 Written off by some as a €100 million flop, Gareth Bale is settling in very nicely indeed at Real Madrid - and the Welshman netted his first hat-trick for the Spanish side on Saturday night.

The three goals in the 4-0 win at home to Valladolid were all of the opportunistic variety: a header after Angel Di Maria's shot had been parried; a right-footed effort from close range and a third with his left in the six-yard-box. Pristinely poached; a perfect hat-trick.

Bale began on the right but stepped into Cristiano Ronaldo's sizeable shoes as the Portuguese (left out as a precaution while he recovers from a thigh strain) watched on from the stands.

And the Welshman also assisted the other goal for Karim Benzema with a fantastic flighted ball to pick out the Frenchman's run on what was a memorable night for the summer signing.

It was a peerless performance which took his tally to nine goals in 13 games, with six assists as well. As 'flops' go, he's doing rather well.

Like his coach, Gerard Pique had also attempted to gee up his team-mates late in the first half. "Come on guys, this is a mess," he complained in quotes captured by the
Cuatro
cameras. And in the second half, the defender tried more than anyone to save his side as he brought the ball out of defence, deep into opposition territory, and made himself available as an extra man in attack as Barca sought to overturn the deficit against the 10 men of Ajax.
Afterwards, he told the television cameras: "We played horribly. There are no excuses and all of us in the dressing room know that. We have to reflect. The image we gave out there is not that of Barcelona." As usual, he wasn't mincing his words.
And nor was Martino. 'Tata' told his players in no uncertain teams that their first-half display had been unacceptable. "At half-time he was unhappy and told the players they needed to wake up," a source close to the Catalan club told
Goal
. "Later, after the final whistle, he made it clear that they cannot go out onto the pitch with such a relaxed attitude. 'This is not the image we should be portraying, we can do much better than this' was the message."
Although 'Tata' has since said there was no anger, the atmosphere at full-time was heated - and the players knew they had performed poorly. Martino was annoyed not at individual mistakes, but at the team's failure to carry out tactical instructions and inability to compete physically with Ajax. Even with 10 men for 40 minutes, the Dutch side ran five kilometres more than Barca over the course of the match.
"Barca's lack of intensity in Amsterdam annoyed Martino," the source added. "Individual mistakes can happen, but many of these came about through a lack of concentration and a lack of intensity. Barca were too easily bullied in midfield and that was a source of frustration for the coach."
With Lionel Messi missing through injury, Barca also lacked an outlet in attack and this game highlighted just why Martino is keen to bring in a striker in January or, at the latest, in the summer transfer window.
Neverthless, the Barca boss believes his side should have taken something from the match and, although he is publicly maintaining a positive discourse, he has asked his players for four key fundamentals.
"He wants the players to stick together," our source said. "That is key. He also called for maximum focus and concentration, something which was missing on Tuesday. Intensity is another must and he also asked every player to look at their own individual performance in Amsterdam. Most admitted they can do better."
The flight back to Barcelona was tense, but after the storm came calm. Martino took training on Wednesday and was much more relaxed by now. Gone was the fury from Amsterdam and the players were given a day off as usual on Thursday. The coach spoke to his squad again on Friday, this time with a more measured dialogue, confident he had got his message across.
We played horribly. There are no excuses and all of us in the dressing room know that."



- Barcelona's Gerard Pique

Barca now travel to Athletic Bilbao for what is potentially one of the toughest Liga fixtures of the season and Martino is expecting a reaction from his players.
Dani Alves, Adriano and Alexis Sanchez are all fit again and are likely to come back into the starting XI, along with Marc Bartra and Sergio Busquets - both on the bench in Amsterdam.
"Some of the players are back, but regardless of personnel, 'Tata' is really looking for a reaction," our source summed up. "He knows that questions are being asked and while he is confident that Tuesday is just a blip, he is also aware that another slip-up will bring a huge wave of negative press. He expects a performance from his players on Sunday - and he will get one."
Follow Ben Hayward on