EXCLUSIVE
By Ben Hayward & Alberto Pinero
Cristiano Ronaldo is close to agreeing a new contract with Real Madrid which will make him the world's highest-earning footballer,
Goal
can reveal.
Madrid are in advanced talks with Ronaldo's representatives over a deal totalling around €155 million over five years, with the Portuguese forward set to earn €15m annually after tax in what will be the most lucrative contract in the history of the game.
Ronaldo, who has scored 201 goals in just 199 games in his four seasons at the Santiago Bernabeu, raised alarm bells on Thursday when he posted a cryptic message on Twitter which read simply: "All the news about my renewal with Real Madrid are false." Days earlier, however, he revealed his intention to remain at the Spanish side beyond his current contract, which expires in 2015.
After Portugal's 1-0 win over Russia in a World Cup qualifier last week, Ronaldo said: "I haven't spoken to anyone yet, [but] I know we will reach an agreement on a new contract. The most important thing now is the national team." And he also claimed his future has nothing to do with the departure of coach Jose Mourinho. "I am not worried by what Mourinho does; I am concerned with Real Madrid and my future," he said in May. The pair's relationship, once excellent, deteriorated in recent months following an angry dispute over a tactical correction made by Mourinho in a game against Valencia in January.
UNITED'S INTEREST VERY REAL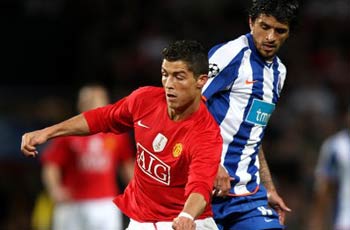 Though it never reached the stage of tabling an official offer, Manchester United's dream of persuading Ronaldo to return to Old Trafford was and remains a genuine one.

A public and private charm offensive kicked off in earnest around the time the Premier League champions drew the Spanish giants in the Champions League last December and reached a crescendo when the prolific Portuguese arrived back on his former stomping ground in March and duly scored the decisive goal in the tie.

The reception he was afforded that night struck a chord with the player who had felt unloved and unappreciated in the Spanish capital. That he spent time after the match catching up with his former team-mates and speaking so positively of his former employers, to the extent that he appeared to be leaving the door open for a return, gave United's hierarchy belief they were capable of pulling off an astonishing coup.

In truth, however, the stratospheric sums involved were always likely to prove the most significant barrier, alongside Madrid's reluctance to sell, to a deal being stuck.

James Goldman, Goal UK
Ronaldo's posture has changed after his well-documented 'sadness' at the beginning of last season, when he was frustrated at what he perceived to be a lack of public support from the club in the race for the Ballon d'Or, a fall-out with team-mate Marcelo and the club's apparent unwillingness to discuss a new deal.
Madrid signed Ronaldo from Manchester United in a world-record €94 million deal back in the summer of 2009, following Florentino Perez's return to the presidency at the capital club. He currently earns around €10m annually after tax.
When Ronaldo arrived, however, the so-called 'Beckham Law', which allowed foreigners who had lived in Spain for less than 10 years and who earned above €120,000 per annum to pay a lower tax rate of around 23 per cent and not the usual 45%, was still in force. David Beckham was one of the first to take advantage of the law after his move from Manchester United in 2003.
However, the Spanish government has since scrapped that initiative and a new deal would see Ronaldo required to pay 52% of his salary to the taxman. Hence, Madrid will be faced with an annual outlay close to €31m in order to pay the Portuguese the net €15m he has asked for.
Madrid, however, are aware of the importance of keeping Cristiano. The capital club missed out on Neymar recently, while they look to be frustrated in their pursuit of Dortmund duo Ilkay Gundogan and Robert Lewandowski. Other previous transfer targets, such as Sergio Aguero and Radamel Falcao, will not be arriving either, while Gareth Bale is expensive and unwilling to force a move and Edinson Cavani is considered overpriced by the Madrid board. Ronaldo's renewal, therefore, assumes even greater importance.
President Perez has already revealed Real's intention to make the Portuguese the cornerstone of the club's next sporting project. "I want to build Real Madrid around Cristiano Ronaldo," he said late last month. "And I want Cristiano to be the best-paid player in the world."
Madrid are ready to meet Ronaldo's wage demands and make the Portuguese a higher earner than Lionel Messi, who takes home around €13m before bonuses at Barcelona, and Falcao, who will bring in €14m annually at Monaco. Samuel Eto'o earns €20m per year at Anzhi Makhachkala, although the Cameroonian is on just a three-year deal and his total package will be surpassed by Ronaldo's Real contract.
The one sticking point currently is the player's image rights. Cristiano currently has a 60 per cent share (of which he pays a third to Jorge Mendes' company Gestifute), while the club keep 40%. The Portuguese is keen to improve that ratio and his recent tweet, as well as news stories leaked to press over a stalemate in negotiations, are thought to be two tactics used in conjunction with Mendes in order to apply pressure on the club. However, both parties are confident an agreement will be reached in the coming weeks.
Follow Ben Hayward on

Follow Alberto Pinero on