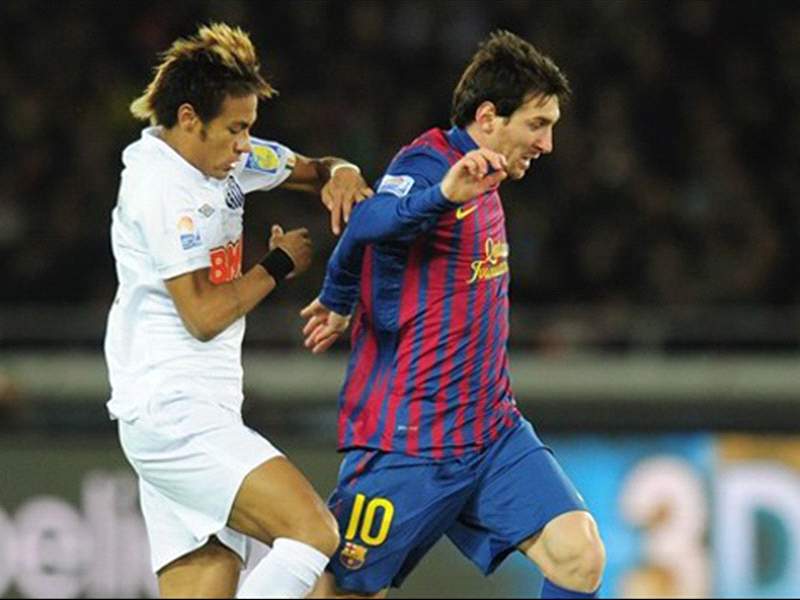 Lionel Messi
has admitted that
Neymar
would be a most welcome addition to
Barcelona
's already-stellar forward line.
The Catalans have reportedly agreed a deal with Santos for the young prodigy and, after lining up against the Brazilian in Sunday's Club World Cup final, Messi has revealed that he would be more than happy to see the forward arrive at Camp Nou.
"If Neymar comes to Barcelona, he would be welcome," the Argentine told reporters upon returning to his homeland for the festive season.
Messi also admitted that he is in great spirits after Barca's stunning 4-0 demolition of Santos in Yokohama, a game in which he netted twice.
"I'm very happy," the 24-year-old enthused. "Having become world champion with my club makes me very happy. Now, to enjoy the holidays with the family."
Reflecting on his year, though, Messi did admit that Argentina's disappointing Copa America campaign was a blow.
"Unfortunately, the national team have not yet given me [a title], but we are working with enthusiasm and hope," he declared.
Messi has played 66 times for his country since making his debut in 2005, scoring 19 goals.
Starting last month and continuing all through January, Goal.com will publish extracts from Graham Hunter's highly-anticipated book, 'Barca: The Making of the Greatest Team in the World'. In this Friday's extract, he looks at Pep Guardiola's early beginnings at Barca B in the Spanish third division ahead of his meteoric rise to world domination with the first team. Don't miss it!