More than a month after poking
Barcelona
assistant coach Tito Vilanova in the eye during
Real Madrid
's 3-2 defeat in the second leg of the Spanish Supercopa at Camp Nou,
Jose Mourinho
is still pointing the finger.
The Portuguese was caught on camera poking Vilanova during the ugly brawl which marred the season's second Clasico, after Marcelo's bad tackle on Cesc Fabregas had provoked an unseemly confrontation between players and coaches from the two rival clubs.
Mourinho's moment of madness has now been recreated in a popular smartphone application, The Finger, which has reached the top five in total free downloads and number one in the sports section, and can be
downloaded from the app store on your iPhone
.
You, the player, are Mourinho, whose face, body and outstretched arm appear on the left-hand side of the screen. From the opposite end, the head of Vilanova veers towards you on multiple occasions and you must poke the Barca number two in the eye by touching on his face. Every time you do so, Mourinho mutters: '¿por qué?' - the famous 'why' from his press conference rant at Barca after last season's Champions League semi-final first-leg defeat at the Santiago Bernabeu.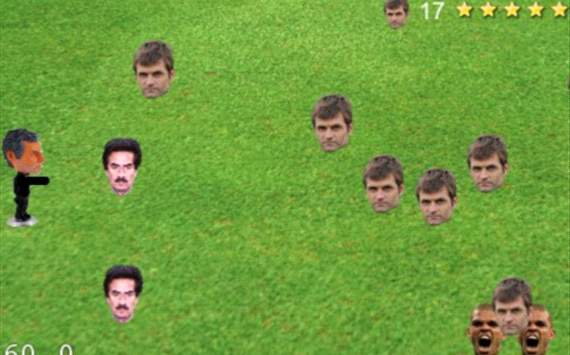 Pointing the finger | Mourinho takes aim in a screenshot from the popular game
Every time you poke Tito, you receive a point, but the Vilanova visage comes faster towards you as the game goes on, while every now and again, the player is faced with the head of the so-called 'observer' - Barca employee Francesc Satorra - the man with the moustache famously photographed just behind the incident.
Poke Satorra and you lose one of your five lives, while failure to nab a Tito before he passes across the screen also results in the loss of a life. But should the game become excessively difficult, you can call on Pepe, whose face appears twice on the bottom right of the screen. Poke Pepe and the screen will clear as the defender, seen very much as a villain by Barca fans for his aggressive fouls, lets out a huge roar.
At the end of the game, the top five scores are listed on the screen and the player can share their achievements with friends on Facebook, Twitter or via e-mail.
Meanwhile, Mourinho can be heard in the background muttering his memorable musing from after the incident itself: "I don't know who that 'Pito' Vilanova is - who is 'Pito' Vilanova?"
Talk about poking fun.
Follow Ben Hayward on