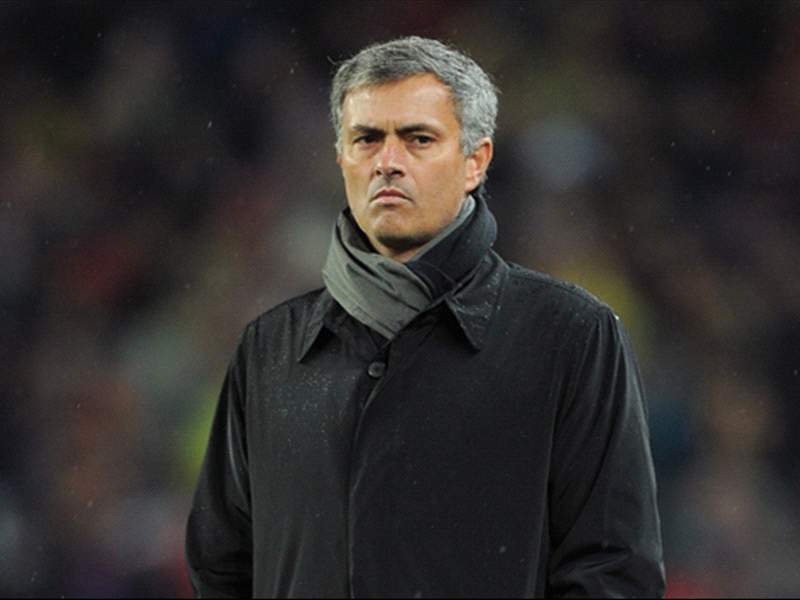 Real Madrid
coach
Jose Mourinho
has proclaimed 2010 as a "fantastic year for my professional career" looking back and reflecting on his season.
The 'Special One' didn't expect to win the "true treble" with Inter, and is looking forward to competing with Barcelona in La Liga to win the league by season's end.
"It was a fantastic year for my professional career," the coach told
Record
in an interview. "I have been enjoying very good years, although this one was the one of the true treble, I mean, the one in which I won the Champions League, the league and the cup.
"At Porto, I had already won the UEFA Cup, league and cup (2002/03), plus the Champions League, league and Supercup (2003/04). At Chelsea, we won the league, the League Cup and the Supercup (2005/06) and then both cups and the Supercup (2006/07).
"It was a totally unexpected feat, because no-one thought that Inter would win the Champions League in a season in which Barcelona and Chelsea were favourites. It just so happens that we were champions eliminating precisely both these teams.
"This Champions League had an incredible meaning, for the difficulty level, the opponents and also for what it represented in the history of a club that had been chasing it for 50 years. On a personal level, I think so, it was my best and most accomplished year ever, to which I also must add my transfer to Real Madrid."
Mourinho does admit it was a risk to leave the Nerazzurri and move across to the Blancos, as he could have stayed in Milan and won more trophies. But the Portuguese was after a new challenge.
"It was more comfortable to stay quietly at Inter, living off the status and the success I had achieved, with an eye on winning those easier international competitions, such as the European Supercup or the FIFA Club World Cup," he said. "I made the decision to leave to a club that has not won in a long time and that, unlike what is believed, is not totally ready to win.
"I also felt it was time to spice up my 2010 year, which was perfect while I was at Inter and is perfect at Real Madrid as a challenge."
"Real Madrid do not only have a different coach and staff; it has half a team which was signed at the beginning of the season – there are five new players in the starting XI.
"At Real, we have had 13 victories, two draws and one defeat in the league. If we were in a different league, in one of those leagues in which everyone loses a lot of points, like in Italy or England, we would be well alone at the top.
"In Spain, it does not happen, because us and Barcelona win almost every weekend and the league will be most likely decided in the matches between us."
The former Chelsea and Porto boss spoke highly of both Cristiano Ronaldo and Angel Di Maria, who have been in fine form this season so far.
"Ronaldo is fantastic, a spectacular kid. It is a pleasure to meet him, be with him every day, live my everyday life with him," Mourinho added. "His quality as a professional, his ambition, I have no words to describe it.
"I am super happy with Di Maria. At Real Madrid, the hardest thing is not the coach to be happy with the player, but the fans to be happy. Di Maria has conquered the Bernabeu and the Bernabeu respects that. It likes those who fight, who leave everything on the field, work and play with intensity. Those who do not have that, the fans do not forgive."
One of the 47-year-old's frustrations is the Portugal national team allowing him to not coach against Denmark in a Euro 2012 qualifier, when the Seleccao were without a tactician.
Mourinho believes he was not allowed to do so because of his coaching style and mentality being different to what is required to being a national team coach.
"The Seleccao is the biggest frustration of 2010," Mourinho bemoaned. "I think that I will never be a coach of national teams, because of my mentality and personality.
"I will not be an office coach, of observing players, of travelling to watch matches and players. I am coach who trains every day, of playing three times a week, if that's the case.
"But in that moment I motivated myself, I convinced myself, I had people at home who have a huge importance to me who squeezed me hard to accept it. And I did. After saying I would coach Portugal against Denmark, they told me I could not go. It is my frustration," he concluded.