The only missing trophy on
Ricardo Carvalho
's CV at
Chelsea
was a
Champions League
medal. The 32-year-old defender left the club this summer after six years, and in doing so has once again reunited himself with
Jose Mourinho
, the man who brought him to Stamford Bridge in 2004.
But while Spain's Primera Division is touted as being the best in the world, with superstars such as Leo Messi, and Cristiano Ronaldo flaunting their talent, and while Spain may be the world champions, Carvalho reckons it doesn't compare to playing in England.
"When I went to Chelsea it was much more difficult for me than coming here," Carvalho told
Goal.com exclusively
. "I grew up in Portugal and football there is very similar to the football here in Spain. I think it is a lot harder to play in the Premier League. Players are physically much stronger in England. In that sense, it is harder to play for Chelsea than for Real Madrid. And playing there is what has really improved me as a player. I had six very happy years at Chelsea."
MORE...
That's hardly surprising, given that in that time Carvalho won three FA Cups, three league titles and reached a Champions League final that Chelsea narrowly lost on penalties. But for all the success, Carvalho decided to call time on his stay at Stamford Bridge in order to rejoin Mourinho and be a part of his revolution at the Bernabeu.
"I had an agreement with Chelsea," he added. "It was written in my contract that if after five years another big club came in for me then they would release me if I wanted to leave. And I was ready to go. I spent six years at Chelsea and I left with some great memories."
The football in England may be much tougher but there are different expectations playing for a club like Real Madrid. Carvalho, who has started in every game so far, including the midweek defeat of Ajax in the Champions League, feels that the fans don't get behind their team as they do in the Premier League.
"The pressure on the players is higher here," he said. "For example if you don't play very well the Real fans will quickly start booing you. I guess you just have to learn to accept that. If you don't play well and the crowd starts booing, then you just have to start running more and try to play better!"
And Carvalho is happy enough to once again be playing under his mentor Mourinho. The Portuguese defender has been with his boss at Porto, where they won the Champions league together in 2004, at Chelsea and now at Real Madrid. If anyone knows Mourinho well then it is Carvalho, and he doesn't feel that the manager's adventures in Italy with Inter have changed him too much.
"No, not really," he said. "Jose just has his own style and his own way and that remains. Yeah sure, he has a changed a little of course, but for me he is still the same person and the same coach."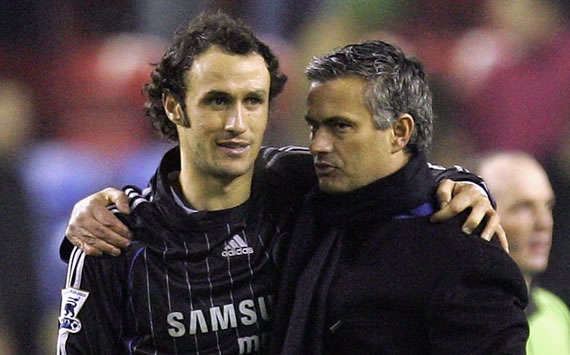 Inseparable | Mourinho & Carvalho have worked together at three clubs
That tends to suggest that Mourinho still very much likes to be his own man. Whether that will work for him or against him at Real Madrid only time will tell. But the impression the 'Special One' left at Chelsea has taken until Carlo Ancelotti to be wiped away.
In the interim, a slew of managers have come and gone, including big star names such as Felipe Scolari and Guus Hiddink. And Carvalho doesn't hide away from the fact that Scolari's appointment was a disaster as far as the players were concerned.
He said: "Two seasons ago we had some great problems. Scolari came in for five months and then Hiddink was there till the end of the season. It was a bad time for the team. There was no connection between the players the coaching staff and the management [under Scolari]. But that has all changed now and there is much more togetherness. And that makes it much easier."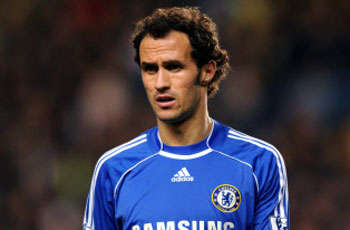 "
You know he did a good job for the club. He took us to the Champions League final and we could have won it.
"
- Carvalho's verdict on Avram Grant.
However, Carvalho feels that the one person who was unfairly dealt a blow in the post-Mourinho transition was Avram Grant. The Portuguese defender feels that the Israeli coach deserved a lot more credit than he was given for his time in charge.
"You know he did a good job for the club," he said. "He took us to the Champions league final and we could have won it. And with him we fought till the last match in the league. And all this straight after Mourinho."
But that is all in the past now as Carvalho sees a stronger Chelsea under the calming influence of Carlo Ancelotti, as last season's double proved. And he is not at all surprised at how well the Londoners have started the new season.
He said: "Chelsea have some absolutely great players. They are tough and they are physically strong. They will be a challenge for the league and also for us in the Champions League. "
How ironic then, if at the end of the season it is Carvalho's former club which prevents him from winning a second Champions League medal, and deny Real Madrid that elusive tenth title in the process.