Real Madrid coach-to-be Jose Mourinho sat down with Spanish sports daily AS in the second part of an extensive interview in which the Special One outlined some of his philosophies with respect to coaching that he hopes to bring to the Blanco organization.
Asked in what respect he would like to have more consultation with club professionals, Mourinho stated his hierarchical preferences. "I have my ideas as to how a medical department should be run and something like that is very difficult for me to change. But I want to see how Madrid does it, I want to discuss it, I want to discuss the philosophy of work at the club. That is the first thing I will be doing, speaking with people, conversing with [Jorge] Valdano, Miguel [Pardeza], and Chendo. But what needs to be clear is that a club needs to live around a coach's ideas. The organization is subordinate to a coach's vision. But before simply imposing such views, I want to listen and ask questions.
Asked if he anticipated many changes in the club's organization, Mourinho was diplomatic. "There are people who believe I am a dictator and that I don't like working with a sporting director, but the contrary is true. I like working in groups with each having his own responsibilities. I am very loyal to those who work with me and together we tend to grow and become close".
"It is fundamental to have a good sporting director, a good executive director, a good technical secretary. I don't want to be a manager who does it all. The first team is an area of responsibility for the coach. No one will involve themselves in the number of times I need to train, when, or how. No one will be able to tell me whether I have to play a 4-4-2 or a 4-3-3 formation. No one will be able to come into the dressing room to say something at halftime. These things are my responsibility. But I cannot believe that in a club of such great dimension that there will be doubts about the other duties. I do not buy a player alone, I want to have the sporting director's opinion. I want to work as a team. If I like a particular player and the technical secretary does not, I want him to tell me so. I like having a dynamic of open dialogue".
I want to engineer the concept of football with the first team. It's easy: a club says what to do in the next four years, what direction to take, what the priorities are - the club has the option of asking me for La Liga, the Copa del Rey, and the Champions League. I can dictate the short-term priorities. In terms of the long-term, if the club wants me to prepare a structure and a plan that will work once I leave, I can do that as well".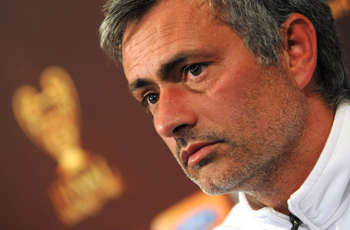 "I want to come into the club with calm and observe, ask questions, and little by little create solutions. After my presentation, my idea is to start working in Madrid for a week to put things into motion and after that I will go for a bit of vacation with my family. I am tired, but with a lot of desire and ambition to begin in Madrid".
When asked about how many of his players hold Mourinho with affection and allegiance the Special One had an explanation for this special relationship. "I promise them from the first day that I am going to get the best out of them and that I am going to take care of them. Look, I was at Valdebebas (the Madrid training facility) on a guided tour and the VIP zone for the public is spectacular - beautiful wooden walls, wonderful chairs…well this place will be a zone for the players, not the VIPs. And if not, we will build one especially for them. The VIPs at a club are the players and they need to feel comfortable and at home".
Asked if his winning titles immediately with Chelsea and Inter was a determining factor in Madrid's interest in him, Mourinho was philosophical. "Perhaps they have signed me because they know that with me, certain objectives are demanded in the short term, but that I am also capable of leaving a foundation for the future. Clearly, I work for me, but I also work for the club's interests. At Chelsea, there are still technical staff and physical trainers that I left in place. The same at Inter. I want to leave my stamp on this club - with titles, yes, but also on another level".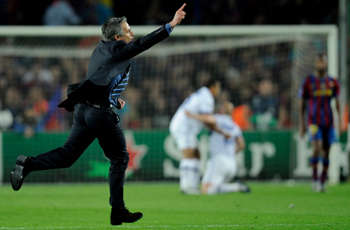 When asked to comment on the Champions League semi-final against Barcelona and the final against Bayern and how he managed to defeat the sides, Mourinho revealed his tactical adaptiveness. "At Barcelona we did not park the bus in front of goal, we parked an Airbus and it worked. In the final, we had to go out to win, not just play. My team looked for the weaknesses in our rival and tried to compensate for their best players. Bayern is faster than Inter and if Inter had sought the ball, they would have lost. If I am slower and I lose the ball, I lose the match. I decided not to focus on possession but instead being compact in defense and forcing Bayern to lose the ball. We studied five movements so that when we recovered possession we would be able to strike back quickly".
Mou was subsequently asked if he could have beaten his own defensive structure employed by Inter to which he offered a resounding yes. "I would have been capable of beating my own Inter side, including when we were so compact at the back because I know the limitations of such a tactic. The best quality a team can have is to know its own limitations and virtues. Inter has a number of weaknesses, both at an individual and a collective level. The trick is to hide those problems and I believe that this season we were able to do that very well".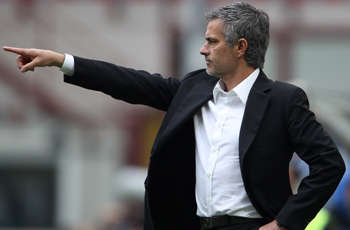 Asked about the differing styles between his Chelsea team and his Inter team and what one might be able to expect from Mou's Madrid side, the Portuguese expressed his desire to adapt to what was available. "One needs to know what one has and apply it in the best way to cause damange. When I had Cech who could distribute long balls with precision and Drogba who could win the ball up front, why not use a more direct style? What is the use of building play from the back? But if you have a Milito that does not have the same qualities, the style of play needs to be different. Madrid have Cristiano Ronaldo and Kaka who are both very good in one on one situations with defenders. In that case, it is best to seek a style that sets up one-on-one opportunities. The principles of one's style of play depend on the footballers in one's service".
Finally, the Special One was asked about the delay in resolving his contractual issues with Inter to which he replied that regardless of the process, the outcome would be the same. "It is only a matter of time before an understanding is reached. A cycle has ended and they know my desire is to move to Real Madrid. I am part of Inter's history and Inter is part of mine. They know how I am and know that a new contract or more money would not change my opinion. They know it's not worth putting up a fight. I don't want to leave Inter in a bad way, I want to leave on good terms, but I also have absolute security that one way or another I am going to coach Real Madrid".
Click here to read Pt. I of Jose Mourinho's extensive interview with Spanish sports daily AS.
Become a fan of Goal.com International on Facebook! Just click onto
Facebook.com/Goal
to join the beautiful game's leading fan community...