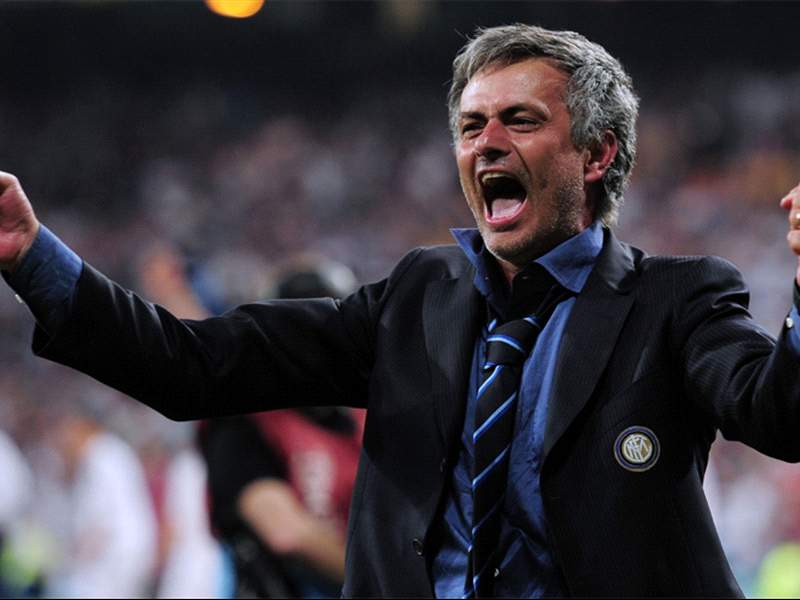 In an exclusive interview with Spanish sports daily
AS
, Real Madrid coach-to-be Jose Mourinho took questions about his Blancos squad and some of the strategies he will emply next season as the Blanco coach.
When asked about the style of play he hopes to assume, Mourinho spoke of balance.
"It will be a team with an equilibrium. A team plays to win titles and always has to conscious of its virtues and faults. It has to play as a single unit. A team that wants to win titles must win matches, and a team that wants to win matches must play well. We will have our own identity and will not imitate anyone. We will brand the game with our players and myself, but we will need to work a lot. The pre-season will be strange because it comes after a World Cup. We have to arrive upon our first official match in good condition".
As for his tactical choices, Mourinho was open about his preferences. "I like to play with four at the back, but my teams are also prepared to play with three. I have won a lot of matches playing with just three defenders. With Chelsea I won five matches that way and this year I won one match that way. Normally I play with four at the back but with a very offensive right or left-back like Ashley Cole or Maicon. My midfield can play as either a diamond or a triangle. If we play as a triangle, I prefer three forwards".
Asked if he believed he would be able to get along with club director-general Jorge Valdano, Mourinho was doubtless.
"Totally compatible. I have no doubt that our relationship will be a good one because Valdano was a player and a coach and I have also been both things. I know that one must respect ever person's autonomy. I don't think a director will involve himself directly in the squad. One can speak of signings and such things. A coach is best when all members of a group are working well".
As for his plans for Raul and Guti, Mourinho did not answer explicitly, but suggested that if they were to stay they would see a diminished role. "Veteran players deserve to be happy. They can be happy playing in another team or taking on another role in a team that they have called home for a long time. Raul has always been very calm. When I arrive, I would like to speak with him and we will see what happens".
Asked if he could recover Kaka's world class form, Mourinho justified the Brazilian's dip in form due to injury. "He has been injured and has lost his self-esteem in the past few months of competition, but I don't think that's a problem and he will return stronger. He is a player that has to have confidence to eat up space and change matches."
Asked how he might be able to field Gonzalo Higuain, Kaka, and Cristiano Ronaldo on the same pitch without sacrificing in defence, Mourinho was typically confident. "Easy. A team is a team. The same way attackers want the back lines to help them, there are moments during a match that they must also sacrifice themselves for the good of the team. I remember a match with Chelsea when we were left with ten men and Terry was going to play as a goalkeeper. Drogba raised his hand and volunteered to play in central defence. That's how we played against Barcelona and that is a team. It is difficult to be better than your rival for an entire 90 minutes. There is always a time that a team must unite and sacrifice."
When implored to comment on the fact that the Madrid fans are hungry for titles, but also for beautiful football, Mou agreed. "I am hungry for that as well, no doubt. My Madrid will always play well, will attack, and win. However, there will be moments that one will have to take on a match in a different way. My team will take the pitch with one thing in mind: win. And if we win by 3-1 and are left with ten men on the pitch, my players will have to work together to defend. That's simply how it is."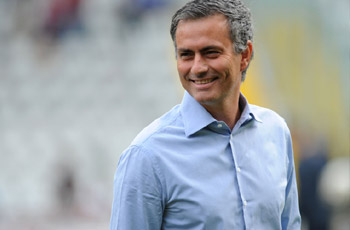 Asked to comment on Barcelona coach Pep Guardiola's comments that Mou's arrival at Madrid will make next season a lot of fun, the Special One agreed. "The Spanish Liga was a lot of fun this season and I was not here. I hope that Valencia, Mallorca, Atletico and other teams can win more and we can see a more competitive championship than this one. It is going to be a lot of fun because Barca have signed very well and are going to be even stronger than last season. I have no problem with Guardiola. I have known him for a number of years, have a good relationship with him and respect him a lot."
Asked if he had any messages prepared for his presentation as Los Blancos' coach, the Portuguese admitted to not yet thinking about it. "Not yet; I will have to think about it on the plane. I will arrive with a lot of pride for my career but with a lot of humility because Real Madrid is much bigger than any of us".
As for his Liga prediction? "I don't know. I want to win La Liga because no player or coach has been able to win the English, Italian and Spanish championships before. I would like to be the first to do it and also be the first to lift the Champions League with three different teams. I would also like to discover a youth player to convert into a star. It motivates me to take a player who was not playing very well and turn him into something spectacular. I have a lot of motivation. I don't want to lose humility so I can't say I will win La Liga when there is such a good team against us in Barcelona".
Asked if his team could win the Triplete, Mourinho was diplomatic. "Only a top team can win all three titles. If Madrid is able to become a top team, we can win the Triplete".
The Special One also spoke of possible transfers into the club. About the possibilty of Diego Milito coming from Inter: "As a striker, Milito has everything. He's a great attacker. But I also believe that a player who has entered Inter's history, as he has, will not be allowed to leave his club. Milito is Inter. I would like for him to come with me, but he needs to stay, renew his contract and take in more money.
On Maicon: "Maicon is a great player, very physical. He has fantastic quality and is a right-back who scores 6 or 7 goals every year and not from set plays. This is the time for him to experience something he hasn't lived yet. I am not going to say I would not like to have him at Madrid. Furthermore, I think Sergio Ramos can become one of the best central defenders in the world".
For ways to improve the squad: "I want three or four defensive players, but that we also improve the attack".
On the possiblity of signing Angel Di Maria: "He is a fantastic player playing in a smaller league. I have doubts about how he could perform in a bigger league like La Liga or the Serie A. If it's possible to sign him at an affordable price, I would say to risk it and sign him. But if the price is astronomical, I would say no because I don't like for my clubs to pay exorbitant prices for players".
As for Stephen Gerrard or Frank Lampard: "I like players in the final stages of their careers. I love having players that are 33 or 34 years old. They are players that have qualities one cannot buy. Both [Gerrard and Lampard] are great players that always give everything.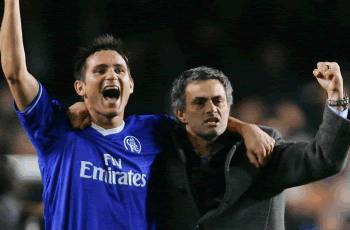 On rumoured transfer target Fabio Coentrao: "He's a player that is doing very well right now, but signing him is like signing a Portuguese Marcelo. I prefer a player of other qualities although I recognize he's a great player with a great future ahead of him".
On De Rossi: I think he would be impossible to sign because Roma is Totti and De Rossi. Totti will end his career soon and De Rossi will be the one who remains. He is Roma through and through and I don't think it would be possible to sign him".
On the new challenge of working in Spain: Four or five months have passed since I decided I wanted to leave Italian football. The results have made my exit easier although I preferred to not think of such things while we were still competing for titles. But I want Real Madrid and they want me. A path was made. The decision had been made before the Champions League final. Inter knew it was not a question of contracts or money and that I would not change my mind. Finally, in the last few hours everything has taken place as normal with respect to negotiations, but there was absolute certainty I was going to coach Real Madrid".
As for the 16 million euro buyout clause in his Inter contract, Mou hopes for a solution beneficial for all. "Clearly, Madrid can pay the clause, but I want some kind of agreement. I want for the clubs to understand one another because both know what they are looking for and that is what is best for me. I will coach Madrid one way or another".
Finally, as for what he is prepared to give to his new position as Blancos coach, Mourinho was emphatic. "I can give everything I have given all the clubs I have coached: absolutely all of myself. I live within a club and my life outside my work tends to be limited. My life is my family and my club. I will not have time to visit Madrid, play tennis or golf. I promise complete and total dedication".