There is a sea change slowly washing over Spanish football and the driving force behind it is Jose Luis Astiazaran, president of the Professional Football League, the LFP. The no-nonsense head of La Liga wants to bring in measures which will limit the amount of spending by clubs on transfers, players' salaries and agents' fees. As it stands today, Spanish clubs can spend their income as they wish. But there is a growing concern that an over-emphasis on players is affecting some clubs. The changes that Astiazaran is proposing, will limit spending on players to 70% of a club's annual turnover. It means that 30% has to be invested in projects such as developing young talent and the maintenance and improvement of facilities and stadia. Astiazaran states that this limitation should not to be seen as a cap on players' salaries.
"The work we are doing is to have a limit on the investment made in players. And right now we are working hard within the league to get to a system that will limit this investment to 70% of clubs' revenues. Astiazaran continues: "We are working together with UEFA and with Michel Platini to have a similar system to the one UEFA wants for clubs. But the point to bear in mind is that this is not a salary cap, but a limit in the amount invested in players."
In September last year UEFA expanded its financial fair play concept for all European clubs. Among the main highlights were the introduction of more discipline in club finances, reduction of the financial burden of salaries and transfer fees, and to encourage clubs to invest within their revenues. The proposals were universally approved. Astiazaran says that the idea of imposing a limit in Spain was originated by clubs themselves.
"The clubs asked me to do this. They first met together, and then they came to us and said they needed a system which had a limit on investment." Astiazaran explains: "We have some clubs that, when they get relegated into the second division, have big problems with money. In particular with the investments they have made on players. So the clubs wanted us to come up with some of sort of a control system."
Unlike in the English Premier League, in Spain there is no parachute system of payments to help clubs who get relegated. The difference in TV revenues between the two divisions is staggering. This has meant that some clubs which have been relegated in the past have ended up in administration.
Introducing such a system won't be opposed by individual club owners, as the phenomenon of multi-billionaire owners doesn't exist in Spain. For all the popularity of La Liga, and the stars that play in it, there isn't a Roman Abramovich, a Sheikh Mansour or families like the Glazers who have zoomed in and taken clubs over. The Liga president is fearful of such takeovers, because they don't bring any long term guarantees. Clubs become susceptible to the whim of owners, who could decide to quit the club in a moment. Astiazaran feels the mentality of Spanish clubs will never allow that kind of investment to take place.
"In Spain we don't want to have outside money if we cannot generate it from inside clubs. We have been working like this for many years and we only move the money we make through the business of each club. This is very important to control investment. Yes, maybe there is investment in other markets or in television rights, but in the shares of the club and the money invested in players here in Spain, people spend the money which is made in the returns of a club."
It's a fanciful argument but one that is hardly supported by the facts. While clubs may fear one owner taking over, they certainly don't fear overspending. Jose Marie Gay, professor of economics at Barcelona University and an expert on soccer finances, estimates the debt of La Liga clubs at an astonishing €4 billion. Putting Real Madrid and their astronomical debt to one side, last season Valencia almost went into financial meltdown and at one point could not even pay the players. This hardly suggests that clubs in general spend from their revenues. It would also argue the point that if clubs are spending their budgets then why do they feel a need to have a control on spending?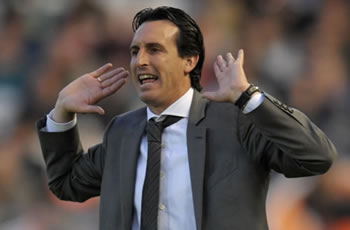 Unai Emery's Valencia continue to battle against financial problems
In addition, critics of this plan, such as professor Gay, suggest that a limit on spending will damage teams and create an even wider gulf between Real Madrid and Barcelona and the rest. They add that limiting clubs to the same percentage of spending can only benefit those with higher incomes. The only way lesser teams can compete is to spend a higher amount of their income, or even beyond their income on players' investment.
There is also the argument that Spanish clubs will be disadvantaged when competing with those who have no limits in the rest of Europe. UEFA itself carried out a survey on the financial health of European clubs in an 80-page report, which was released in February called the European Club Footballing Landscape. Amongst its numerous findings was the fact that some 35 per cent of all European clubs have debts in excess of their assets. But even though the rest will stand by and watch Spain, Astiazaran doesn't accept that La Liga's top sides will be affected.
"If Real Madrid or Barcelona have very high levels of revenue then their limit will also be very high. This is a limit in percentage, not in amount, so if you have big revenues you still have huge possibilities." He argues.
If Spain goes it alone then the impact of this new ruling, which La Liga hopes to enshrine in a sports law later this year, could be significant. Under Astiazaran's plans Spain may well become the first to embrace the ideals of financial regulation, which could make it a leader by the time UEFA's financial fair play policy kicks in. Alternatively, life for smaller clubs within La Liga is about to get harder, while the giants of the league may find themselves fighting their European rivals with one hand tied behind their back.
In part 2 Jose Luis Astiazaran talks about the possibility of central tv contracts for La Liga, and why he supports Michel Platini's bid for re election
Become a fan of Goal.com International on Facebook! Just click onto Facebook.com/Goal to join the beautiful game's leading fan community...