BARCELONA
Valdes: NA – Just what exactly does Victor Valdes look like again? He was absolutely unnecessary as a shot stopper, given that Inter had only one shot all night, and that was off target. He didn't even bother going up for the late corner!
Dani Alves: 6.5 – Beyond anything else, he needed to stay onside more. On at least two occasions he got himself into good positions on the overlap, but invited the referee's assistant to raise his flag. With real chances at a premium for the home side, his ability to get crosses in was vital for Barca, which he did more so late on... after Ibrahimovic had been withdrawn.
Toure: 5.5 – Had little to do at the back, and was left punting balls forward as Barca looked increasingly desperate to break through the stubborn Inter rearguard.
Pique: 7 – Started marauding forward from early on, and did superbly well to keep his calm before slotting home Barca's apparent lifeline.
Milito: 5 – Supplied no width and few crosses in his role as an emergency left-back before being replaced at the interval.
Xavi: 7 – Yet again he was the man pulling all the strings, but he had two chances to pull the trigger early on which he may rue not taking.
Busquets: 5.5 – His role was deemed almost unnecessary by Inter's defensive gameplan. Hardly covered himself in glory with his reaction to Thiago Motta's stray hand, but his play on the ball was generally neat and tidy in his hour on the pitch.
Keita: 6 – Decent enough in midfield, but never had the cutting edge that was needed on a night like this.
Messi: 7 – Despite the constant attention from the likes of Cambiasso, Zanetti and Samuel, he still contrived to forge some crucial openings for his team-mates. Looked devastated at the end, and it it's a shame he won't be in Madrid on May 22.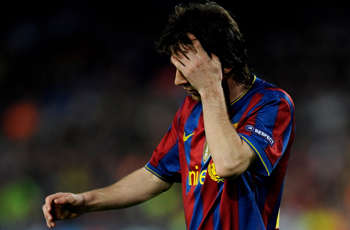 Ibrahimovic: 5.5 – Saw very few chances come his way, but ironically was asked to watch on as Barca finally started crossing high balls into the box immediately after his substitution. Has progressed as a Champions League footballer this season, but didn't show it tonight.
Pedro: 6 – Supplied decent width in the Blaugrana attack, but his indecisiveness sometimes cost his side some chances, not least when he had rare chances to cross from in behind Maicon.
Subs:
Maxwell: 6 – Brought the necessary width to Barca's play in the second half, but often missed the target with his crosses as Barca struggled for service from the left all night.
Bojan: 6 – What might have happened if Bojan had headed home just before Pique's goal? And what would have happened if the referee had not ruled out his 92nd minute effort?
Jeffren: 5.5 – Lively, but ultimately couldn't supply the added edge that Barca were lacking late on.
INTER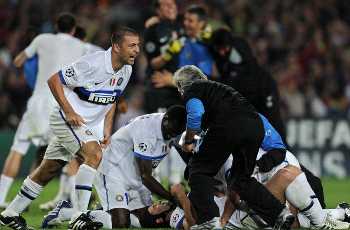 Julio Cesar: 7 – He may have only had four shots to save, and on one of them he was beaten by Pique, but his command of the area throughout was superb. Regularly, he was forced to come and punch, or claim crosses, as Barca laid siege to his goal.
Maicon: 8 – Another superb showing in Europe from the big right-back, whose market price must have gone through the roof during Inter's run to the final. Worked tirelessly at the back, whilst also supplying a decent percentage of the Nerazzurri's completed passes in their rare forays into Barca territory.
Lucio: 7.5 – The Brazilian gets better and better on European nights. A colossus in the air once more as he saw off Ibrahimovic for a second week running, whilst also throwing himself in the way of countless attempted throughballs.
Samuel: 8 – Another heroic effort from the Argentine, regularly getting in vital blocks and tackles as Messi and Ibrahimovic tried to exploit his side of the back four with regularity. He put in a couple of outstanding challenges on Messi which will be worth playing back to his grandkids in years to come.
Zanetti: 7.5 – The heroic captain was at the top of his game once more as he led his battered and bruised troops through a traumatic 90 minutes. Who could deny that this man deserves to lift a Champions League trophy before his career finally comes to a close?
Cambiasso: 7 – Another fantastic defensive display up against Lionel Messi, he was the base around which Inter built the gameplan that has led them to the Champions League final.
Thiago Motta: 5 – His night was a short one, and his red card means his participation on May 22 will be ever shorter. Though a straight red may have been harsh, it was reckless in the least for him to be waving his arms around when already on a yellow card. Left his side short-handed for over an hour, but luckily they got away with it.
Chivu: 6.5 – For a man who was thrown in less than 15 minutes before kick-off, he stood up to the challenge superbly, regularly becoming a fifth or sixth defender to help keep the red and blue hoards away from the Inter goal.
Sneijder: 6.5 – Got through a huge amount of hard work in midfield, and also held onto the ball as well as anyone to give his side's defensive players a rest between the waves of attacks Barca were subjecting them to for the most part.
Eto'o: 6.5 – Rarely can the Cameroonian have put in such a committed performance without hardly seeing the ball. His teamwork has shone through at times this season, but he outdid himself tonight as he constantly drove forward on rare attacks and immediately sat in in midfield when needed as defensive cover.
Milito: 6.5 – The one player Inter cannot do without was asked to put in yet another display of real heroism, until finally running out of legs late on. Jose Mourinho will just wish he could wrap him in cotton wool between now and May 22, but he is desperately needed for Inter's challenges for two other trophies.
Subs:
Muntari: 6 – Replaced Sneijder to provide fresh legs in Inter's bid to hold on, and provided a decent disciplined effort in his 25 minutes on the pitch.
Cordoba: NA
Mariga: NA
Become a fan of Goal.com International on Facebook! Just click onto Facebook.com/Goal to join the beautiful game's leading fan community...