The 1980s spawned some explosive rivalries. In music there was Michael Jackson vs. Prince, in basketball there was Magic Johnson's Lakers vs. Larry Bird's Celtics, but the best head-to-head of all if you are a Calcio fanatic was Milan vs. Napoli in Serie A.
Almost from the moment Silvio Berlusconi acquired the then long-suffering Rossoneri early in 1986, the scene was set for a match-up that divided the powerful and industrial north, and the poor, neglected, and agricultural south.
In four straight seasons between 1987-90, Napoli never finished outside of the top two – winning two Scudetti. Milan triumphed once during this time, and were locked in two titanic title battles with the Partenopei. One of these ended positively and the other negatively.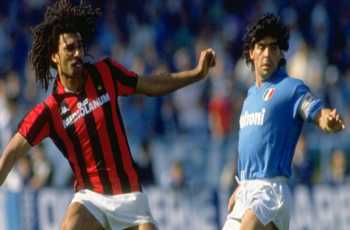 Napoli, of course, were led by the talismanic Diego Maradona – the greatest footballer of all time who 20 years after leaving the club is still worshipped like a God by the people of Campania. When Dieguito joined the Azzurri for a record-breaking fee from Barcelona amid much fanfare in 1984, he transformed the entire landscape.
With 10 goals in 29 games, and numerous assists, Maradona inspired Napoli to the first Scudetto in their history in 86-87. Street parties went on for days, and thousands of newborn babies were named Diego or Diega - the Argentine became a myth.
But the Napoli of the late 1980s weren't just about Maradona, as is often mistakenly believed. Coached by Ottavio Bianchi, and then Albertino Bigon, the southerners boasted a host of top class players. Brazilians Alemao and Careca were among the world's best in their respective positions of centre midfield and centre forward, the latter forging the famous Ma-Gi-Ca trio along with Bruno Giordano.
Italy boasted an abundance of brilliant defenders during this era – Ciro Ferrara, later of Juventus fame – was just one of them. Fernando De Napoli was among the most under-rated midfielders at this time, representing his country with distinction at two World Cups and a Euros. And then of course there was a young Gianfranco Zola, who would learn his trade as understudy to Maradona. This was a superb side, who confirmed their quality by romping home to UEFA Cup glory in 1989.
The same year, Milan won the first of five European Cups under Berlusconi's stewardship. Coached by the innovative Arrigo Sacchi, this Diavolo is regarded by many as the greatest club team of all time. What is not in question, is that the defence marshalled by the genius of Franco Baresi - also containing Mauro Tassotti, Alessandro Costacurta and Paolo Maldini – is the greatest ever back four.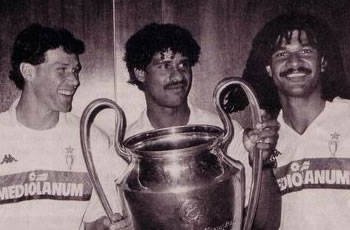 Not forgetting the irrepressible Roberto Donadoni, it was the three Dutchmen – Marco Van Basten, Ruud Gullit and Frank Rijkaard – who grabbed all the headlines and were the destructive force behind this Milan machine. This trio were also instrumental in leading the Netherlands to Euro '88 glory, with the former two scoring the goals in the 2-0 final victory over the Soviet Union. Van Basten would strike 125 times in just 198 games for the Rossoneri before injury ended his career prematurely at just 30. Maradona's record for Napoli was 115 in 258, while Careca hit 73 in 164.
As with any great rivalry, controversy was not far away. Many people believe that were it not for external forces Napoli would have won the 1988 Scudetto and Milan the 1990 crown.
In 1988, champions and leaders Napoli were four points clear of Milan with five games to go. During an era of two points for a win, this was a significant advantage. Especially as Bianchi's men had lost only twice all season and had led the campionato since the opening day.
Then, apparently inexplicably the Partenopei collapsed, obtaining just one point from their last five games, which included a thrilling 2-3 home reverse to Milan, meaning that the Rossoneri collected their first title for nine years and their first of many to come under Berlusconi.
| | | |
| --- | --- | --- |
| SEASON | SCORE | SCORERS |
| 1986-87 | Milan 0-0 Napoli | - |
| 1986-87 | Napoli 2-1 Milan | Carnevale, Maradona (N), Virdis (M) |
| 1987-88 | Milan 4-1 Napoli | Careca (N), Colombo, Virdis, Gullit, Donadoni (M) |
| 1987-88 | Napoli 2-3 Milan | Virdis (2), Van Basten (M), Maradona, Careca (N) |
| 1988-89 | Napoli 4-1 Milan | Maradona, Careca (2), Francini (N), Virdis (M) |
| 1988-89 | Milan 0-0 Napoli | - |
| 1989-90 | Napoli 3-0 Milan | Carnevale (2), Maradona (N) |
| 1989-90 | Milan 3-0 Napoli | Massaro, Maldini, Van Basten (M) |
It is now common knowledge throughout Italy that Napoli threw the Scudetto at the behest of the Camorra. Underground or black betting (totonero) run by the mafia was massive in Italy at the time. So many Neapolitans had bet on a title victory that the Camorra stood to lose hundreds of billions. As Napoli won their seventh victory on the trot at the end of February, the Camorra started issuing out warnings, Maradona's car was smashed up and Salvatore Bagni was beaten and had his car stolen. Eventually the Napoli squad were given offers they couldn't refuse. The body of Bagni's dead son was stolen, as a message for everyone to keep their mouth shut.
| | | | |
| --- | --- | --- | --- |
| SEASON | MILAN | NAPOLI | CHAMPIONS |
| 1986-87 | 5th | 1st | Napoli |
| 1987-88 | 1st | 2nd | Milan |
| 1988-89 | 3rd | 2nd | Inter |
| 1989-90 | 2nd | 1st | Napoli |
| 1990-91 | 2nd | 8th | Sampdoria |
Two years later it was time for Milan supporters to complain. The Rossoneri had overtaken the Azzurri in week 26, but in the penultimate game of the season both sides were level on 47 points. Milan were expected to easily beat second-from-bottom Verona at the Stadio Bentegodi but just like in 1973 when a final day loss here cost them the Scudetto to Juventus, they fell to a shock 2-1 defeat.
The refereeing in this game was scandalous, with three Milan players – Rijkaard, Van Basten and Costacurta - all red carded. Verona's winner was clearly offside, while Sacchi was also sent from the touchline for disputing the failure to award a stone-wall Van Basten penalty. Paolo Maldini has described this match as the most controversial of his career, even worse than the infamous 2002 World Cup second round defeat to South Korea.
While Milan would go from strength to strength in the early 1990s by winning four Scudetti in five years, and reaching three straight European Cup finals, when Maradona left the southerners endured a fall from grace, yo-yoing between the top divisions, going bankrupt, and never looking like challenging for top honours again.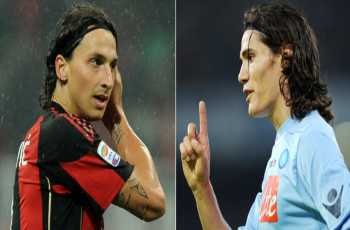 Film producer Aurelio De Laurentiis re-founded the club in 2004, and masterminded their rise from the former Serie C into the top-flight. Ex-sporting director Pierpaolo Marino worked wonders to sign outstanding young players such as Ezequiel Lavezzi, Walter Gargano and Marek Hamsik, and despite leaving in 2009, Napoli have continued to progress season after season.
So much so that a win tonight at San Siro will see them move joint-top of Serie A alongside Milan with just 11 games of the season remaining. Neither team is anywhere near as strong as they were 20 years ago, but with the Rossoneri significantly improved from last season through the additions of Zlatan Ibrahimovic, Robinho and Antonio Cassano, and with Napoli boasting a frightening front three themselves of Hamsik, Lavezzi (suspended tonight) and 27-goal hitman Edinson Cavani, tonight's game could signal the beginning of a new Milan vs. Napoli rivalry.
Follow Carlo Garganese on twitter: https://twitter.com/carlogarganese
Follow Goal.com International on twitter
:
https://twitter.com/goal_intl