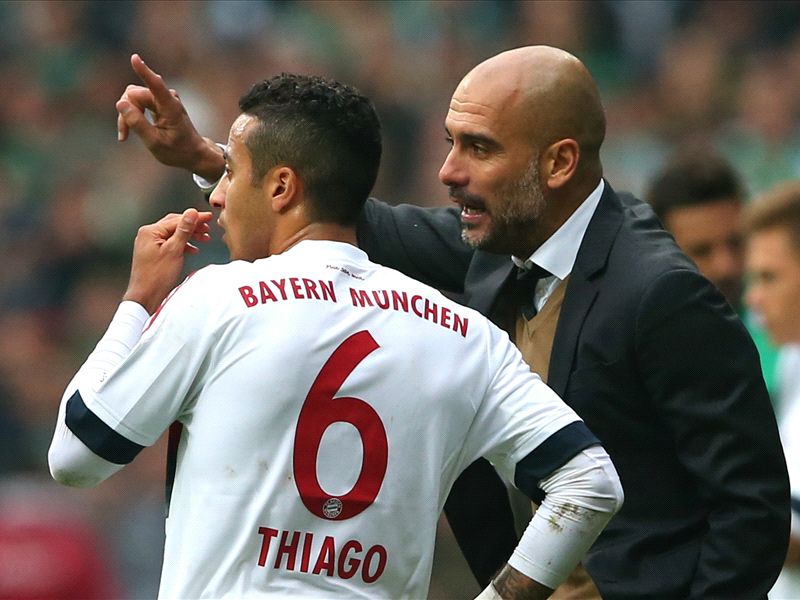 ---

COMMENT
---
Just days after being confirmed as the incoming
Manchester City
manager,
Pep Guardiola
made the bold admission that he is already making plans for his new club even as tries to lead
Bayern Munich
to Champions League success.
"I can control both situations," he said. "I can think about both situations. It's not a problem. I have a big talent for this."
He's certainly been busy. Much has been made of the trusty lieutenants that will accompany him to the Etihad Stadium from this summer, including right-hand man Manel Estiarte and head of analysis Carles Planchart, but there is also a team of representatives working behind the scenes to ensure that the Catalan hits the ground running.
It has already been made known to one concerned first teamer, for example, that he is very much in the new manager's plans. The youngsters are not beyond those plans either: it is believed that dossiers on City's academy players have also been requested.
And then there is the transfer market. It is no coincidence that City have been linked with a spate of Bundesliga players, both before and since confirmation of Guardiola's arrival. Aside from top targets like John Stones and Paul Pogba, City are keen to exploit Pep's knowledge of the German market when they set about restructuring the squad this summer.
Going by reports over the past few days, it appears that those insights will be particuarly useful when it comes to the midfield. Guardiola's fondness for players capable of dictating matches from the centre of the pitch - he once said that he would love to have 1000 midfielders in his squad - coupled with the existing need for a shake-up at the Etihad, means that it would be no surprise if the City engine room looks very different come the start of next season.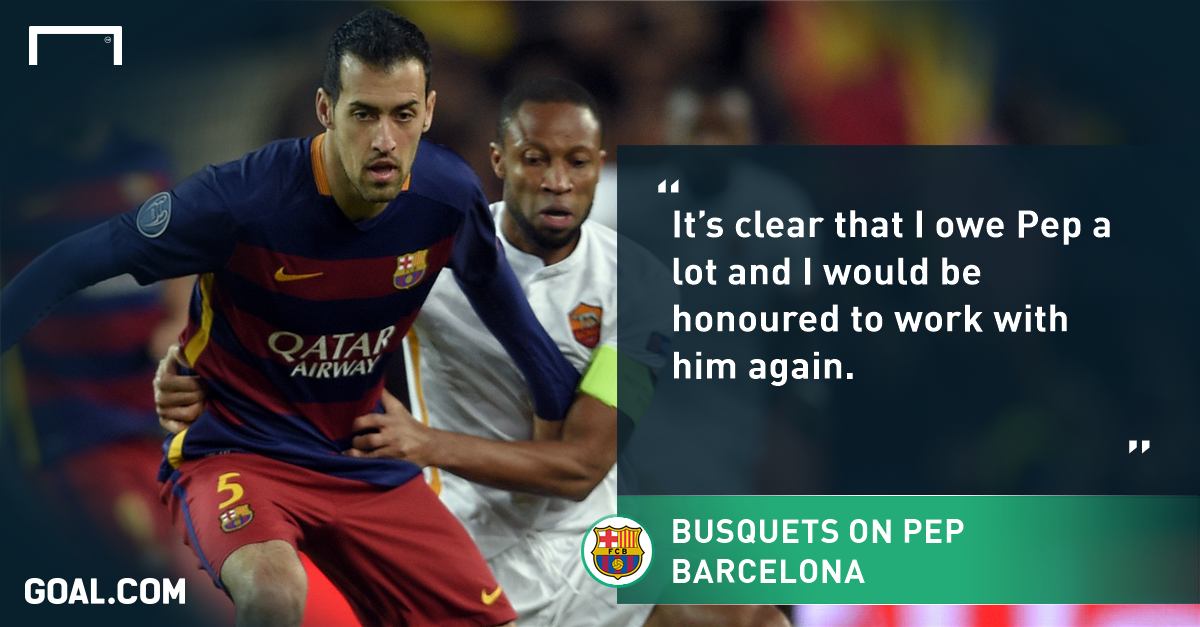 There is no doubt that Guardiola's philosophy is more demanding, both physically and mentally, than that of almost any other coach around. If he is to get his message across quickly, it will be vital to bring in players already familiar with his style, or at least those whom he has identified as capable of picking it up.
Sergio Busqets is an obvious option. The Catalan
pivote
played just as important a role for Guardiola's Barcelona as Lionel Messi, Xavi or Andres Iniesta and has already hinted at a desire to work with his old boss again. So adept at playing his position at the back of the midfield, Busquets mentored Javier Mascherano - four years his senior - when the Argentine moved to Camp Nou in 2010.
Though he fluttered his eyelashes at Guardiola last week, he also stated his intention to retire at Barcelona, where he has a contract until 2019.
The alternatives, seemingly, are all currently signed to Bundesliga clubs.
---


READ MORE

|
Alaba quiet on Man City links

---
In his first season at Bayern, Guardiola was absolutely adamant that Thiago - and only Thiago - should join him and help implement his grand plans at Sabaner Strasse, including the conversion of Philipp Lahm into a central midfielder.
It is no surprise, then, that City have been interested in the Brazilian-born Spain international for some time, as reported by
Goal
back in September. But that he ended up at Munich in 2013 owed as much to other factors as his relationship with Guardiola. He may have been coveted but he was also available and eminently affordable: his buy-out clause at Barcelona, as a result of a lack of game time, had dropped to just €18 million, and he was keen to move on.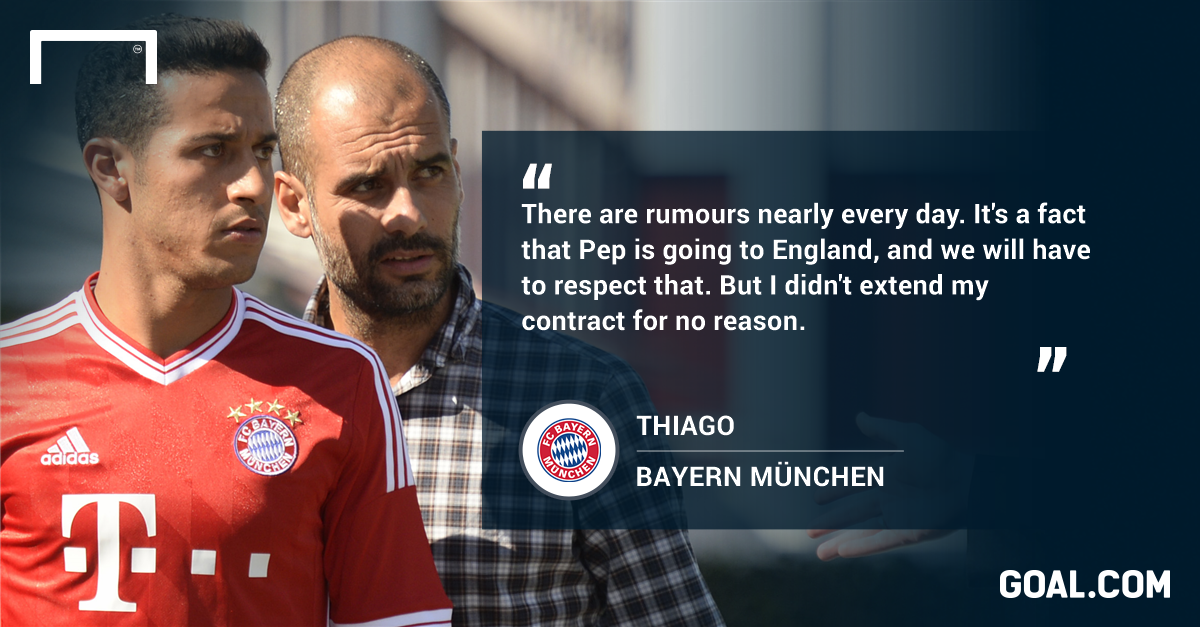 "There is no truth in the rumours saying I will follow him," Thiago said of Guardiola's move to Manchester this week. "I would not have signed a new contract had I wanted to leave the club. I extended my contract for a reason."
The chances of Bayern handing over any of their players - let alone one so talented and tied to the club until 2019 - to City this summer should be regarded as slim to none. The Bavarians have been increasingly bitter towards their up-and-coming English rivals in recent years and are clearly annoyed at recent events.
With Thiago unlikely to join, at least this summer, there are others in the frame. Julian Weigl, the 20-year-old Borussia Dortmund midfielder, has already received lavish praise from Guardiola and seems to figure prominently in City's thinking. He only moved to Signal Iduna Park last summer and his suitors have been warned that he is not for sale, though their resolve could well be tested if Thiago and Busquets prove even more elusive.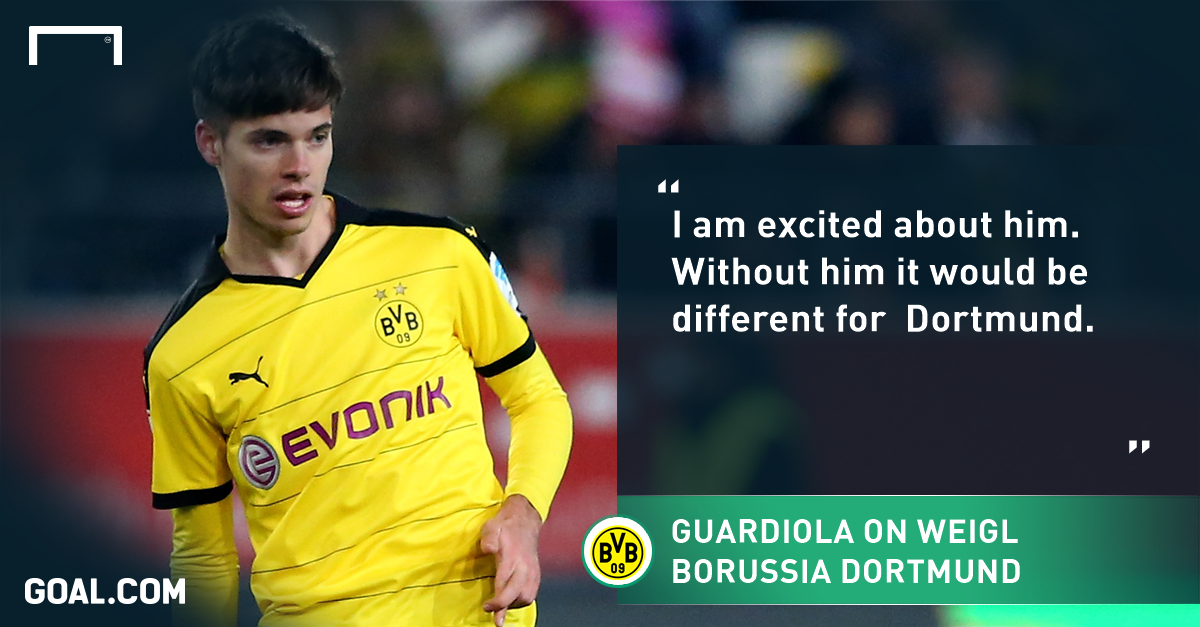 Not that City are in the market for just one midfielder. Few would suggest that City's current options, save for perhaps Fernandinho, fit the Guardiola mould. Luiz Gustavo was quickly jettisoned from Bayern at the start of the Pep era and his countryman, Fernando, a midfielder of similar attributes, could find himself moved out of Manchester. Yaya Toure, despite being far less keen on leaving than Dimitri Seluk, his representative, would suggest, is also likely to go. It has even been rumoured that Fabian Delph's place could be at risk.
In the last few days Ilkay Gundogan and Granit Xhaka have been identified as targets. Gundogan finally seems ready to leave Dortmund at the end of the season after flirting with the idea last summer and he will no doubt have more suitors this time around, having proved his fitness in the current campaign. Perhaps 19-year-old midfielder Mikel Merino, whose upcoming move to Dortmund was announced this week, could be seen as a replacement for either Gundogan or Weigl.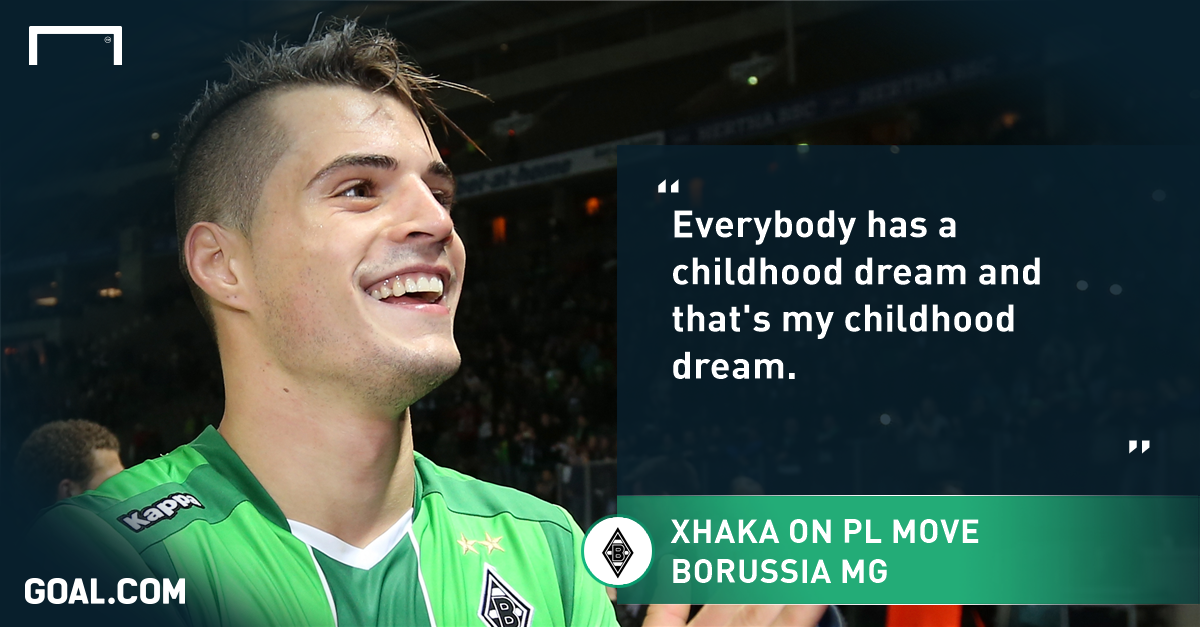 And while talk of a formal City bid for Xhaka may be premature, he is a player who has interested the club in the past. Thanks to more than two years of scouting, the Blues have a comprehensive dossier on the combative Switzerland international and would be well placed to make a decision should Guardiola put his name on the table during his regular chats with City sporting director Txiki Begiristain.
Those conversations have been taking place for years and there will be more of them than ever in the coming weeks but, given his desire to win and meticulous preparation for matches in particular, Guardiola's commitment to Bayern's run-in cannot be in question. If he just so happens to unearth a Bundesliga star capable of helping him in the future, it could be considered a happy accident.