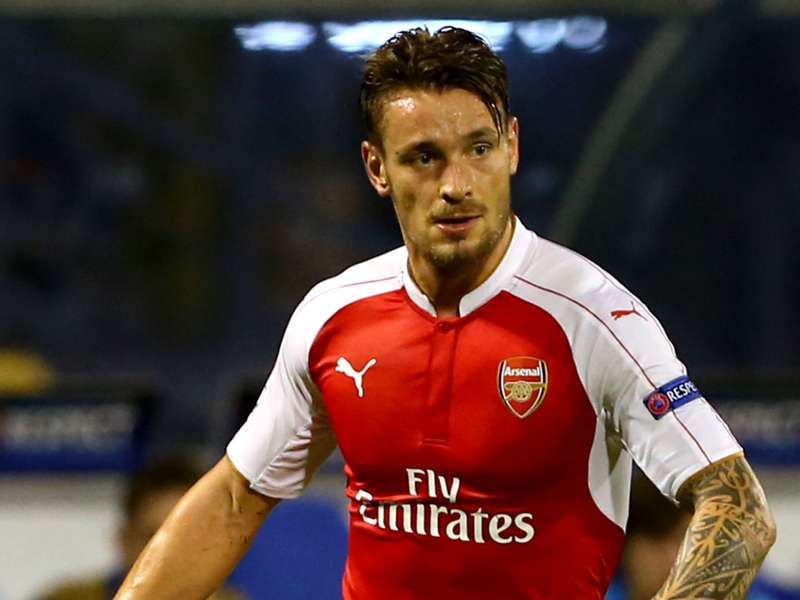 Mathieu Debuchy
is seeking talks with Arsene Wenger regarding his
Arsenal
future, and admits he could leave the club for a Premier League rival in January.
Debuchy, 30, joined Arsenal from Newcastle United in summer 2014, but injury problems saw the right-back lose his starting role to Hector Bellerin last season.
Spain youngster Bellerin has starred for the Gunners with Debuchy making just two league starts this term, and the France international says he may seek a winter move to keep his Euro 2016 dreams alive.
"At the moment, I need game time," he told
RMC
. "The past two games, I haven't been included in the squad.
"Everything is clear. I need game time and that's why I'll have to discuss it with the coach soon. We'll see what offers there are between now and [January] - if there are any."
Asked whether he would consider a move to one of Arsenal's domestic rivals, Debuchy said: "I love England and the league so yes, of course.
"After that, if I have other offers... return to France? Why not? We'll see."
Debuchy's potential departure may be complicated by the number of injuries Arsenal have suffered this season, and the defender says he is not sure whether Wenger will let him leave in January.
"I don't know," Debuchy said of an exit. "We'll discuss it together calmly.
"We had a discussion in the summer and he told me that if I wasn't happy with my game time we'd sit down and talk about it in December.
"It's December now so we'll see.
"My goal is to play again very soon and to string together some matches so that I can at the Euros.
"At the moment I can't be in the French team because obviously I'm not getting any game time. Playing one match every month or even less, you can't be ready physically or mentally."