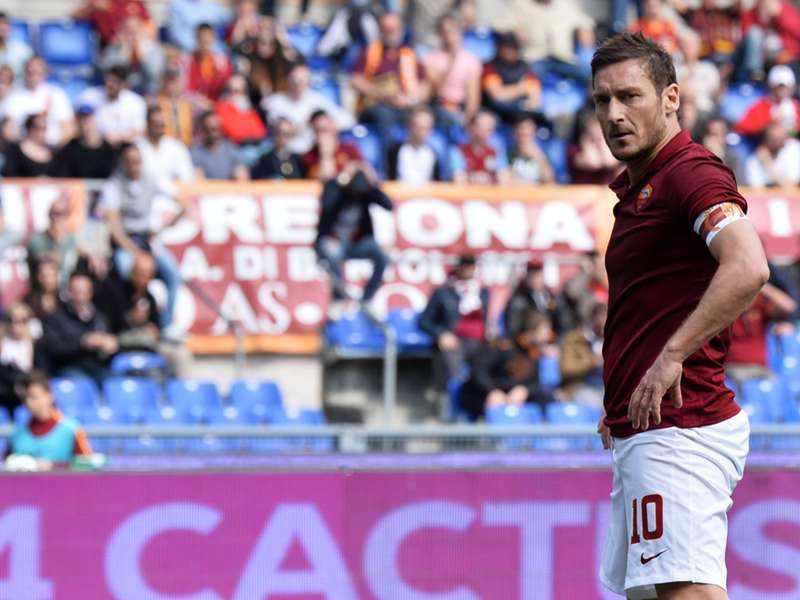 Francesco Totti has insisted he will not fight with Roma amid rumours they do not want to extend his contract.
The veteran striker, who turns 39 this year, has played for the Giallorossi first team since 1992, winning one Scudetto, two Coppa Italia trophies and two Supercoppa Italiana titles.
Although he rarely completes 90 minutes for Rudi Garcia's men, he remains a key part of their team but reports in Italy have been suggesting lately that the club do not see a future for Totti beyond next season.
Totti took to his official social media outlet to respond to the rumours and insist he will support the club irrespective of whether he is playing on the field or watching from the sidelines.
"I want to clarify something. I never asked to change my contract," Totti told his Facebook followers.
"The owners, club and I have always been in sync on this matter. It is my passion that binds me to these colours.
"I have never been and never will be a problem for Roma. I will applaud from the pitch, from the bench and from the stands for the players who wear and will wear this shirt.
"I have always desired and dreamed of the best for this team."
Roma sit third in Serie A with five games to go – one point behind city rivals Lazio and five points clear of chasing side Napoli, who lost 4-2 to Empoli on Thursday.