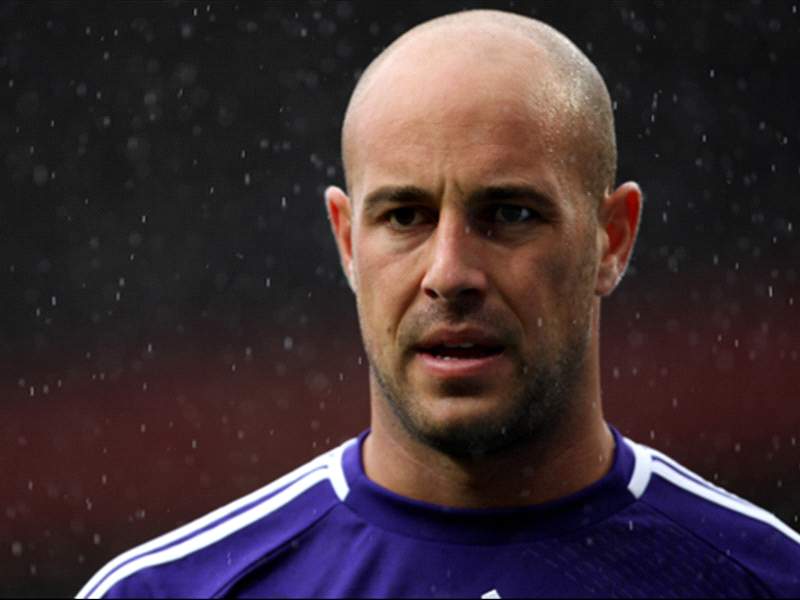 Liverpool
's
Pepe Reina
has revealed that he will not be joining
Manchester United
, as the league leaders' search for a new goalkeeper becomes their top priority this summer, with current No.1
Edwin van der Sar
set to retire at the end of the current campaign.
"I am not going to Manchester, that is not my intention," Reina told Spanish radio station
Cadena Cope
.
"I don't know if I am a candidate for them; I am sure that they have evaluated a lot of goalkeepers, not just [David] De Gea or Reina.
"They will probably have five or six options and I don't know if I am one of them."
Reina also spoke of his confidence in the new owners of Liverpool, stating that he was happy to be a part of their vision for the future, adding that he believed Dalglish is part of that.
"I am happy, confident and will continue working so we can win more and more games," he continued. "I hope that with the new American owners we will have a convincing, ambitious and attractive project.
"Apparently they want to sign important players, and they want the club to continue growing. I hope that we can go back to win titles, which is what a team like Liverpool needs."
With the Scot's future yet to be determined, Reina was quizzed on speculation linking former boss Rafa Benitez with an Anfield return, and while the 'keeper holds a great deal of respect for his old boss he is adamant that Dalglish is the right man for the job.
"Benitez is the person who brought me here, but this does not mean that I am uncomfortable with Dalglish. On the contrary, I think he is the right manager for Liverpool at the moment.
"The team is playing better and better, and we will see if we can keep this level in the matches we have left so we can earn that 5th position in order to play in Europe next year."
Reina is one of the only remaining Spanish staff at Liverpool since the departures of Alvaro Arbeloa, Xabi Alonso, Benitez, and more recently Fernando Torres.
Of Torres, Reina said: "I was very glad when I saw him scoring. I think he has taken a load off after the goal and now that he scored the first one, I hope that his confidence continues to grow so he can score more and more.
"The strikers live on goals, so when so many games pass without scoring, it is normal that they feel anxious. They have to live this this. But I am sure that if they give him [Torres] time, he will score many goals and will succeed."
Cesc Fabregas is another of Reina's World Cup winning team-mates who has speculation surrounding his future, but the goalkeeper feels the Arsenal captain is in a good position at the moment.
"He is an important player for Arsenal," Reina said. "He is ok there. But he also has expressed his intention of eventually leaving, and he has said that he might want to go back to his home, in Barcelona.
"I don't know if he would like to go to Madrid. I guess that he will sit with the staff of Arsenal and he will evaluate the project there, and he will see the offers he has received.
"He is a franchise player for Arsenal, and I am sure that he knows this before taking any decision."