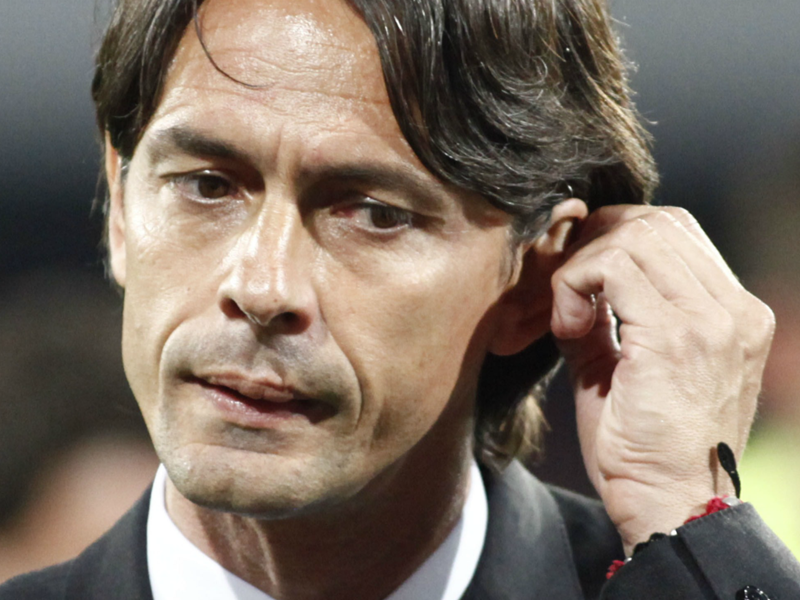 Filippo Inzaghi has admitted his "bitterness and disappointment" at being sacked by AC Milan on Tuesday.
Inzaghi's departure had been expected since the end of the Serie A season, with former Sampdoria boss Sinisa Mihajlovic installed as his successor within a couple of hours.
Former Milan and Italy striker Inzaghi was promoted from youth-team coach to first-team boss last summer but his one season in charge ended with the Rossoneri managing a 10th-place finish.
He thanked the fans for their support but failed to hide his anger at being shown the door.
Inzaghi wrote on Facebook: "This completes an unforgettable experience that has enriched me from both a professional and personal point of view.
"I thank Milan for giving me this great opportunity. I gave everything, together with my staff, working every day with passion, desire and extreme dedication. But unfortunately it was not enough and things did not go as we had all hoped.
"The bitterness and disappointment remains at not having the opportunity to continue but this is football.
"A hug and best of luck from my heart to all the players who have followed me in these months. Despite the problems they have always shown respect and professionalism."
He added: "I also thank all the Rossoneri fans who, until the last moment, through the suffering were close to me. A special mention to the Curva Sud… thank you for your moving statement.
"Milan will always be in my heart … I will support and scream for them always. I hug you all and see you soon."
Mihajlovic led Sampdoria to seventh in Serie A last season but stepped down at the end of the campaign, revealing in an open letter to the club's fans that he was seeking "another challenge".
The 46-year-old had initially been expected to succeed Rafael Benitez as Napoli boss but the former Inter defender has now returned to San Siro to take charge of the Nerazzurri's city rivals.
"Sinisa Mihajlovic, who has signed a two-year contract, will be the new coach of AC Milan for next season," read a statement on the Rossoneri's official website.
"The club wish him good luck in his work and the best results."
Milan had originally sought to re-hire Carlo Ancelotti, after he was sacked by Real Madrid last month, but the 55-year-old ultimately decided to follow through with his plan to take a break from the game in order to recover from scheduled back surgery.
Mihajlovic spent two years with Inter before retiring in 2006 and taking on the role of assistant coach Roberto Mancini, who is now back in charge of the Nerazzurri.
The set-piece specialist then took the top job at Bologna before enjoying spells with Catania, Fiorentina, Serbia and Samp.
addResponsivePlayer('1wn75vfostk4e1313yu1kkgfaz', '90c3f911c1684c4f96b53843751b4bb7', '17rkmqura2ghr1ed17cxfh4uiw', 'perf1wn75vfostk4e1313yu1kkgfaz-17rkmqura2ghr1ed17cxfh4uiw', 'eplayer40', {age:1429631048000});