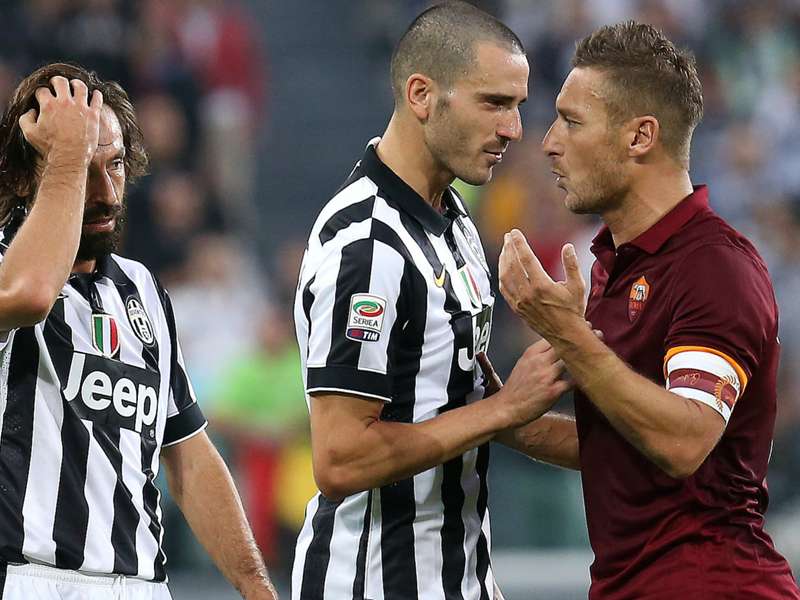 Roma captain Francesco Totti bitterly claimed that Juventus should play in their own league after Sunday's controversial Serie A loss in Turin.
Referee Gianluca Rocchi awarded the reigning Italian champions two penalties during the game - both of which were converted by Carlos Tevez - while Arturo Vidal was standing in an offside position in front of Giallorossi goalkeeper Lukasz Skorupski when Leonardo Bonucci volleyed home the winner with four minutes remaining.
Consequently, Totti was fuming when he faced the Sky Sport Italia cameras just after the full-time whistle, claiming that the game illustrated why television replays need to be made available to officials.
"We came here to play and the performance was good, but what happened [with the referee] conditioned the game," the 38-year-old forward argued.
"It's terrible to have to say it but these things that affect the game have been happening for years.
"Juventus certainly didn't beat us. There were three incidents that changed a game that we wanted to win.
"There's a lot of anger but we must lift our heads after a game like this.
"I've always said it: they should play in their own league. They always win by hook or by crook. We train to win but then these things happen.
"There's not even a need to look at the replays. We already saw everything on the field.
"But we need a slow-motion replay on the field. We cannot continue to have such errors and, with a replay, you can see everything clearly in five seconds."
Juve's victory in Turin moves them three points clear of Roma after six rounds of action.