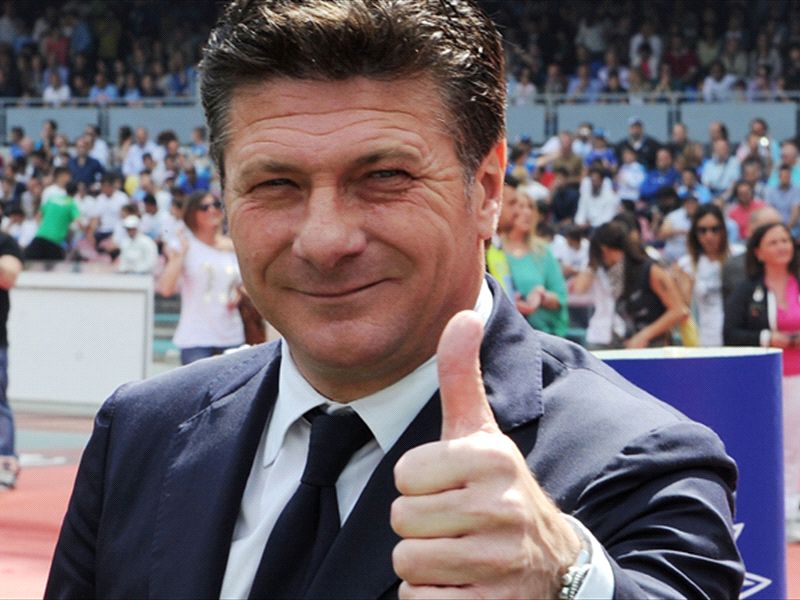 Walter Mazzarri
has revealed that he will make a decision on his future in the immediate aftermath of
Napoli
's Serie A clash with
Roma
on Sunday.
The 51-year-old has been at the helm of the San Paolo outfit since October 2009 when he succeeded Roberto Donadoni but is out of contract at the end of the season, and there is mounting speculation that he could join either Inter or the
Giallorossi
.
And speaking ahead of Napoli's final league fixture of the season in the Italian capital, Mazzarri confirmed that his fate will be announced either during his post-match interview or the following day after also admitting that he hesitated over signing a renewal.
"When I reveal my decision, you'll understand why it was the correct one. I will not speak of it until after the last league game," the coach told reporters.

"I think the president will be at the hotel before the match tomorrow. I will speak to him about my future before you [the public]."
"My representatives are one thing, I am another. I have not met anyone else and I will always decide for myself. Inter or Roma? They [the papers] say I have already signed up with both clubs. I'd be arrested if that were the case!
"I do not know if I will [make my announcement] on Sunday evening or the next day but I will still explain everything, though.
"Napoli gave me the opportunity to sign a three-year deal but I preferred to stay put. This [choice] should be respected.
"If our ideals marry each other, we can go forward, otherwise there will be a divorce. I have few regrets because we started from the relegation zone and got this far.
"Our victory is that we wrote the recent history of this club because we have done better than any other Italian team in relative terms."