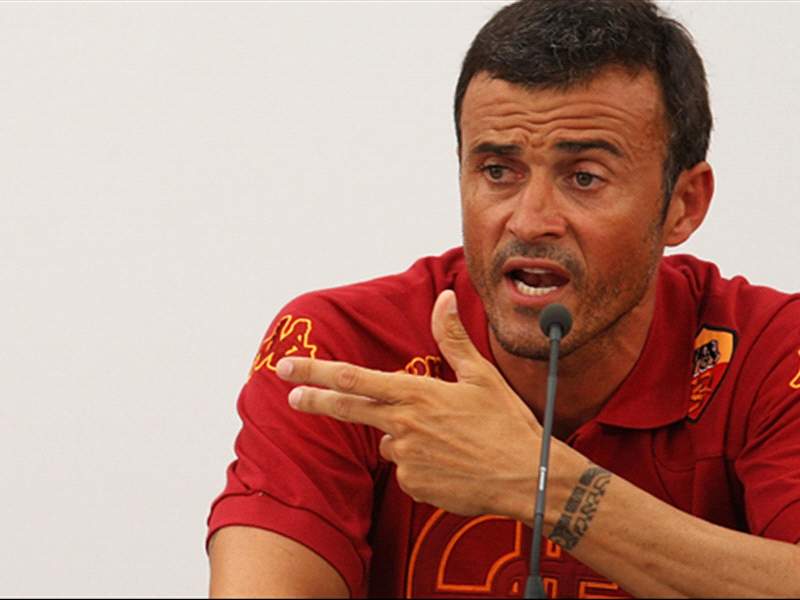 Roma
coach Luis Enrique has spoken ahead of his side's impending friendly against Valencia tomorrow, the boss dispelling notions about player sales and addressing any topics of unrest within the camp.
A number of important issues were raised, including Daniele De Rossi's contract, rumours about discontent concerning Marco Borriello and David Pizarro, and his opinion on the public Claudio Ranieri-Francesco Totti spat.
Speaking at the Fulvio Bernardini, the Spaniard was first asked about
De Rossi
's contract situation: "Yesterday De Rossi played 60 minutes with Italy [in a 2-1 win over Spain] and is doing different training at this time. He will not feature in the Europa League. We have talked [about his contract] but this is a time of waiting. There's no news."
De Rossi is currently serving a three game European suspension after an elbow on Dario Srna against Shakhtar Donestk in the Champions' League last season.
Enrique then spoke about his strikers, both current and potential: "I have no problems with
Borriello
and I'm counting on him 100%, just as with Pizarro. If I had to choose between Nilmar and Pablo Osvaldo, I would take them both - so nobody has a problem!"
The capital side have been linked with both the Villareal and the Espanyol hitmen to fill the void left by the departures of Jeremy Menez and Mirko Vucinic.
The tactician also confirmed that new signing Maarten Stekelenburg is ready to play in the friendly as well, before being asked about his opinion on Claudio Ranieri's belief that club captain
Francesco Totti
is 'lazy'.
"I'm happy with all my players, the way in which they are training and the level in which they are working. It's like this even with Totti."
Finally, Enrique ended the press conference with a word about the capital side's physical preparations, which was a major problem for the club last season. "I cannot judge last season," he said, "But I can say that the squad is as we believe it should be in this moment."
Roma's friendly against Valencia takes place tomorrow.