ANALYSIS
By Julian De Martinis
As Inter prepare for a heated Supercoppa Italiana battle against neighbours AC Milan on Saturday in Beijing's Bird's Nest, life thus far under Gian Piero Gasperini has yet to truly take flight.
Pre-season friendlies have been a mixed bag for the ex-Genoa man's new side. The Dublin Super Cup presented difficult challenges, where the world champions defeated Celtic but then lost to Manchester City a day later.
Given the Premier League's earlier start to the season than Serie A, perhaps some blame can be ascribed to superior fitness on the Citizens' part. Inter have also been missing a large number of important players, including Julio Cesar and captain Javier Zanetti, due to Copa America commitments. However, the team, as of yet, have not fully responded to Gasperini's methods.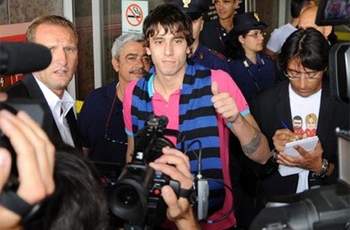 Alvarez |
Struggled after bright start
The side plays much like his old Genoa, primarily utilising a 3-4-3 formation, although Gasperini has tried a number of different formations based on the personnel available. The trio of centre-backs often sit deep and only push forward individually, if at all. The midfield quartet can be separated into two groups, with the two central midfielders playing in a traditional defensive-offensive coupling and the two wide men often pushing forward to support the attack.
Theoretically this should give Inter a numerical advantage, especially towards the defensive half of the side, but the system was exposed against Galatasaray due to sloppy play.
Questions must be asked as to whether Wesley Sneijder, so lethal as a trequartista, is being wasted by playing deeper in the line-up. His days at Ajax have given him the tactical flexibility to play in many different positions, but his acquisition was initially heralded as a missing link between the midfield and attack.
Indeed, it has been the offence that has given most cause for concern under Gasperini. Ricardo Alvarez had a bright start to life in black and blue but has shown some difficulty adjusting against tougher sides. Furthermore, the likes of Samuel Eto'o and Giampaolo Pazzini may be wasted in a front three without proper midfield support. Gasperini's formation is an interesting one that tries to emphasise attacking play, but could result in squeezing many of Inter's players into unfamiliar roles.
INTER'S PRE-SEASON

Serie D XI
Mezzocorona
Cremonese
Galatasaray
Celtic
Man City

Won
Won
Won
Drew
Won
Lost

6-1
6-1
4-1
0-0
2-0
0-3

The Nerazzurri may find life rather difficult against Milan given the aforementioned absences, along with the missing Yuto Nagatomo and back-up keeper Emiliano Viviano. Massimiliano Allegri's side have reinforced quietly over the summer, adding key ingredients to an already-winning formula in the form of Philippe Mexes and Taye Taiwo. Manchester City proved that a physically domineering team can be immensely effective against a developing Inter, a fact that could favour the Serie A champions given the nature of players such as Zlatan Ibrahimovic and Mark van Bommel.
Beneamata fans need not despair, however. The outfit should undoubtedly develop a better understanding over time, if Massimo Moratti can exercise more patience with Gasperini than he has shown with the likes of Rafael Benitez. Unlike the City game, this is an official match with a desired trophy on the line against an eternal rival; form going into derbies often has little effect on the final outcome.
For Gasperini's side to take home silverware from China, they must look to stretch Milan's defence and attack the full-back positions, the weak point of the Rossoneri in recent seasons. Allegri's men, though, are definitely early favourites, as a team that has had a full year playing under the same tactician, and can call upon a proven midfield that runs on grit. Gasperini's Inter may yet come good, but the decision to stick with his trusted formation rather than one that better suits his players could yet haunt him.