Mark van Bommel was one of the star performers in Milan's 3-0 derby win over Inter last weekend. His strong performance kept Wesley Sneijder out of the game and eventually led to a comfortable win for the Rossoneri.


Goal.com
spoke with the Dutch international about his transfer to Milan in January, his future at San Siro and his ambitions with Oranje ahead of Euro 2012 in Poland and the Ukraine.
Mark, let's start at the beginning: how were your first days at Milanello?


MvB: Very nice. Milan are a big club and I'm proud to be part of one of the biggest clubs of the world. I've supported Bayern Munich, Barcelona and Milan ever since I was a little kid. I even have pictures to prove it if people don't believe it. The fact that I got to play for all three teams is like a dream come true.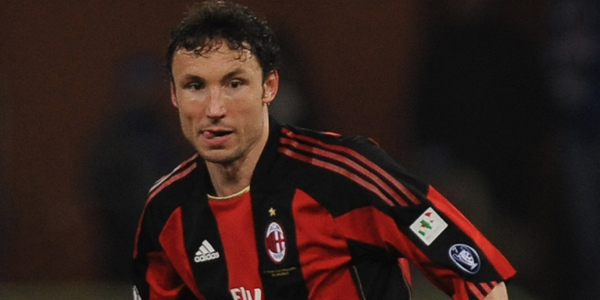 Will you stay with Milan this summer?


MvB: I'd really love to stay put. Everybody has helped me to feel at home and the club is like one warm family. It also depends on what the club wants though. Obviously I'd like to stay. It's hard to say no to Milan. This isn't the moment to think about my future. We have to stay focused and want to win the Scudetto.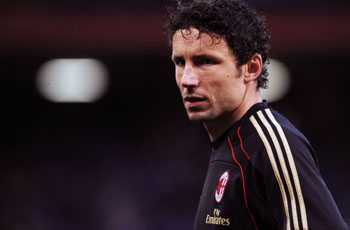 "I want to stay at Milan, but it depends on the club"

You have already won seven league titles (four with PSV, two with Bayern and one with Barcelona), do you think you're close to winning your eighth title?


MvB: No. There are still several games to be played. The Italian league is very tough and we have to fight hard to win every game. All opponents are pretty smart and play very carefully. They're all well organised at the back. It's a great and entertaining championship. We have the advantage that we have everything in our own hands. We should only focus on winning our own games.
What do Milan have that the other teams don't?


MvB: I don't know what's going on at the other teams so I can't say anything about that. I can talk about Milan though and the atmosphere in the dressing room is just fantastic. We all have the same objective and everybody puts the team's interest ahead of personal interest. We have a lot of great champions, but not even the players who end up on the bench complain. The good atmosphere is one of the key reasons behind our success.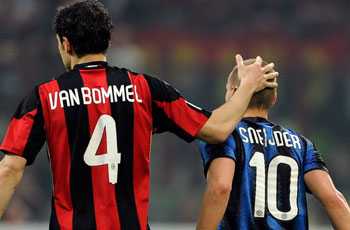 "Inter? They could beat Schalke 5-0"

Did Inter's heavy Champions League loss come as a surprise for you? What do you think happened?


MvB: It's hard to say, but Sneijder was full of confidence when I talked to him ahead of the derby. They were confident they could beat Schalke and progress to the next round. But this is football, there are always games that you can't predict the outcome of. Something extraordinary can happen in a derby and the same's possible in the Champions League. A team like Schalke only sits in mid-table in Germany, but they do very well in Europe. I have to say that they took advantage of [Cristian] Chivu's dismissal very well. It will be difficult for them to bounce back, but everything's possible, even a 5-0 win.

Will 'your' Barcelona win the Champions League?


MvB: They're definitely the favourites, but anything can happen in the Champions League. There's no doubt that they play the best football at the moment though.



"Van Gaal sold me in January. Strange..."

Did you speak to Wesley Sneijder after the derby?
MvB: Of course, why wouldn't I? He wasn't angry. We're enemies on the pitch, but friends again after the match. It wasn't the first time we locked horns. We previously met when I played for PSV and he at Ajax and also met last year during Inter-Bayern Munich. Facing him is nothing new, but I admit that I prefer playing alongside him with Oranje. Did I tackle him hard? Yes, but only once (laughs).

Back to your spell in Germany. Your departure at Bayern came as a bit of a surprise. What happened? There's some talk about a feud with Louis van Gaal.


MvB: Like you, I was pretty surprised, too. Everything happened really quickly. The only thing I want to say about this is that it's pretty unusual that a club sell their captain in January, right? But I don't want to talk about the past anymore. I'm very happy here and feel like I've made the right choice.

What can you tell us about working with Allegri? He's considered to be one of the emerging coaches: you've had several great coaches, do you think Allegri has a big career ahead of him?


MvB: Only time will tell what will happen. All I can say is that he always goes straight toward his objectives. He's very calm and has clear ideas on how he wants something to go. He knows what he wants and knows how to get it. That's a great characteristic for a coach.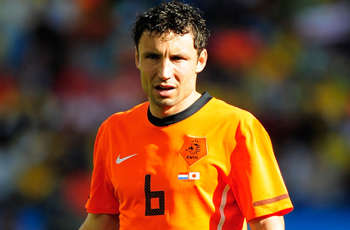 "I want to win Euro 2012 with Oranje"

When you've already won so much like you, where do you get your drive to keep going from?
MvB: I'm still eager to win trophies. I'm focused on achieving our short term goals now, like winning the Scudetto. On the long term, I really want to win something with the national side. We were a bit unlucky in South Africa as we could have won the World Cup. However, Netherlands remain one of the strongest teams out there and I'm convinced that we could go all the way at Euro 2012. The tournament is still far away, but my conviction that we can win it made me decide to continue playing for Oranje after the World Cup. I'll say farewell to Oranje after Euro 2012 and will solely focus on club football from there on.