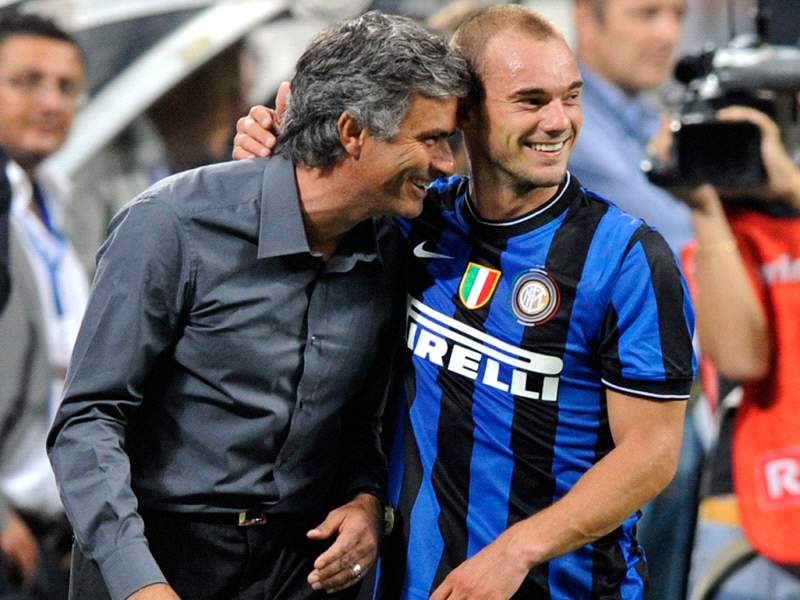 Inter midfielder Wesley Sneijder has admitted that from discussions with his former boss Jose Mourinho, he believes that the current Real Madrid coach will one day take over at Manchester United before leading England to a World Cup.
Sneijder, who was linked with a reunion with Mourinho in Madrid, believes that the Premier League is still the Portuguese tactician's favourite league in football and that he dreams of one day returning.
Long touted as Sir Alex Ferguson's natural replacement, Sneijder believes the 'Special One' is holding out for the Old Trafford hotseat and will jump at the chance of managing the club when Fergie calls time on his illustrious managerial career.
Sneijder told
the News of the World
: "English football excites him more than any other football in Europe and I don't think it's a question of if he returns to the Premier League but when.
"I think it's written for him to take over Manchester United in a few years. One great manager will retire and another one will take over.
"But if he was offered the England job alongside the Manchester United one in a few years I am sure he would take it. He likes the daily interaction with players too much to take on an international job alone.
"Jose [Mourinho] and I became good friends at Inter and, from conversations we had, I know he thinks he could really do something with the England players.
"When he takes the [Manchester] United job, the English FA must offer him the national post as well, and from conversations we have had I think he would take it, in fact I know he would."
Sneijder believes that the combination of working in England and taking over the national team would allow Mourinho to make the most of the talent in the country. The Dutchman believes the former Chelsea manager has the ability to get the best out of individuals and perform as a team and that he could potentially lead England in the World Cup in Brazil in four years' time.
"We are talking about the best coach in the world, and it has been done before successfully," he added.
"His other job would be in the Premier League, so he would be working with and watching the relevant England players every week, it would be perfect for him.
"With Jose, success always follows him, but it's not always because he has the best players, it's because he make you believe you are the best players.
"The confidence and belief he gives you is amazing, and when he is at a club it is his players and staff against the rest of the world.
"With the quality of players England have, a coach like Jose would surely make them favourites.
"If the English FA prepare for this, I am sure that Jose could be England coach by 2014 in Brazil."