South Korea looked set for a cricket score but ended up hanging on as they tired towards the end...
An exhausted South Korea just about held on to defeat Uzbekistan 3-2 and secure automatic qualification for the 2015 Asian Cup, to be held in Australia. The Koreans built a three goal lead as they took advantage of some poor Uzbek defending but as the favourites tired, Uzbekistan clawed their way back into the game and ensured a competitive third-placed play-off.
South Korea took the lead courtesy after 17 minutes of one of their best players of the tournament. A terrific run from Yong Rae Lee opened up the Uzbek defence before the ball was threaded through to
Koo Ja Cheol
who took the ball before clinically finishing with power, giving Ignatiy Nesterov no chance. It was the eleventh goal the White Wolves had conceded in the tournament.
The lead was doubled ten minutes later as the Koreans again cut through the opposition like a knife through butter. Excellent play in the build-up from Ki Sung Yeung and Lee Chung Yong, allied to a string of wild, aimless challenges from the White Wolves defenders allowed
Ji Dong Won
acres of space inside the box. Under no pressure, he blasted the ball into the corner past Nesterov.
Ji Dong Won
netted his second of the game on 38 minutes with a terrific header after more non-existent defending. The tall striker leapt above Victor Karpenko to head Lee Chung Yong's cross into the far corner and give the Koreans a seemingly impregnable advantage over an Uzbek team at sixes and sevens.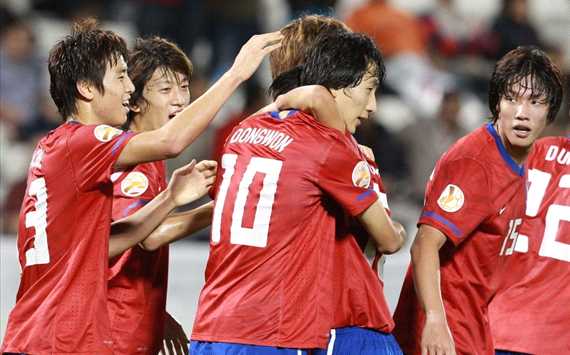 There was some respite for Uzbekistan when Hwang Jae-Won fouled Olim Novkarov inside the box, earning the defender a booking and the men in white a penalty kick.
Alexander Geynrikh
was charged with the task from twelve yards. He scored with his first attempt - a Panenka - but had to retake the spot-kick due to encroachment. There were no such worries second time around as he went for power and beat Sung Ryong-Jung
Korea understandably lowered their intensity after the interval and they were punished for a second time on 53 minutes.
Geynrikh
twisted away from Jeong Ho Hong before applying the delicate finish past Jung to leave his side just one goal in arrears, a situation, which looked impossible five minutes before half-time.
Ji Dong Won struck the post on 68 minutes with a low shot after a superb change of direction for such a tall striker. There was to be no hat-trick for the striker, who has had a superb tournament and looks to have a bright future. As the game wore on, Uzbekistan began to grow into the match as the heavy tournament schedule took its toll on the Koreans. However, they held on to bring down the curtain on Lee Young Pyo's international career in fitting style.