live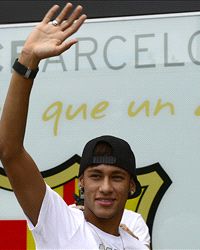 Real time, real news: Goal.com LIVE! brings you the action as it happens.
339260
2013-06-03 18:41:11
After finally running out of ways to ask Neymar one of only three questions, the media turns their attention back to Zubizarreta and ask the goalkeeping legend whether there's really room for the Brazilian and Messi in the same attack.
"Great players can always play together," the former Spain international declares. "You can never have too much talent."
Which is a fair point and a fine way to bring an end to this media grilling, which I think Neymar passed with flying colours. Thanks to you all for reading and I'm looking forward to seeing you all (and Neymar) at Camp Nou again real soon.
Until then, take it easy, and good luck.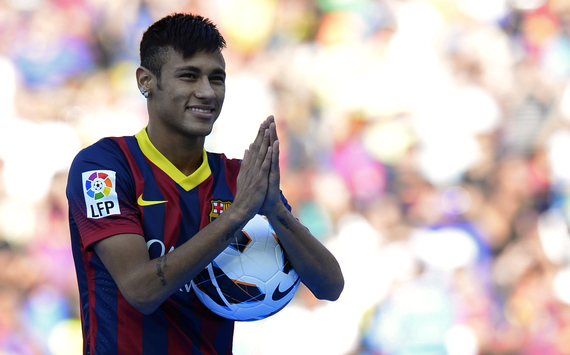 339254
2013-06-03 18:30:58
Now the press are just repeating themselves! "Why did you choose Barcelona over Real Madrid?" We've already had that question - phrased in four different ways.

"As I said before," Neymar sighs, "I followed my heart ..."

He really is going to have to get used to deal with answering the same question 57 million times - and fast.
339253
2013-06-03 18:26:52
When a journalist begins a question, "Without wanting to get personal", you just know he's going to get personal - and he duly does, asking whether the fact that Neymar's football will be affected by the fact that his son will remain in Brazil.
"It's not something that I thought about but when I made the decision to come here, I knew that I would miss certain things and one of those was my son.
"I'll have people close to me here but that's something I'll have to try to sort out."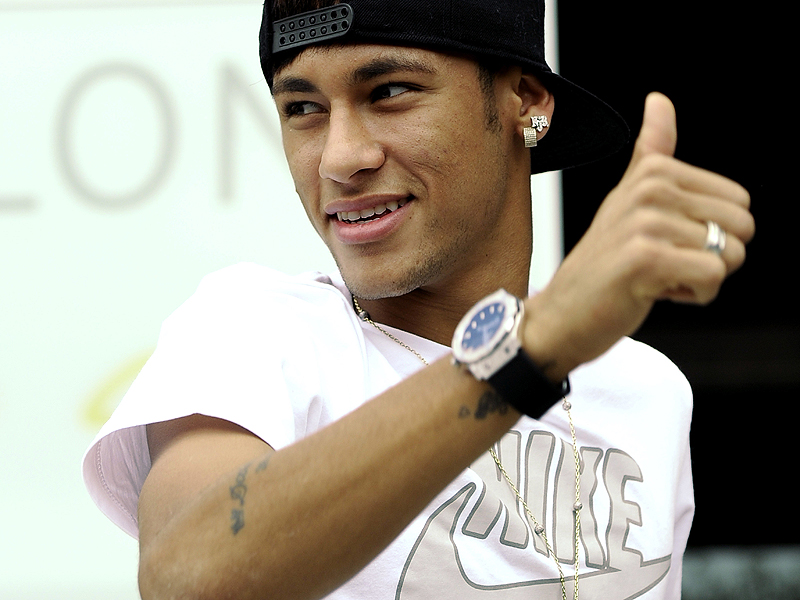 339251
2013-06-03 18:21:17
Of far greater interest is this admission from Barca vice-president Bartomeu:

"It would be perfect if in the future some other Santos players could come to Barcelona. This is a part of the agreement with Santos, if there is a player who can be interesting for the club, could come to Barcelona."
339250
2013-06-03 18:19:15
The press are now running out of decent questions, with the latest journalist asking: "What do you think are the differences between the Brazilian and Spanish leagues?"

Neymar's response: "I haven't really thought about it." Which is fair enough, really, given he's never played in la Liga before!
339246
2013-06-03 18:15:27
Neymar is now effectively asked how long it'll take before he'll start replicating the kind of wonder goals he's scored for Santos, for Barcelona.
"I'll try to adapt as soon as I can, so that I can play my own game nice and relaxed. I'm convinced that everything will work out well and that there will be a lot of joy from start."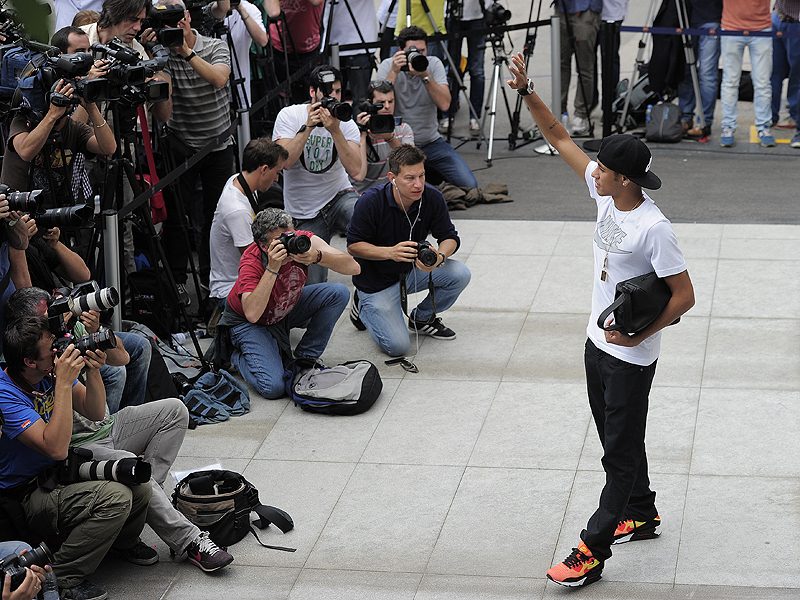 339245
2013-06-03 18:13:25
Next up a journalist brings up the likes of Romario and Rivaldo as he asks whether Neymar can achieve the same legendary status at Camp Nou.

"Those Brazilian players you've mentioned are great players, idols. I'm not going to compare myself to any of them. I've come to Barcelona to help the team.

"I just want to score goals, win titles and maybe write a little bit of my own history with the team."
339241
2013-06-03 18:08:08
The press are rather mischieviously trying to get Neymar get involved in an immediate war of words with Real Madrid and, in particular, star man Cristiano Ronaldo. However, the Brazilian isn't biting ...

"Cristiano Ronaldo is one of the best players in the world. I respect him. He's one of my idols."
339239
2013-06-03 18:04:58
Neymar is reluctant to be drawn on where exactly he might fit into this Barcelona attack, which is built around Lionel Messi, explaining:
"I just thank God that I'm coming with some of the best players in the world. The important thing is that we win as many titles as possible - that's the objective.
"We want to bring joy to the fans."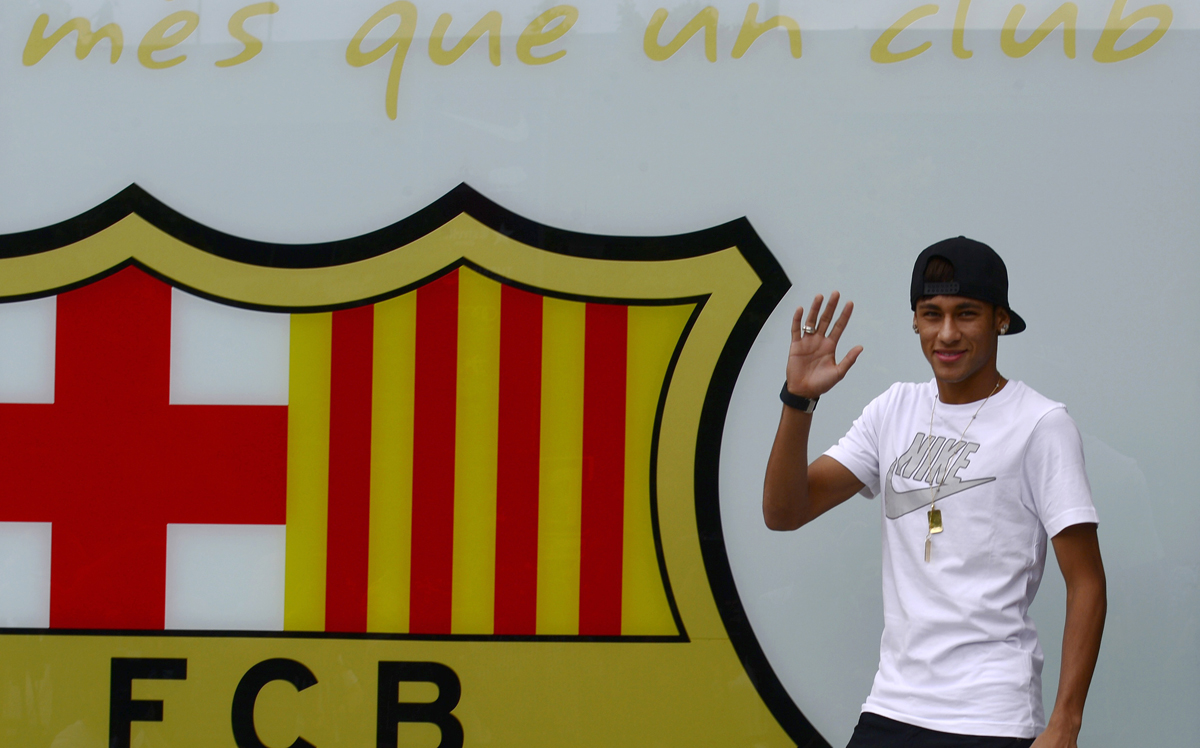 339237
2013-06-03 18:02:39
Neymar expands on his decision to move to Barcelona, revealing that Brazil team-mate Dani Alves played his part.

"When you take a decision from your heart, it's just your heart telling you want you should do; it's doing what makes you happy.

"Playing with Xavi, Iniesta and Messi ... Well, that's like a dream. And I'm realising this dream.

"Dani Alves also played a big part in this because he spoke so highly of this team. So, I'm just very happy to be here."
339235
2013-06-03 17:58:04
Next comes a question about what whether he'll wear his favoured number 11 jersey ...
"I'm not bothered about the number I have on my back; never have been. I don't know what number I'll have and I can't say anything else about that. I'm not bothered."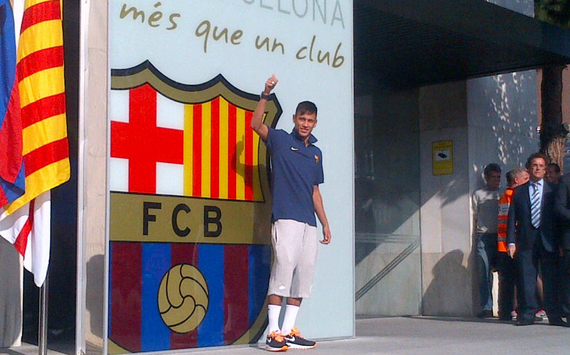 339234
2013-06-03 17:56:27
Neymar reveals that he has no idea where Barcelona intend to deploy him next season ...

"I spoke to [coach Tito] Vilanova on the telephone once. We had a very quick conversation and we didn't talk about where I would play on the field.

"I asked him about how he was feeling, because he had been ill, and that was about it."
339233
2013-06-03 17:54:48
Neymar is asked directly whether he was offered a more lucrative financial package by Real Madrid and whether his parents had a major say in his move to Barcelona ...

"It was a family decision. I always listen to my mother and my father, but I have the last word.

"Money has never motivated me and my family. Since I was young, my father has guided me. We've received offers of more money but it's not a question of money.

"This is a new chapter today and money doesn't drive us. Of course, it's very nice, but what makes you happy isn't money.

"My father always asks me how I feel and we had a chat about it and decided to come to Barcelona."
339230
2013-06-03 17:50:55
Neymar is next asked about the fact that Santos accepted two bids for his services, one from Barcelona and one from Liga rivals Real Madrid ...

"There two great clubs, no doubt about that. I'm proud that both wanted to sign me.

"But I followed my heart and my heart led me here, to Barcelona."

He's quite the charmer, this kid!
339228
2013-06-03 17:48:52
Neymar on winning the Ballon d'Or:

"I'm not bothered about being the best player int he world. The best player in the world is here - it's Lionel Messi.

"I'm really pleased because I'm so lucky to play alongside him. And I just want to help him continue to be the best player in the world."
339226
2013-06-03 17:46:33
Neymar speaks to the press for the first time as a Barcelona player:

"It's a proud day not only for me, but for my family as well. I'm so excited to be playing with so many great players, players that I've admired since I was very young - Xavi, Iniesta, Messi.

"I want to bring a lot of joy and a lot of triumphs here. It was very emotional out on the pitch for me. I had to hold back the tears.

"This is not only the dream of Neymar the man, but Neymar the child."
339223
2013-06-03 17:43:27
Bartomeu also confirmed that Barcelona will play two games against Santos as part of the deal, while also confirming that other clubs (Real Madrid, we believe) lodged bigger bids for the striker but that "the will of the player" was key.
339222
2013-06-03 17:41:40
Andoni Zubizarreta is the next to speak and he whips out a Barcelona scouting report from the Under-20 South American championships, in 2011.
It concluded: "He's one of the greatest talents in the world at this age. If he continues like this, he's going to be one of the greatest players in the world."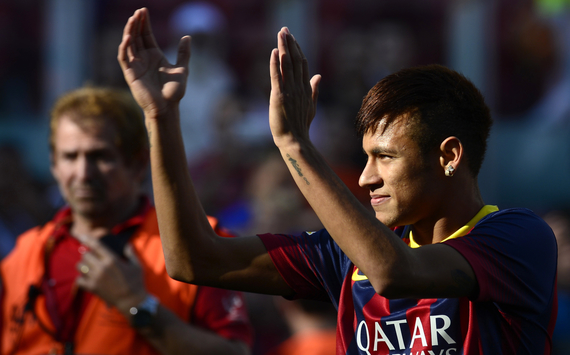 339220
2013-06-03 17:37:26
Josep Maria Bartomeu has kicked things off and he's explained that this was a transfer two years in the making and that this deal was made at the behest of the Barcelona coaching staff.

The Barcelona vice-president also confirms that the fee is €57 million and that there were no intermediaries involved in the deal. For the record, his buy-out clause has been set at €190m.
339218
2013-06-03 17:34:27
Barcelona's newest Brazilian appears before the media and is then present with a jersey with his name (Neymar Jr) on the back. No number as of yet - will Thiago hand over the No.11 shirt? Will Thiago even be at Camp Nou next season? ...