Other Competition Matches Women
Women's football: Is Cosafa bigger than Caf?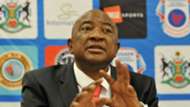 ---
COMMENT
Samuel Ahmadu
---
The 2017 Cosafa Women's Championship is ongoing in Zimbabwe, notably the only women's national football event happening on the continent 10 months after the 2016 Africa Women's Cup of Nations.
The regional showpiece, last held in 2011, is already setting standards for women's football in Africa. The tournament taking place in Bulawayo is undoubtedly highlighting the region's leaders' passion to provide a platform to develop and grow new talent.
Launched in 2002, four years after the inaugural edition of the African Women's Championship – the eight-team event had previously taken place four times with South Africa winning three times in a row, while Zimbabwe claimed the last edition as the host nation in 2011.
Despite the outcry for improved attention to the women's game on the continent, the underinvestment and neglect remain unending from Caf.
Zimbabwe FA boss Dr Philip Chiyangwa had, since assuming office as the Cosafa president in 2016, moved to raise the bar with the women's Cosafa tournament ending the idleness of many nations and could offer them a lift in Fifa world rankings. 
Following the steps of Uefa and Fifa in the expansion of participating teams with the Uefa Women's Euro and Women's World Cup respectively, Cosafa increased from eight to 12 - the biggest ever women's competition in Africa; and it is being broadcasted live.
The tournament features 11 teams from the Cosafa region and East African guest nation Kenya, which are drawn into three pools each of four sides. The group winners and the best-placed runner-up advance to the semi-finals (Zambia vs South Africa and Kenya vs Zimbabwe), where it reverts to a knockout format.
Cosafa are making a difference with the utilisation of its Fifa support for women's football to raise the bar, despite little or no impact being felt in Africa from Caf.
The Southern African body, deservedly, had giants like South Africa and Zimbabwe wrestle the Rio 2016 Olympics tickets from the continent's big guns like Cameroon and Equatorial Guinea.
Malawi forward Tabitha Chawinga believes the quality of the competition was massive, appreciating the international exposure and opportunity provided for players.
"It was a wonderful experience for me participating in Cosafa Cup alongside my team [Malawi]," Chawinga told Goal.
"We had a great time and I loved the standard of the competition despite we could not make it to the next round. We had great ambition to win but that was not destined to happen.
"Honestly, it was a great exposure for some of us and an opportunity to showcase our talent, especially the young ones. I heard some scouts and agents were around, it will be great for some of my mates to get offers abroad. We hope to be well prepared in order to win the next edition."
While considering its benefits to coaches, South Africa's Desiree Ellis admits the competition offers her exposure, as well as the chance to assess her squad ahead of bigger events.
"That is why you would select player A ahead of player B. We interacted with their coaches when we gave the players training programmes because at the end of the day it is not only going to benefit us but all clubs," Ellis told Goal.
"We have been on an extensive search for talent through the women's league roadshows that were recently conducted where we identified some good players who are capable of representing the country.
"We have a core group of players who have the experience of such competitions but we need to keep everyone on their toes and ensure that no one is comfortable or is assured of a place."
Zambia's women football coordinator Nashow Samuel Zulu feels the Cosafa Cup will help end west African hegemony, secure foreign offers for players, sponsorship for leagues.
"It's actually helping improve our game as women's football. When we just wait for Awfcon every two years for the girls to be active, it's not right especially when you fail to qualify," Zulu told Goal.
"The more they play competitive games like this, the more we are improving and also evaluating our leagues. If our team wins this Cosafa, we will have corporate firms to sponsor our league or women's national teams separately.
"It's beneficial because we want to be at the same level with western countries like Ghana and Cameroon when it comes to women's football. We hope the club competition starts soon and that will be a huge step forward. Cosafa is on TV and it's helping us advertise our women's football. It's a plus.
"European scouts are watching and the girls are doing well to be noticed. So far three players from Zambia have been monitored. It will help Southern region countries to improve on performance against the other nations. Secondly, Caf has to look at the number of teams and have more women's tournament including club competition."
The region, which produced new Caf president Ahmad Ahmad takes lead role in the politics of African football, visibly in the removal of Cameroonian veteran Issa Hayatou, are not relenting with the launch of club competition already been mooted.
With Caf gearing to stage a women's football symposium in Morocco in March 2018, the success of the Cosafa 12-team tournament could be embraced for Ghana 2018 Awcon.