PSL
Mark Williams urges Kaizer Chiefs to retain Komphela ahead of next season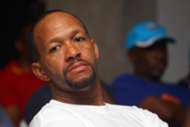 Former Kaizer Chiefs striker Mark Williams says there's no need to get rid of Steve Komphela, who is on the verge of finishing his second season in charge empty-handed.
Williams feels the 49-year-old should be given all the support he needs to improve the team.
"If you look three months ago, they were going to get rid of him anyhow, but they had this game against Polokwane City (in December) that turned it around for them, but did they have quality players?" asks Williams in an interview with Goal.
Under Komphela, Amakhosi's cup dominance has dissipated rapidly. They failed to reach the semi-finals of all three competitions this season.
Furthermore, their inability to win games convincingly which was their key strength during Stuart Baxter's tenure has also faded vastly in the last two seasons.
However, Williams believes the club should give him the benefit of the doubt and allow Komphela to continue for the season running.
"He was on the chopping block but he came back strongly. I think it's only fair if they go into the new season with the coach," Williams said.
"Take it in with him and say, 'listen here's the budget, get us the league [title] because you know what we have'. I think the players they have bought wasn't really top notch," Williams concluded.