Fulham
Why Liverpool target Sessegnon should reject Anfield speculation and remain at Fulham
---
COMMENT
---
If they're good enough, they're old enough; an age-old mantra tied to the most promising starlets in the game who are entrusted with a spot in the first-team at their respective club. At present, they don't come much younger, or more promising, than Fulham wing-back Ryan Sessegnon, who at 16 is being linked with a summer switch to the Premier League elite. 
Having made his first-team debut for the London club shortly after his 15th birthday, Sessegnon has established himself as a regular in Slavisa Jokanovic's Fulham side, making 29 appearances in all competitions to date, and became the first scorer in the Football League born after the year 2000 earlier in the campaign.
His majestic performances down the left flank at Craven Cottage this term have naturally led to top-flight interest, with Liverpool supposedly leading the race to secure a deal for the England Under-19 star. Manchester United and Tottenham are also thought to be interested in the winger's services, while Fulham have already supposedly rejected two offers from London rivals Arsenal. Should Sessegnon want to continue his development at a steady pace, though, without the pressure of trophy-expectant powerhouses, remaining at Fulham seems a sensible option. For now, at least. 
At Fulham, he has a manager who trusts him. Jokanovic's belief in Sessegnon's talent has been the platform of the defender's success in his rapid rise, and he is said to be fighting behind the scenes to tie his future to the club. He understands the club's limitations, however, and success in the play-offs may be the deciding factor in whether or not the Fulham boss can keep hold of his star.
"In Ryan Sessegnon we are talking about one of the most talented young players in the country and he impressed many, many people in the games he played this season," Jokanovic said of his player, following his inclusion in the PFA Championship Team of the Season. 
One of the people he has impressed is Liverpool boss Jurgen Klopp, who is in the market for a long-term solution to his left-back problem.
While James Milner has proved an able deputy to the left-back berth, he does not possess the energy nor the threat in attack which Sessegnon provides - the Fulham wing-back has struck seven goals this season, his debut campaign, more than former Southampton and Tottenham defender-turned-forward Gareth Bale, who Sessegnon has widely been likened to, managed in his breakthrough campaign at St Mary's. He has also registered 15 key passes, three assists, and completed 26 of his 40 take-ons.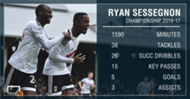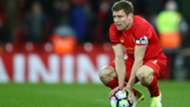 The teenager's pace is also a major asset, especially compared to the heavy legs of Milner, and he has proved time and time again that he has the positional intelligence needed to defend one-on-one with opposing forwards. Sessegnon is a player beyond his years, and there is little doubt he has the ability, and the attitude, to succeed in the English top-tier. Liverpool may be a perfectly suited club, too. However, with greater status comes greater responsibility, something which could detract from the sparkle in the defender's game as a 16-year-old, and a move to a top four club should be put on hold, unless a transfer included a loan deal back to Fulham.
"My ambition is to be the best I can be," Sessegnon told Fulham TV earlier in the campaign. "The opportunities I've had this season have been great."
Milner: New role frustrating at times
Those opportunities are a result of raw talent and hard graft, something which Sessegnon has applied since signing for Fulham as a nine-year-old. However, circumstance has played a large part. Should Sessegnon opt to continue his development at the top of the Premier League he risks slowing his progress, while turning his back on what has so far provided a platform for him to flourish.
"On a personal level I just want help the team gain promotion to the Premier League where we belong," the winger continued in his interviewed with the club. Whether Fulham return to the Premier League is yet to be seen, as they prepare for one of the most unpredictable formats of competition in football - the Championship play-offs. Sessegnon, though, is almost certainly at the start of what is to be an extraordinary career which will take him as far as he wants it to.
It's reason enough not to rush the initial step up to what many consider as the greatest league in Europe, then, and sign a professional contract at Craven Cottage upon his 17th birthday.