PSL
Why former Kaizer Chiefs and Orlando Pirates coach Ertugral came back to South Africa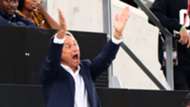 Former Orlando Pirates and Kaizer Chiefs head coach Muhsin Ertugral has explained the reasoning behind his surprise return to South African football despite previously taking an undertaking not to return.
Prior to taking up the job at Ajax Cape Town, a club where he has cached at several times before, Ertugral was last on the books of the Sea Robbers but following a tumultuous time which culminated with the Turk handing in his resignation after suffering a hefty 6-1 defeat to SuperSport United, Ertugral had initially suggested that his time in South Africa was up.
However, after witnessing the struggles of the Urban Warriors, Ertugral was forced to go back on his word and headed back to South African shores in an effort to save the club.
"I think to be four times with a club' that shows' not only from the club side but from the coaching side' that there is something that you love to be associated with'" Ertugral said on The Sowetan.
"I think we have had major success every time. Yes' I was going for good and there were a few very interesting patterns," he explained.
"I wanted to stay for the World Cup' because I will again be on the committee there. But obviously' seeing the club (and Ajax's situation)' for me there was no think about coming to help," he added.
"Tricky or not' I think I have enough experience to lift the team and help the team. So we had a chat with the chairman (Ari Efstathiou) – and I was very happy that we get along with each other – to try to find solutions on how we are going to save the club," he revealed.
"Ajax' as a breeding ground for young players' is' I think' very important for South African football. And I didn't think one second. I was actually here on holidays' relaxing a bit' and I was watching an Ajax game," he continued.
"And for me it was never a question to be involved," he concluded.