Premier League
Why Aguero & Jesus could become the Premier League's most deadly duo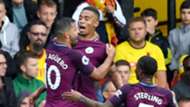 ---
COMMENT
---
There has been some doubt as to whether Sergio Aguero and Gabriel Jesus can play together for Pep Guardiola's Manchester City, and for good reason.
They looked so incompatible in their first run-out together, at Middlesbrough in April, you would have been forgiven for thinking Guardiola did it on purpose, so he wouldn't have to ever do it again.
Man City 9/1 to win Champions League
After all, it was the first time that both men were fit since Jesus had usurped Aguero in the team, and a 4-3-3, with Jesus at the tip and Raheem Sterling and Leroy Sane either side of him, appeared to be the way forward.
Cramming them both into the team at Boro required a return to the much-maligned 3-5-2 shape, and a 2-2 draw with the eventually relegated side was perhaps more than City deserved. 
The two did have some success in a 4-3-3, with Jesus in a wide role, but though City ended the season well there were many who remained unconvinced that both of Guardiola's strikers could play in the same team. It looked like shoe-horning.
Emboldened by a fresh set of full-backs, Guardiola plumped for the 3-5-2 system to kick off the campaign but with the two main men together neither performances nor results were sparkling.
Indeed, when the 4-3-3 returned at Bournemouth Aguero was the man to make way, another suggestion to many that Guardiola does indeed favour the Brazilian, if push comes to shove.
But since Raheem Sterling's deflected 98th-minute winner that day, something has clicked for City. The Blues have put five past Liverpool, four past Feyenoord and six past Watford since, with Jesus and Aguero playing together in what has to be the narrowest front three you've ever seen.
A traditional line-up graphic would struggle to convey how it works. Neither man could claim to be the central striker, while the third member of the attack, whether Sterling or Bernardo Silva, tucks right in just behind them.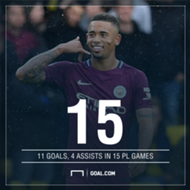 It's certainly working. Guardiola explained why on Friday: "Of course, last season we had a problem to score goals, because the people who play inside and surround our strikers, they are players like David Silva and Kevin De Bruyne, playmakers who assist the goals.
"Now, in the last games, with Raz and Leroy, they are more together, they are more inside. They don't play as wide as last season. Maybe they help our strikers to score more goals."
Guardiola also highlighted that he wants as many men in the box as possible to benefit from the amount of crosses being put in by Kyle Walker and Benjamin Mendy.
It was a different story just three weeks ago. Before the Bournemouth game Guardiola, uncharacteristically, admitted he was concerned about his side's inability to finish their chances. Asked how he would fix it, he seemed lost for an answer. He hoped something would click. Perhaps Sterling's goal at Bournemouth could be as important as it was scruffy.
Since then, Jesus has scored two against Liverpool, one against Feyenord and one against Watford. Aguero has one against Liverpool and Feyenoord, and three against Watford. 
They do seem to have benefitted from the sheer amount of creative players behind them, especially as David Silva and Kevin De Bruyne are both in fantastic form of late.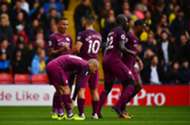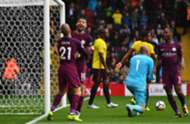 But it should not be overlooked that both Jesus and Aguero are doing plenty of hard work of their own. Jesus, of course, seduced Guardiola with his willingness and ability to fight for every ball, to press the opposition defence and keep lost causes alive. It is those traits which consigned Aguero to the bench earlier this year.
But the Argentine has always shown he has the stomach for the fight and that has been evident in recent weeks. Against Watford he miscontrolled a ball in midfield, but immediately charged to the other side of the pitch to win it block the Hornets' ball forward. When Silva picked up the loose ball, Aguero set off down the left and City were nearly in.
For Aguero's second goal of the afternoon, it was Jesus who battled to keep the ball alive on the left touchline. He won it, kept it in play and burst down the line, allowing Silva to cross for Aguero.
Aguero then played in Jesus for City's third goal, even if the latter was offside.
In truth, it was a fine collective display that killed off Watford by the 38th minute, but although John Stones deserves special mention for his impressive display at the backbut, it was the killer instinct of Aguero and Jesus which made the difference.
That was so rarely the case last season but City, right now, are on a roll. If the team keep playing like this, the forwards will have a hatful of chances. And with Pep having now realised that Aguero and Jesus can work well in tandem, the South Americans could easily become the deadliest duo the Premier League history.