MLS
Whitecaps draft defensive depth as search for DP striker continues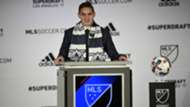 The Vancouver Whitecaps sought to address their defensive depth in Friday's MLS SuperDraft, selecting University of Connecticut right back Jakob Nerwinski and St. Francis center back Francis De Vries with their two picks from the opening rounds.

The team's defensive woes proved costly last season, and head coach Carl Robinson used the draft as an opportunity to bring in a pair of promising defenders, leaving the way clear to sign a couple of more experienced striker and attacking midfielder options, which are Vancouver's other areas of concern.

Vancouver's right back need was clear. It was a position the club struggled to adequately fill last season after the departure of Steven Beitashour to Toronto FC. Both Fraser Aird and Jordan Smith have moved on, and although Robinson acted quickly to bring in the experienced Sheanon Williams from Houston, a capable back-up was a necessity. The 'Caps hope Nerwinski is that man.

"Everyone will tell you that they got exactly who they wanted, but I'm not sure that's 100 percent true," Robinson told Goal after the draft. "In that position of seven, we knew that we wanted someone and he was the guy that we actually wanted.

"He wasn't talked about much prior to the draft and prior to the combine, and we gladly picked him up because the reviews afterwards were that he was going to get taken very, very soon after us... His performances in the combine showed that we think he's ready. It was the right pick up for us."
Saputo assures Piatti will remain with Impact amid transfer rumors
The Whitecaps had been tipped to pick University of Maryland right back Chris Odoi-Atsem, but Vancouver felt Nerwinski is capable of coming into the squad and pushing Williams for a starting spot from the beginning. The former UCONN captain thinks he is up for that challenge.

"I'm really excited to get working," Nerwinski told reporters on a post-draft conference call. "I think I'm a very athletic player. I'm fast. I'm strong. I've got a good work rate, I can get up and down the line, defend one on one, and I can help in the attack too.

"I understand it's tough for a rookie to come in and make an immediate impact, but I hope with my hard work and my competitiveness I can hopefully break into the first team, or get on the first-team roster, and see if I can get some time here and there to show my stuff."

Robinson revealed that both Nerwinski and De Vries had "stood out from the rest" in their player interviews and the Whitecaps were impressed by their outlook on soccer and what they saw in their development plans.

De Vries, a two-time PDL champion with the Michigan Bucks, is certainly the project of the two draft picks, but Vancouver feels he has a lot of upside in the right pro environment, which will be the club's USL side at this point in time.


With the defensive depth filled, Vancouver's search now continues to find the much-needed difference makers at the other end of the pitch, with a DP striker at the top of the shopping list.

"We know we've got a couple of holes to fill," Robinson readily admitted. "We know we've got some work to do at the top of the pitch with key players and that's why we didn't draft too many attacking players because we know we're going for a more experienced player in the nine and 10 area."

While clubs around them in the Western Conference have been making significant, early additions to their rosters for the upcoming MLS season, the Whitecaps have been forced to follow a more patient route and Robinson admits it's been an offseason of challenges so far in that regard.

"Well I wish I could say that there's going to be 10 announcements tomorrow, but that's probably not going to happen," Robinson said. "We're looking at the forward areas. The nine and the 10 are the two key areas that we need to try and address.

"After numerous conversations, and numerous names mentioned to us, we think we're close and then suddenly the parameters change and things like that. On a daily basis we're looking at names. We know they're the two areas we need to strengthen and hopefully, sooner or later, it will be addressed."