WTF
Which footballers belong in the NBA? Howard & Pogba headline Goal's starting five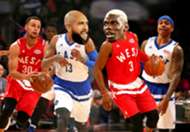 With the NBA All-Star game approaching, we started to think a little about the connection between soccer and basketball, and which footballers could have a chance of leaving the pitch for the hardwood should their careers start to go in the wrong direction.
After much research, Goal compiled a team of five footballers to make up our fantasy basketball team starting lineup, using the best and tallest players around the world to build our roster.
Solo ready to cash in on controversy
We'll begin with the backcourt, which could have gone in several directions. While many could argue that a controlling midfielder should run the point, we're going with size, skill and a scoring mentality. Look no further than Paul Pogba at the point and Romelu Lukaku at shooting guard.
These two players can ball in both sports. Just take a look at the Manchester United midfielder and Everton striker going head to head in Miami, and you'll see a little Russell Westbrook in Pogba and some James Harden in Lukaku. Right?
Pogba and Lukaku playing basketball in Miami pic.twitter.com/RjttH3iAON

— SportPlanet (@SportPlanet_) August 19, 2016
Picking the small forward was a little more difficult. Sure, there are a bunch of players who can dunk and fit the body type, but that doesn't mean they belong anywhere near a basketball court. Take Sergio Ramos, for example. He can throw it down, but it's yet to be seen if he can dribble or if he even understands the "traveling" rule.
Real Madrid defender Sergio Ramos calls out LeBron James with slam dunk https://t.co/mXGHQ0dNNH pic.twitter.com/FZR0gxZfk7

— Sportando (@Sportando) February 8, 2017
So we'll go with U.S. national team goalkeeper Tim Howard as our swingman. He's proven his athleticism while playing professionally in the Premier League and MLS, and he has quite a basketball resume from his high school days. Apparently, he was a great defensive player and even earned Division 1 offers.
"Timmy was the greatest defensive (basketball) player that I've ever seen," North Brunswick High School (N.J.) coach Ed Breheney told TMZ Sports. "Tim had several D1 offers ... but at that time he'd already committed to U.S. soccer. I think he disappointed a lot of college basketball coaches."
With Pogba, Lukaku and Howard all standing 6-foot-3, we need some size up in the frontcourt. 
At power forward, to fit our size requirement while adding in a bit more athleticism, Peter Crouch gets the nod. At the age of 36, the Stoke City forward can still attack, which is something we'd be looking for at this position on the court, especially with Howard as our lockdown defender.
And for our center, look no further than Kristof Van Hout. Never heard of him? Well, at 6-10, the Belgian goalkeeper is currently among the tallest players in the football world. They say you can't teach size, so we'll give him that the benefit of the doubt that some basketball coach can show him the basic fundamentals to not look too out of place on the court.
Starting lineup:
PG - Paul Pogba
SG - Romelu Lukaku
SF - Tim Howard
PF - Peter Crouch
C - Kristof Van Hout
---
LeBron would be the best GK ever
---
Here's a random thought: LeBron James would be the best goalkeeper on the planet if he had decided to give up hoops to stand between the sticks.
Is Montreal ready for life after Drogba?
James is 6-8 but moves like he's 5-11. He has incredible jumping ability and can cover a lot of ground in just a few steps. Plus, he has proven that he has good hands, having earned all-state honors as an American football wide receiver at St. Vincent-St. Mary High in Akron, Ohio.
Could we ever see LeBron on a pitch? It's a possibility ...
James has a minority ownership stake in Liverpool as part of his partnership with Fenway Sports Group, and he was so excited about the club's participation in the International Champions Cup last summer, offering to play for Jurgen Klopp's side.
Move to the side, Simon Mignolet!
---
Did Neymar jinx the Warriors?
---
Stephen Curry was a little bit too excited to see Neymar in the Golden State Warriors' locker room after Game 2 of the 2016 NBA finals.
The Barcelona star, on vacation with Justin Bieber while the Brazil national team participated in the Copa America, was welcomed by the Warriors after they stormed out to a 2-0 lead in the best-of-seven series against LeBron's Cleveland Cavaliers.
Three days later, the Dubs were blown out by 30 in Cleveland, which was the beginning of the Cavs' remarkable turnaround to win the NBA championship.
We'll blame Neymar for that one.