Manchester United
What has happened to Ander Herrera? From Man Utd Player of the Year to benchwarmer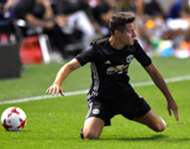 In May 2017, Ander Herrera booked his name alongside a long list of Manchester United legends when he collected the Sir Matt Busby Player of the Year award. Just four months later, he faces perhaps the most testing spell of his Old Trafford career.
When he collected the prestigious club award in the summer there were few who could have begrudged him his moment in the spotlight. The Spanish midfielder had delivered consistently impressive showings in 2016-17 and had strengthened his tremendous bond with the club's supporters.
"It's very special for me to win this award because when you see the list of winners, you realise how important it is," Herrera said at the awards ceremony.
"I feel [the fans' affection] and I'm very thankful but I think a Manchester United player can never stop. We have to keep giving them the affection back because you can see we don't always perform at our best yet they are always behind us."
Such a high performance level in a season which saw United collect two major trophies was made even more remarkable considering he had been asked to slot into a different role upon the arrival of Jose Mourinho, playing as a more defensive midfielder than had been his way previously.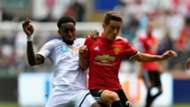 "I think all of you have seen that since the beginning of the season, after a few games my role changes," Herrera told the Daily Telegraph in February.  "The manager has helped me a lot to get the knowledge about that role.
"I am so happy to be a bit more of a defensive player than last season. I can share my energy with the team in that position. [Mourinho] has been great for me, but not just for me, the team as well.
"My first two seasons here I played 71 games, so it's not a bad number of games. But, of course, I cannot lie, this is the time I am enjoying most at Man United."
However, as United prepare to take on CSKA Moscow on Wednesday in the second game of their Champions League campaign, Herrera is still attempting to get his season started, having seen his progress of last term stunted by the arrival of Nemanja Matic in the summer.
The Serb's instant impact has left Herrera waiting for a chance. His sole start in the league – at Stoke earlier this month – coincided with United dropping their only points so far and the 28-year-old was withdrawn shortly after Eric Choupo-Moting's second goal had left Mourinho needing a different approach.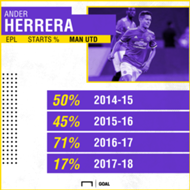 It might have been inconceivable to many as the votes were being tallied on the Player of the Year ballot, but Marouane Fellaini has featured far more in United's campaign to this point. Yet there is a good reason for that.
Since Matic has immediately slotted in as the protective shield and mobile midfield basis of United attacks that Michael Carrick has slowly faded from being over recent years, Paul Pogba has been given a new lease of life with the ability to start from the kind of more advanced positions he revelled in when playing for Juventus.
Then, when Pogba was forced out of action by a hamstring injury in United's 3-0 win over Basel in their previous Champions League fixture, it was Fellaini's more direct, aerially-threatening approach which was favoured over Herrera's bits-and-pieces style.
And it is in his multi-functionality in the middle that the former Athletic Bilbao man has his greatest challenge. Mourinho bounded into Old Trafford in 2016 with the warning that he prefers specialists over multi-functional players, and Herrera's success in the Portuguese's debut campaign was based in his ability to plug the gap as a defensive screen.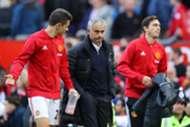 "The manager had a conversation and he told me I was going to be an important player if I do what he wanted me to do," explained Herrera to ESPN. "I am always open to learning. I am always open to adapting myself to a new role and a new position. It is not so easy to play for Manchester United, for example, as a No.10.
"When you play for a big club, a No.10 has to score 10 or 15 goals and make 10 or 15 assists, so it is not so easy. So I say to myself, if I want to play every game for Manchester United, which is my dream, I have to do something else for the club and for the manager."
But now Herrera needs to find a new way to give to the team. If he cannot supply the 10 to 15 goals and 10 to 15 assists of a more attacking player, is unable to match Matic for the defensive workload needed at the base of the midfield, and cannot supply the direct brawn offered by Fellaini, then the Spaniard could end up being resigned to acting as a stop-gap as and when Mourinho needs him.
It is quite the fall from grace for a club Player of the Year award winner, but Herrera, at least, has the right attitude. He knows that without that one obvious key trait which makes him undroppable, he has to show the heart and the fight to earn a place once more.
"I think we have a good understanding between the manager and myself," he says. "We understand football the same way and we think the same; if you give everything, you are going to give things to the team."