KPL
West Ham United cruise past Amiran Lions in Left Foot league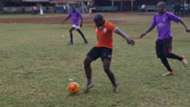 West Ham United scored in either half to sink Amiran Lions 3-0 in a closely fought Division One match of Left Foot league played at Kilimani Primary grounds over the weekend.
The victors scored two first half goals courtesy of George Wambui before Wycliffe Otieno sealed maximum points in the second period. In other matches, GreenZone Property thrashed Consolidated Bank 3-0, Strathmore FC won 1-0 against Black Diamond, Nyayo FC lost 3-0 to Madaraka United and Hurligham FC went down 0-2 to Rapid Communications.
Sumo Insurance were huge winners in Division two after they overcame All Saints Cathedral 5-3 in a eight goal thriller. Best African Cosmetic Limited lost 1-2 to Schindler Limited; DayLiff FC beat Bethel FC B 2-0, Safaricom Limited lost by a solitary goal to Disciples FC while Saad Advocates beat Toyota Kenya 2-1.
Ping Limited won 4-1 in Division Three while in other matches, Cosmos Limited lost 2-3 to Oilibya, Young Boys won 1-0 against Liaison FC, MP Shah Hospital beat Kingsway Tyres Group 2-1, Samba FC drew 1-1 with Red Catalans and Shani Gym beat NIC Bank 3-0.
In Division Four, Diamond FC lost 0-2 to Methodist FC, Tropical Heat drew 1-1 with Advert Eyez, KCB thrashed Vitambi Viishe 3-0, One Africa Logistics lost 1-0 to M Kopa Solar and Total Kenya drew 1-1 with Seacom FC. In Communities league, Muslim Rangers beat I-SYK Rangers 2-1, Aga Khan Sports lost 1-2 to Club All Stars and Hadhramy FC lost 0-2 to Madd FC.