WTF
'Welcome to the Puskas Award, Cahill!' - Twitter reacts to Chelsea defender's own goal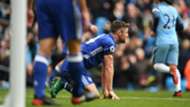 ---
EXTRA TIME
---
Gary Cahill sensationally opened the scoring in the clash between Manchester City and Chelsea on Saturday - though not for his own team, but the hosts.
The defender got on the end of Jesus Navas' cross right on the stroke of half time, attempting to clear it acrobatically.
However, he unwittingly guided the ball into his own net beyond a stunned T​hibaut Courtois, with City players wheeling away emphatically not believing their luck.
YIKES!! Gary Cahill's own goal gives @ManCity a 1-0 lead vs. Chelsea right before halftime! #PLonNBC #ManCity https://t.co/HtzWJnmaVm

— NBC Sports Soccer (@NBCSportsSoccer) December 3, 2016
And Twitter could likewise only celebrate what will be remembered as a special goal by Cahill, though not quite the way he intended.
Of all things, a @ManCity goal from a Navas cross. No, of course he didn't find one of his teammates. Cahill own goal.

— Gary Lineker (@GaryLineker) December 3, 2016
Gary Cahill has just scored the goal of the season for Man City. WHAT A GOAL!!

— Troll Football (@TrollFootball) December 3, 2016
Perfectly sums up Gary Cahill #cfc pic.twitter.com/7B5MxYtZCl

— Over land & sea (@DanTheMan1118) December 3, 2016
OHHHH YEESSSSS WELCOME TO THE PUSKAS AWARD GARY CAHILL pic.twitter.com/hMExP8HUOM

— Trey (@Vintageilkay) December 3, 2016
Gary Cahill with some kind of bicycle kick into his own net. #MCICHE pic.twitter.com/DZPpz2jZvf

— Paddy Power (@paddypower) December 3, 2016
Despite the best attempts of Anthony Taylor, City take the lead!

Navas' cross is met at the near post by Gary Cahill who finishes superbly.

— City Watch (@City_Watch) December 3, 2016
Top class defensive entertainment from the Englishman, who capably usurped team-mate David Luiz in the role of providing comedic relief on Saturday...