Brazil
'We need to see how Brazil react when things goes wrong' - Brasil Global Tour meets Tim Vickery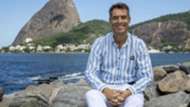 Tim Vickery is one of the most respected voices in Brazilian football.
An English journalist who has lived in Brazil since 1994, for over two decades Tim has displayed an understanding of Brazilian football, and Brazilian culture, like few others, offering intrigued football fans from afar an unrivalled inside look at the most decorated footballing nation on earth.
South American football correspondent for the BBC, Tim also covers the continent for World Soccer Magazine and is a regular on Brazilian TV, where he can be seen discussing the topics of the day on Redacao SporTV alongside the likes of Andre Rizek. 
He is also the driving force behind the popular World Football Phone-In podcast, which christened him the Legendinho.
Chevrolet Brasil Global Tour caught up with Tim this week, taking the chance to pick his sizeable brain on one of his favourite topics: A Selecao.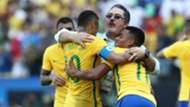 Brasil Global Tour: How do you feel about the dismissal of Rogerio Micale after his Olympics success?
Tim Vickery: "Firstly, I saw the Olympics as a lie, a useful lie for Brazilian football, but still a lie. In the final, a strong Brazil team met the German under-23 reserve side. Brazil also effectively drew three out of their six games, so it was no revolution. Micale is a victim of the national team's impatience, but also a victim of what Brazilian football has become in recent years.
"From the outside looking in, I'm not happy to see Micale leaving because I got the impression that he was proposing a change, and sometimes continuity can be what you really need in order to change. If you just keep switching, you will never get to the root of problem."
BGT: What has Tite changed since succeeding Dunga as Brazil coach?
Tim: "Tite advanced the line defensive line some 20 meters up the field, so the team is now more compact and that better facilitates the exchange of passes, I think that has been the key. He has also managed the group well and, in that sense, it's good to be coach after Dunga because Dunga always needed conflict. Tite's decision to bring back Thiago Silva gave a sign that from now on the management would be different, that there would be no more unnecessary conflicts. Tite is a master at developing human relationships."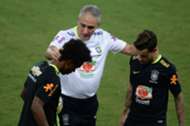 BGT: How important has it been that Tite found such a settled team so quickly? 
Tim: "First of all, I think Tite took over at a good time because there was a general feeling that things could not get much worse. But also, for all the criticism, Dunga had already begun on a trajectory towards what Tite was looking for. Things started to change in the match against Peru in November 2015, when Dunga called up Renato Augusto. He started to change the profile of the Brazilian midfield, and then he called  in Casemiro. Dunga was starting something.
BGT: Willian is the only player to lose his place in the team through anything other than injury or suspension.
Tim: "I think competition at a high level is very positive and it seems to me that the criteria for the players themselves was clear. Willian cannot complain, when the moment came he lost his place to Philippe Coutinho, but he has every chance to return. On the other hand, it is a big gain for Tite. Coutinho had played several times with Dunga without ever really convincing. Now the team has won a player who has turned promise into reality and raised the competition. I think that's really healthy."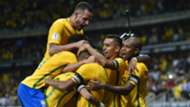 BGT: Six matches, six wins. Are Tite's Brazil peaking too soon?
Tim: "It's incredible you think that, but peaking too soon is a concern for Brazilians. The change has been brutal, six games, scoring 17 goals and conceding just one, and that was an own goal. Maybe they need to concede now, to go behind, because we need to see how Neymar and Gabriel Jesus will react to a negative situation. We are less than a year-and-a-half away from the next World Cup, and we need to see how they will react when they go behind in a game."
BGT: Not playing for his club, can Alisson keep his place in goal or will Diego Alves finally arrive?
Tim:"I think the goalkeeper should be Diego Alves. Most of the goalkeepers with whom I speak say that the goalkeeper of the Selecao should be Diego Alves. You can't criticise Alisson so far for his performances. He made a great save against Argentina, for example. I know that [goalkeeping goach] Taffarel believes in him, but I think there is a need to bring Diego Alves into the group and for Alisson to become a substitute."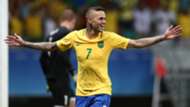 BGT: What do you expect from March's qualifier vs Uruguay?
Tim: "I think Tite would not be overly disappointed if Brazil conceded the first goal against Uruguay. The fact is, you really don't know a team until they're losing, the truth of a side appears when they need to attack the goal. And Brazil have the luxury that they can afford to lose. Edinson Cavani will like it, because he will play as the central striker since Luis Suárez is suspended. It will be interesting because Brazil will have to test themselves with a different centre-forward and maybe a new way of playing [with Gabriel Jesus injured]."
BGT: Who can lead the line in the absence of Gabriel Jesus?
Tim: "Centre-forward has been the problem position for the Selecao. Mano Menezes played without one, Scolari brought it back and it worked [with Fred], until World Cup when it did not. Gabigol is an option now that he is getting some minutes at Inter, and scored his first goal. I think he is an interesting player. There also is Luan of Gremio, who offers a different option. With Luan, you have a false no.9, who can drop deeper and link with the midfield".