Manchester City
'We know how good he is' - Zabaleta believes in Man City keeper Bravo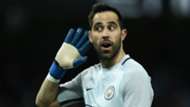 Pablo Zabelata remains convinced that Claudio Bravo will be a success at Manchester City if he is given time to fully adjust to the Premier League.
The Chile international has struggled since swapping life in La Liga with Barcelona for that in England at the Etihad Stadium.
Aguero still not clear on City future
He was acquired for his ball-playing ability, with Pep Guardiola favouring his skill set over that of the ousted Joe Hart.
Bravo has, however, struggled in the air and on the deck this season, with error-strewn performances leading to him dropping out of the City side.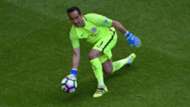 He was restored to the starting XI for a FA Cup clash against Huddersfield on Wednesday, but allowed a Harry Bunn shot to slip under his body for the opening goal.
Bravo was then taunted by his own supporters, with sarcastic cheers and applause heard as he kept subsequent efforts out.
Guardiola hails 'best ever' Aguero
Zabaleta is aware that his team-mate is enduring a tough time, but insists everyone in the City camp is backing him to emerge stronger for it.
The Argentine defender said after a 5-1 win: "We know Claudio. It's not easy when you come to England - it's a different league.
"We are a team, we support each other. We know exactly what he can do for the team and that's it. We know how good he is and sometimes it is just about confidence.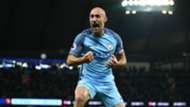 "His distribution with the ball was really good."
While Bravo was unable to star against Huddersfield, City did impress as a collective to keep themselves on course for major silverware.
Zabaleta added: "I think if you look at the whole game, we were the better team.
"Maybe in the first 15 minutes we gave the ball away cheaply and maybe our play was a little bit sloppy, but once we equalised and then scored the second goal I think we were a different team and we looked very dangerous going forward."