West Ham United
'We haven't been bombed with offers from China' - Bilic rubbishes Carroll exit talk
Slaven Bilic has rubbished reports suggesting that West Ham were looking to offload Andy Carroll prior to the closure of the Chinese Super League transfer window.
An article in the Times claimed that agent Mark Curtis had been given permission by the Hammers to broker a move to Asia for the England international.
No switch materialised, though, and Carroll will now see out the 2016-17 campaign at London Stadium.
Bilic insists that was always his preference, with the Croatian coach claiming to have no knowledge of any agreement within the club to move the 28-year-old out.
He maintains that the burly frontman is a crucial part of his plans and a player that has not been the subject of any offers from elsewhere.
Bilic said at a press conference on Thursday: "Andy knows how much we and I rate him. He is one of our best players and we want to keep him.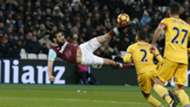 "As far as I know, the Chinese clubs sent representatives to watch our game. Apparently they were watching other players but fell in love with Andy.
"It's certainly not the club that has asked an agent to try and sell him. That's not the case. I suppose Andy would have been flattered as it's nice that people have a good opinion of you, but me and him didn't talk about it at all.
Bilic hits out at Wenger 'witch hunt'
"We haven't been bombed with offers from China, so it hasn't affected me or Andy.
"It wasn't like we had three or four offers for our players from China. I heard the rumours and saw it in the papers but it didn't affect any relationships with the players or with Andy, so that's it basically. There is nothing to talk about there."
Carroll has seen ongoing injury struggles restrict him to just 16 appearances in all competitions this season, although he has netted four times in his last four outings – including a stunning bicycle kick in a 3-0 victory over Crystal Palace.